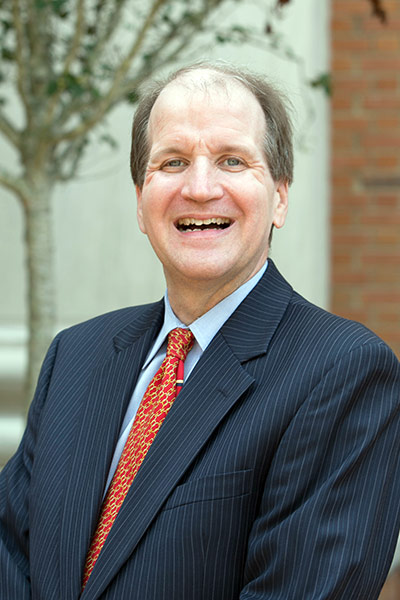 Chair, Department of Economics, Finance and Quantitative Analysis , John W. Gay Professor of Banking and Finance
Brock School of Business
Department of Economics Finance and Quantitative Analysis
389 D Cooney Hall
Steve Jones holds a Ph.D. in finance from The University of Cincinnati, an MBA from Vanderbilt University, and a BA from Huntingdon College. He is the John W. Gay Professor of Banking in the Brock School of Business at Samford University, where he has been a member of the faculty since 2001. His primary area of teaching is in financial management. 
At Samford's Brock School of Business, Jones currently serves as faculty advisor to the student chapter of the Financial Management Association International, and as chair of the school's Undergraduate Education Process Committee. In 2004 and in 2008, Jones received the school's annual Excellence in Teaching award. In 2011, he received Samford's annual George Macon Memorial Award for teaching. 
Jones is a past president of the Academy of Economics and Finance. His research has been published in such journals as the Journal of Financial Planning and the Journal of Real Estate Research.  He served as are viewer for South-Western's 2010 text, Behavioral Finance, by Lucy Ackert and Richard Deaves. He has been interviewed by a number of media outlets, including National Public Radio.
Steve's wife, Julibeth, is an audiologist in private practice. Steve and Julibeth merely pay the mortgage on a home that is, from all appearances,owned by their two extremely spoiled cats. Several years ago, Steve concluded a nine-year stint as assistant coach for his father's middle school girls basketball team at Montgomery Academy in Montgomery, Alabama. His chief duties in this position included complaining about the officiating, reminding the girls on the team to keep their hands up on defense and attempting to discourage players' parents from offering advice to the head coach.
Degrees and Certifications
PhD., Finance, University of Cincinnati
MBA, Vanderbilt University
BA, Huntingdon College
Expertise
Credit Scoring; Financial Services; Corporate Finance; Insurance; Finance Theory
Publications
Journal of Financial Planning
Journal of Real Estate Research
Behavioral Finance