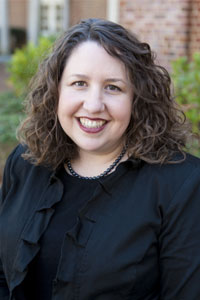 Professor of Economics, Brock Scholars Program Coordinator
Brock School of Business
Department of Economics Finance and Quantitative Analysis
Office: 389 J Cooney Hall
Sara Helms McCarty, PhD, is a professor of economics in Brock School of Business, and is the Brock Scholars program coordinator. She teaches principles of microeconomics, public policy, econometrics and M.B.A. micro-economics. McCarty is a research associate at the Lister Hill Center for Health Policy.
McCarty's research interests include applied microeconomics and public policy, particularly in the areas of volunteering, charitable giving, education policy and public health policy. She uses both traditional econometric and experimental methods. A list of ongoing and completed research can be found on her SSRN page.
She has presented her work at the annual meetings of regional, national and international organizations, including the American Economic Association, Association for Public Policy Analysis & Management, Association for Research on Nonprofit Organizations and Voluntary Activity, Economic Science Association, Southern Economic Association, the American Time Use Research Conference, Association for the Research of Society, Economics and Culture, and at the Institute for Studies of Labor (IZA) in Germany and the American Time Use Research Conference.  
McCarty is a member of the honor fraternities Phi Beta Kappa, Beta Gamma Sigma, Omicron Delta Epsilon and Omicron Delta Kappa. Visit her website.
Degrees and Certifications
Ph.D., Economics University of Maryland
M.A., Economics University of Maryland
B.A., Economics and Mathematics, Summa Cum Laude, St. Mary's College of Maryland
Expertise
Philanthropy; Volunteering and Policy Related to Service Learning and Community Service; Education Policy; Religion and Giving; Behavioral Economics; Experimental Economics; Labor Economics
Awards and Honors
2019 Brock School of Business Outstanding Faculty Service Award
2014 Brock School of Business Outstanding Scholarship Award
2013 Brock School of Business Excellence in Undergraduate Teaching Award
2009 University of Alabama at Birmingham Beta Gamma Sigma Professor of the Year
2003 University of Maryland College of Behavioral and Social Sciences Excellence in Teaching Award
2001 and 2002 University of Maryland Department of Economics Teaching Award
Publications
Helms, S. & Diette, T. (2014). Trading the Television for a Textbook? High School Exit Exams and Student Behavior. The B.E. Journal of Economic Analysis and Policy, 14 (3), 22.
Helms, S. (2013). Involuntary Volunteerism: The Impact of Mandated Service in Public Schools. Economics of Education Review, 36, 295-310.
Thornton, J. & Helms, S. (2013). Afterlife Incentives in Charitable Giving. Applied Economics, 45(19), 2779-2791
Helms, S. & Thornton, J. (2012). The Influence of Religiosity on Charitable Behavior: A COPPS Investigation. Journal of Socio-Economics, 41, 373-383
Helms, S., Scott, B., & Thornton, J. (2011). Choosing to give more: experimental evidence on restricted gifts and charitable behaviour. Applied Economics Letters, 19 (8), 745-748.
Abraham, K., Helms, S., & Presser, S. How Social Processes Distort Measurement: The Effects of Survey Nonresponse on Inferences about Volunteer Work in the United States. American Journal of Sociology, 114(4), January 2009: 1129-1165.
Resources