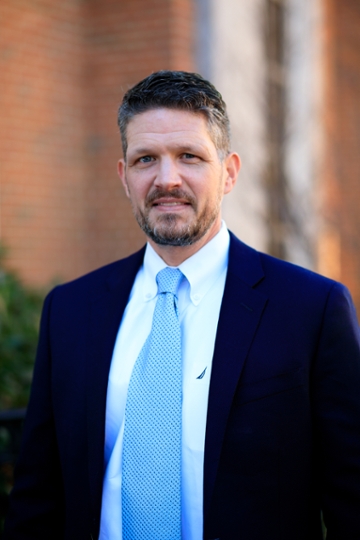 Associate Dean, Dwight Moody Beeson Chair of Business, Professor of Economics, Social Entrepreneurship Program Coordinator
Brock School of Business
Department of Economics Finance and Quantitative Analysis
Office: 301 A Cooney Hall
Dr. Jeremy Thornton serves as Associate Dean and Dwight Moody Beeson Chair of Business, Professor of Economics and the Coordinator of the Social Entrepreneurship Program at the Brock School of Business. He also is the Yother Fellow in Social Entrepreneurship. He teaches micro-economic theory, development economics, social enterprise and International Economics. Prior to his academic career, Dr. Thornton was the Director of Economic Development at Go International. In that role, he facilitated the design micro-enterprise and anti-poverty programs for civil society organizations in developing countries, primarily Latin America. His projects ranged from micro-lending programs for refugees to medium-sized agricultural and manufacturing operations.
Dr. Thornton's current research emphasizes the influence of market competition and governance on nonprofit organizations. See his current research at Research.
Dr. Jeremy Thornton's VITA
Degrees and Certifications
Ph.D. Economics, University of Kentucky
M.S. International Economic Development, Eastern University
B.A., Asbury University
Expertise
Nonprofit Organization/Philanthropy; Public Policy/Tax Policy; Economics of Religion; Competition/Pricing Strategy
Awards and Honors
Yother Fellow in Social Entrepreneurship
Social Entrepreneurship Program Coordinator
2007-2008 Brock Advisory Board Research Fellow
Publications
Broom, L.; Thornton, J & Carson, C. (2013). Financial Management for Nonprofit Organizations: Uses and Applications in a Social Entrepreneurship Curriculum. Journal of Learning in Higher Education, (Fall), 49-60.
Helms, S.; Scott, B. & Thornton, J. (2013). New Experimental Evidence on Charitable Gift Restrictions and Donor Behaviour. Applied Economic Letters, 20(17), pp. 1521-1526.
Thornton, J. & Helms, S. (2013). Afterlife Incentives in Charitable Giving, Applied Economics, (45), 2779-2791.
Thornton, J. (2012). Flypaper Nonprofits: Federal Grants and Nonprofit Expenditures, Public Finance Review. DOI: 10.1177/1091142112446845.
Helms, S. & Thornton, J. (2012). The Influence of Religiosity on Charitable Behavior: A COPPS Investigation, Journal of Socio-Economics, 41 (4), 373-383.
Helms, S.; Scott, B. & Thornton, J. (2012). Choosing to Give More: Experimental Evidence on Restricted Gifts and Charitable Behavior. Applied Economic Letters, 19 (8), 745-748.
Thornton, J. & Cave, L. (2010). The Effects of Organizational Form in the Mixed Market for Foster Care. Annals of Public and Cooperative Economics, 81(2), 211-245.
Thornton, J. (2010). Explaining Unrestricted Giving by Charitable Foundations: A Transaction Cost Approach. International Journal of Industrial Organization, 28(1), 44-53.
Thornton, J., & Belski, W. (2010). Financial Reporting Quality and Price Competition Among Nonprofit Firms. Applied Economics, 42, 2699-2713.
Castaneda, M., Garen, J., & Thornton, J. (2008). Competition, Contractibility and the Market for Donors to Nonprofits. Journal of Law, Economics, and Organization, 24 (1), 215-246.
Childs, B., Gonas, J., & Thornton, J. (2008). Are Donor Advised Funds Always the Best Economic Choice. Journal of Financial Planning (June).
Thornton, P., & Thornton, J. (2008). Why They Don't Go: Surveying the Next Generation of Mission Workers. EMQ (April), 204-210.
Thornton, J. (2006). Nonprofit Fund Raising in Competitive Donor Markets. Nonprofit and Voluntary Sector Quarterly, 35 (2), 204-224.
Thornton, J., & Thornton, P. (2006). Agency Incentives in International Development Partnerships. Faith & Economics, 46/47 (Spring/Fall), 1-24.
Research
The Effects of Organizational Form in the Mixed Market for Foster Care
Nonprofit Fund-Raising in Competitive Donor Market
Explaining Unrestricted Giving by Charitable Foundations: A Transaction Cost Approac
Afterlife Incentives in Charitable Giving
Financial Reporting Quality and Price Competition Among Nonprofit Firms
Agency and Incentives in International Development Partnerships
The Economics of Donor Advised Funds
Competition, Contractibility, and the Market for Donors to Nonprofits
The Influence of Religiosity on Charitable Behavior: A COPPS Investigation