Published on November 6, 2018 by Morgan Black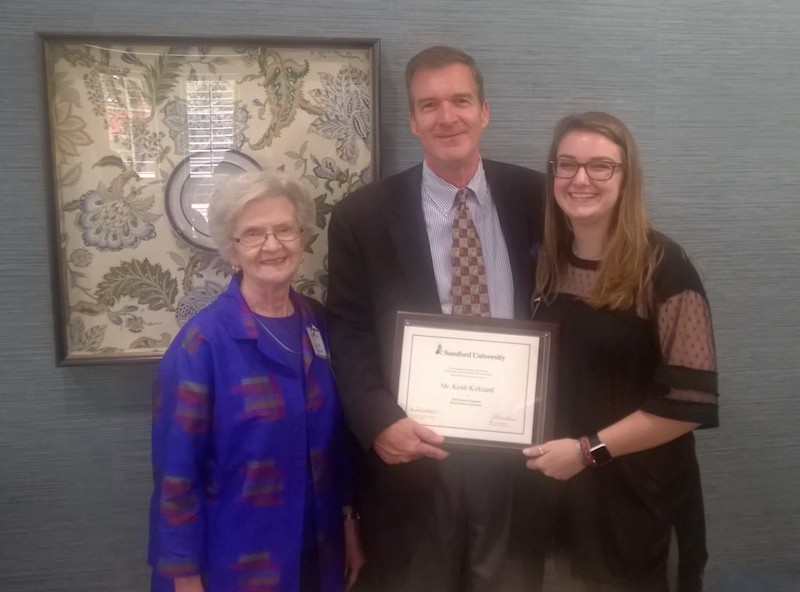 Homecoming 2018 was nothing short of exciting for many Samford University alumni, family and friends, including those associated with Brock School of Business. In addition to the annual homecoming barbeque tailgate on the quad, Brock School of Business held its biannual Dean's Advisory Board meeting and honored one of those members, Keith Kirkland '88, as its alumni showcase of the year.
Kirkland is the senior director for ExWorks Capital in Atlanta, Georgia, a secured debt fund that provides necessary liquidity to businesses in need of financing for growth.For Kirkland, the Samford tradition runs through his family.
"Samford, and its mission, has had a tremendous impact on me and my family. My daughter Aubrey, a current freshman, is a third-generation Samford student," Kirkland proudly stated. "My daughter Anna was just accepted into the class of 2023 and my mother is a graduate from 1962. More than 30 people in my family have attended Samford since 1947. It is such a special place for us."
Kirkland actively re-engaged with Samford nearly 12 years ago when he joined the Brock School of Business Dean's Advisory Board. He said, "It has been a privilege to be a small part of the tremendous efforts that have resulted in Brock School of Business becoming the top-notch institution that it is today. I enjoy interaction with the faculty and students and am always impressed with their professionalism and high standards."
Additionally, Kirkland serves as a member of the Professional Sales Advisory Board which supports the professional sales concentration and frequently gets asked to serve as a guest teacher in several classes. "On multiple occasions, I have been invited to teach a class which has been one of my favorite ways to be involved," Kirkland stated.
Kirkland and many other alumni were honored at the Alumni Showcase luncheon on Thursday, November 1.  
"My hope for Samford students is that they will treasure their Samford experience, not just while they are a student, but for a lifetime," Kirkland closed. "The quality of the education they receive is paramount, but the Samford experience includes so much more than that. My greatest life experiences in the last 30 years have included the friends that I met at Samford. To build those relationships in the Christ-centered environment that Samford offers has been a huge blessing to me."
###