Published on November 12, 2019 by Chad Jordan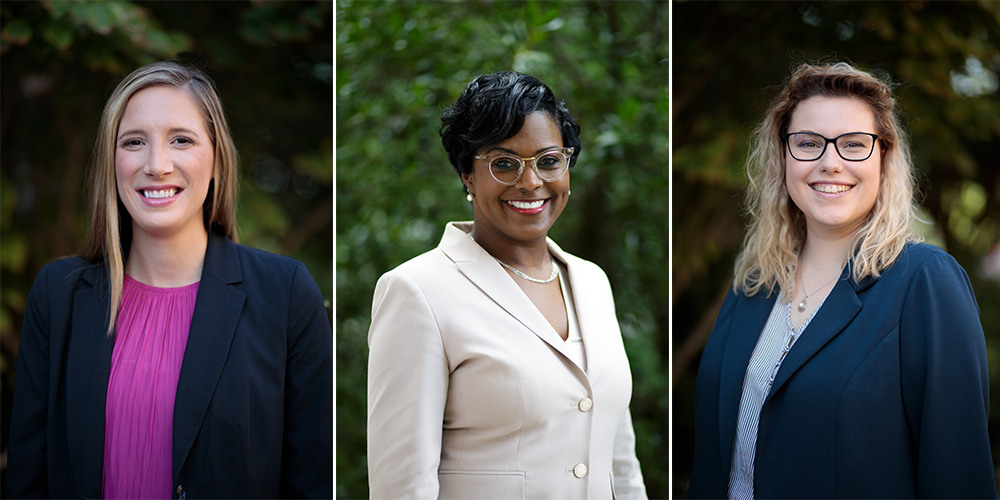 Brock School of Business is proud to announce the addition of two new instructors and one new academic adviser who began their roles during the fall 2019 semester.
Cam Pearce
Instructor of Accounting 
Cam Pearce, CPA, CIA is a Birmingham, Alabama native. She is an instructor of accounting in Brock School of Business where she teaches Excel and tax classes. 
She earned her Master of Accountancy and Bachelor of Science in business administration from Auburn University. Prior to joining Samford University as an adjunct professor in 2016, she worked in the Internal Audit Department of Blue Cross Blue Shield of Alabama and as the director of accounting at Bruno Event Team LLC. She started her career with PricewaterhouseCoopers. 
Pearce, and her husband Andrew, are members of Redeemer Community Church. They currently have one daughter, Georgia, and are expecting their second child.
Alice G. Holloway
Instructor of Marketing 
Alice G. Holloway, is a native of Mobile, Alabama with prior experience as an adjunct instructor in the UAB Collat School of Business and at Samford University. Prior to academia, she launched her fifth company, Skye Connect Inc., in 2013 after nearly 12 years at Alabama Power, where she worked in corporate communications, supply chain and nuclear power. 
Holloway is a graduate of the University of South Alabama with a Bachelor of Arts in communications and business. She also holds an M.B.A. from the University of Alabama at Birmingham and is expected to complete her Ph.D. in business management from the University of South Alabama in 2021. 
Her research interests include entrepreneurship, leadership, AI technology and business sustainability. As the recipient of a Merit Award by the International Association of Business Communicators, she has been featured in Newsweek, listed as a Top Supplier Diversity Ambassador nationally by MBN USA Magazine, and is a frequent writer on business and entrepreneur best practice strategies. 
Holloway and her husband Weymon, Honors College director at Lawson State Community College, enjoy watching movies with their three active children. Holloway's hobbies include tennis, traveling, healthy cooking and live music.  
Jessica Russell
Academic Adviser 
Jessica Russell is the academic adviser for the pre-business students and business minors. She is a Birmingham native and graduated from the Jefferson County International Baccalaureate School in 2013. She graduated from the University of Montevallo in 2017 magna cum laude with a Bachelor of Arts in English and a minor in writing. While at Montevallo, she served as the director of standards and ethics of her sorority, Alpha Delta Pi, and as a resident assistant. She earned her Master of Business Administration degree from the University of Montevallo in May 2019.  
We are glad to welcome them into the Samford and Brock School of Business family. Make sure to look out for these new faces!