Published on March 11, 2019 by William Nunnelley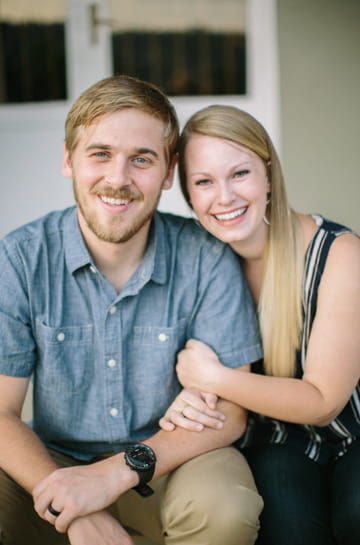 Chase and Rachel Carroll got a taste of international travel and study during their undergraduate days in Samford's Brock School of Business. After graduation in 2013 and 2014, and marriage in 2014, the couple found themselves drawn to the idea of working in economic development in a developing country.
"Both Chase and I spent time exploring, networking and planning for the chance to do this," said Rachel. They had both visited East Africa, but were open to anything. Through a series of connections, emails and other circumstances, Chase was offered a position with Karisimbi Business Partners (KBP) in Kigali, the capital of the east African nation of Rwanda.
"We decided Rwanda was it," said Rachel.
That was almost three years ago, in 2016. Rachel had traveled as an undergraduate social entrepreneurship student to South Africa, and Chase had studied abroad in London and worked in the African country of Burundi with HOPE International. Chase had been to Rwanda once for a few days at a conference.
"I had never set foot until we landed in Kigali as our new home," said Rachel, who like Chase grew up in Atlanta and lived in Birmingham after graduation. "It definitely set the tone for adventure."
Today, Chase is a management consultant and investment adviser at KBP, and Rachel is program manager for The Women's Bakery, a social enterprise committed to empowering women through business and education. Rachel and The Women's Bakery were featured in a recent New York Times travel story on Kigali. Later this year, Chase will transition to work as the operating partner at Amplio Ventures, a refugee-centric impact investment firm that he cofounded in 2018. He also serves on the leadership team of their church.
Do the Carrolls view their situation as a mission? 
"Absolutely," said Rachel. "It has always been my passion to invest in and create opportunity for others. While I use the word 'calling' loosely, I definitely see my life here as just that—a chance to use my gifts and talents to highlight the gifts and talents in others.
"While we aren't working with a ministry or spreading the gospel directly, we do participate actively in providing for the physical needs of others—both immediately and long-term. Jesus used his ministry to provide often for the physical and emotional needs of others. That's our relational mission, and we get to do that here."
Rachel believes that everyone can do the same "in whatever context they find themselves."
Life in Rwanda seems pretty normal to the Carrolls. "We have a home, a car, two dogs and regular jobs," said Chase. "We both go to offices, pay bills, cook dinner and meet with friends much like we would in our first culture context."
Rachel said living abroad "is an incredible opportunity, but also a very normal life to an extent." Even so, it "certainly required an initial risk (or leap of faith!)" She says there's no such thing as a "day in the life" at The Women's Bakery. 
"Every day is filled with challenges, setbacks, successes and excitement. Some days I spend working on cash flows, invoicing and such. Some days I spend making muffin mix."
Rachel said living in Rwanda was an adjustment, "but what surprised us the most was our depth of community. We had an incredible community of people that felt like family almost immediately."