Published on September 24, 2019 by Morgan Black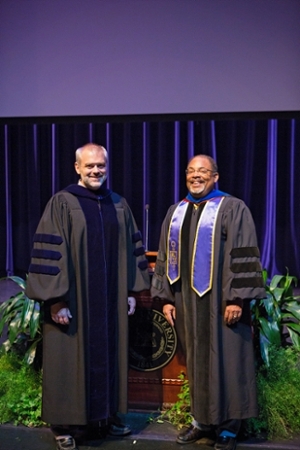 Two faculty members, along with a former faculty member, from Samford University's Brock School of Business have been recognized for winning an Outstanding Paper in the 2019 Emerald Literati Awards.
The paper titled "Bayesian analysis in entrepreneurship decision-making research: Review and future directions" was co-authored by interim dean Chad Carson, Margaret Gage Bush professor of business Archie Lockamy, and former faculty member Franz T. Lohrke.
The purpose of the paper is to review Bayesian analysis in recent entrepreneurship research to assess how scholars have employed these methods to study the entrepreneurship process.
"I am honored to receive this award, along with my colleagues, from Emerald Publishing," professor Lockamy said. "Our work is an example of interdisciplinary research which can be brought to the classroom for the benefit of our students who may have an interest in entrepreneurship."
 Founded in 1967, Emerald Publishing aims to champion new ideas to advance research and practice of business and management. Emerald works in close collaboration with worldwide organizations including the Association to Advance Collegiate Schools of Business (AACSB), of which Brock School of Business is an accredited member.
Published in the journal Management Decision, an Emerald publication, the article was chosen as a winner for being "one of the most exceptional pieces of work" the editorial team saw throughout 2018.
"Research is at the core of what we do in the Brock School of Business," Carson added. "It's a privilege to work with such scholarly professors to study topics in our disciplines, as well as across other disciplines, so that we may pass along our findings to our students. And, it's always humbling to have our work recognized by such a prestigious international journal."