Published on December 2, 2020 by Morgan Black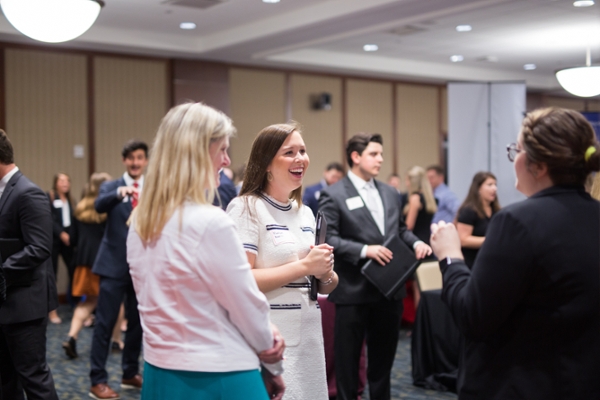 Despite the various challenges presented by the ongoing coronavirus pandemic, Samford University Brock School of Business graduates continue to transition into the workforce successfully. A report collected by the Office of Professional Success for December 2019, May 2020 and August 2020 undergraduate alumni indicates 97% of the graduating classes are either employed or continuing their education in graduate school. The same placement data for May 2020 graduates alone totaled 99%.
"Although the job market proved tough to navigate through the course of the pandemic, our students remained diligent in seeking opportunities to begin their careers," said Director of Professional Success Kathryn Boyd. "This data is a testament to their hard work and dedication to their individual professional development."
During the early months of the pandemic and through the fall 2020 semester, the Office of Professional Success remained
committed to providing professional development opportunities
for its students. Through use of the virtual platform, Zoom, more than 30 networking events were implemented allowing students to connect with business leaders from across the country.
"We are thankful for employers near and far who have been eager to collaborate with our students in a virtual manner," Boyd said. "This year, it was crucial for our students to connect with industry professionals. These opportunities would not have been possible without their flexibility to pivot to a virtual platform and their unwavering commitment to Brock School of Business."
Brock School of Business graduates also have a significant impact on the workforce in the Birmingham metropolitan area. Of this set of graduates, 34% chose to begin their careers in Birmingham, making Brock School of Business a substantial net importer of human capital to its workforce. Other top markets for Brock School of Business graduates include Atlanta, Georgia, and Nashville, Tennessee.
"Our students have been resilient in the face of this pandemic, especially when it comes to solidifying jobs or options to further their education after they graduate," said Interim Dean Chad Carson. "This data also affirms the tremendous work of our faculty and staff who, regardless of the pandemic, are deeply invested in helping them succeed professionally."