Published on November 24, 2020 by Morgan Black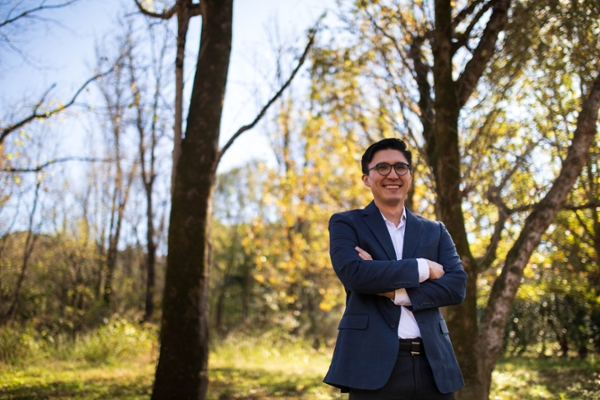 When searching for a master's degree program, Aniel Emmanuel Oseguera Martinez found one at Samford University that not only would challenge him professionally but would also provide opportunities to help him develop personally.
Oseguera, a native of Mexico and graduate of the Monterrey Institute of Technology (Tecnológico de Monterrey), chose Samford's Master of Business Administration (M.B.A.) program after realizing he needed help going from the theoretical to the practical realm. "In college we spend so much time learning the theory, sometimes we do not get a chance to connect all the dots and how they relate to each other," he said. "I needed to continue challenging myself and, in my opinion, an M.B.A. was the best way to do it."
Friends introduced Oseguera to Samford, even giving him a tour a few years before he applied. He recalls thinking that if he ever had the chance to pursue an M.B.A., he'd want to do it at a school like Samford. In 2018, that chance came when his company, Dinex Money Transmitters, encouraged and supported him to make his dream a reality. As a financial analyst for Dinex, Oseguera already had significant business experience and responsibilities, managing the day-to-day interactions between regulators and the company, presenting quarterly and annual reports, overseeing daily payments to suppliers and managing a $6 million credit facility.
Although Oseguera knew he would receive a quality academic experience at Samford, he discovered several surprises once he entered the M.B.A. program. "When you hear a school is a quality school, you immediately imagine that they value academic performance," he said. "The thing is, it seems like most schools sacrifice the human aspect in their efforts to achieve academic performance. I was surprised to see Samford does not follow this rule. There is a balance, and room to achieve both. Samford has genuine interest in developing its students as professionals and individuals."
Oseguera said he was also surprised by how many opportunities there are to interact with other students. "As a young adult, one kind of imagines an M.B.A. as a program with very few interactions because everybody is already so busy," he said. "However, [in Samford's program] there are plenty of opportunities to get to know other students through in-person classes, team projects, job fairs, etc."
In December, Oseguera will complete his M.B.A. with a concentration in finance. He already sees how the work will benefit his career. "Receiving an M.B.A. from Samford will benefit me in my job because the program stresses the importance of becoming critical thinkers," he said. "All the professors want us to find alternative answers to current issues and topics. They don't just give you the answers but guide you to help you in the learning process and ask more questions to keep the conversation going."