Published on September 30, 2020 by Morgan Black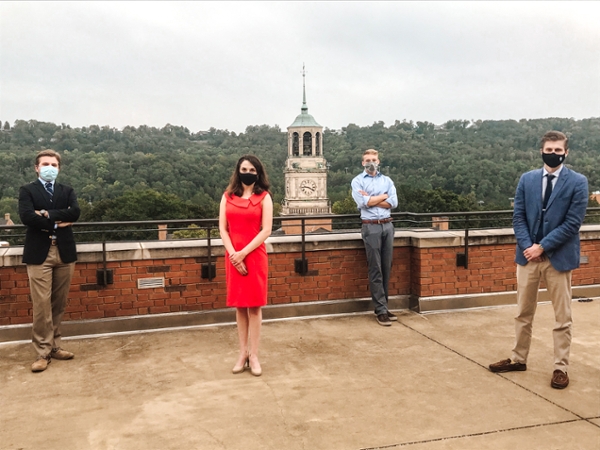 For the second time in three years, Samford University's professional sales competition team has advanced to the finals of AT&T's B2B (business-to-business) National Sales Competition, which will take place virtually Oct. 22-23. During the competition, they will go head-to-head with 11 other university sales teams from across the country.
Members of the team include junior marketing and management major Kelly Aughtman (Birmingham, Alabama), senior management majors Jay North (Birmingham, Alabama) and Steve Riemersma (Marietta, Georgia), and senior marketing and management major Jackson Tucker (Franklin, Tennessee).
Over a period of three days at the end of September, teams competed in the first round that encompassed three regional competitions. During this round, they were given the opportunity to leverage AT&T's world-class technology to compete virtually against other teams in their respective region. Judged by sales leaders from AT&T, the students played the role of AT&T consultants representing the company's business services such as fleet management, cybersecurity and mobility.
Top school teams were selected from each region, including Samford's team, to advance to the final round. The finals, which normally take place at the AT&T headquarters in Dallas, Texas, will be held virtually due to COVID-19.
Throughout the competition, virtual networking events and guest speakers provide additional opportunities for students to engage in professional experiences. In addition to providing cash sponsorships to the winning schools, AT&T offers internships and full-time jobs in technology sales to the top-performing students. 
Clif Eason, associate professor of marketing and team adviser, said, "I'm really proud of these students. They took preparation seriously, and their hard work really paid off to help them advance."
Samford's national professional sales competition team is just one of many real-world opportunities Brock School of Business students have access to. The
professional sales concentration
, that may be added to any business major, helps students develop the essential sales skills that employers are looking for, while at the same time, exposing them to the tools and technologies that are critical to being successful in today's business world. The concentration is continuously recognized by the Sales Education Foundation as a "Top University Sales Program."