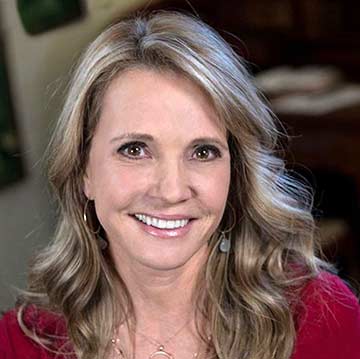 March 31, 7 p.m. – 8:30 p.m.
Wright Center
$10 for the public; complimentary for Samford students and employees
This event has been postponed in response to CDC coronavirus recommendations.
Through the vision of Tom and Marla Corts, and provided by their generosity of spirit, Orlean Beeson School of Education presents Patti Callahan Henry, as the 2020 Tom and Marla Corts Distinguished Author. Henry  will share insights and stories of inspiration from her book, Becoming Mrs. Lewis, a motivational account of the life of Joy Davidman Lewis, wife of legendary writer C.S. Lewis. 
"I began this novel a little in love with the image of C.S. Lewis and a little enchanted by Joy and by Oxford, but what I discovered was a fascinating woman who teaches us about the great and worthwhile struggle toward the undivided life of a woman's soul seeking God," said Henry.  
To fully capture and convey the story of Mrs. Lewis, Henry retraced Lewis's steps from New York to Oxford. Becoming Mrs. Lewis beautifully documents Henry's extensive research of Lewis's fascinating life and her unlikely love story. The book was selected for The Christy Award for "Book of the Year" in 2019. 
Henry is a New York Times and USA Today best-selling author of 15 novels and the recipient of the 2020 Harper Lee Award for Alabama's distinguished writer. A finalist in the Townsend Prize for Fiction, an Indie Next Pick, an OKRA pick, and a multiple nominee for the Southern Independent Booksellers Alliance (SIBA) Novel of the Year, she is a frequent speaker at luncheons, book clubs and women's groups. She resides in Mountain Brook, Alabama and Bluffton, South Carolina.
General admission tickets are $10 for the public and complimentary for Samford students and employees. A book signing will follow the Henry's presentation. VIP tickets are $50 and include a private reception and book signing with Henry at 5:30 p.m.