The human development and family science major recognizes the crucial role of families in society and the curriculum focuses on personal relationships and their connection to and impact on human living and development. Samford's mission and values lend perfectly to learning how to best educate the family. Our program leans on the Christian mission of the university to equip you to become a better educator and advocate.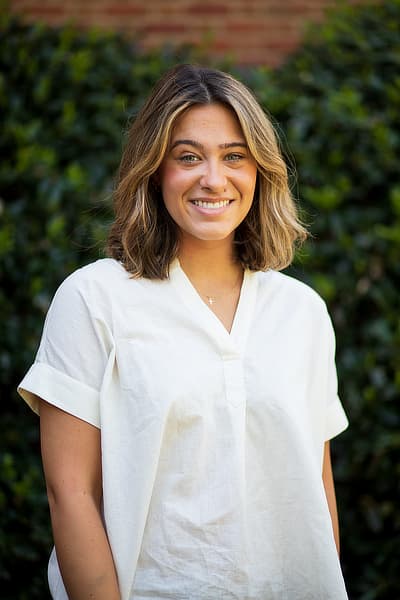 The HDFS program prepares students not only to achieve academically, but to also achieve relationally and emotionally for whatever circumstance one might face in the professional world. In this way I believe they stand out as a major and have thoroughly prepared me for life beyond Samford's gate. --Murray Babington '21
Our major prepares you for a wide range of careers enriching families through education, service and advocacy. In addition to the primary program, we offer concentrations in child development education, child life and gerontology. We also offer accelerated degree programs: a fast-track master's in public health, fast-track master's in social work, and a 3+3 law degree.
A degree in human development and family science at Samford meets the standards and criteria required for the professional Certified Family Life Educator designation from the National Council on Family Relations.
Objectives & Goals
Students will master an understanding of the following topics and skills:
Experiential education
Research experience
Developmental knowledge across the life span
Practical experience
Is This Program for Me?
Have you been described as a helper or an advocate or a great listener? Are you passionate, tolerant, caring and empathetic? All of these servant-minded traits combined with the ability to problem solve, be persistent yet respectful, flexible yet focused and constantly inquisitive means you would be a great fit in the Department of Human Development and Family Science. Join this program and you will be pushed to your greatest potential.
I use my amazing Samford education to help serve families with special needs at my church. I couldn't be happier with where I am or what I'm doing! God has been so good.Richardson Hutchins '07
What Makes Us Different?
Experiential Education
We go beyond just educating. We purposefully engage learners in direct experience and focused reflection to increase knowledge, develop skills and clarify values. We develop and increase your capacity to contribute to communities in order for you to go out and encourage others to do the same.
Research Focused
100% of human development and family science students complete original research projects and six of our students have received the Outstanding Undergraduate Paper Award from the National Council on Family Relations.
Eligible for Family Life Educator Certification Upon Graduation
You have the possibility to leave with more than just a degree, but also with a certification that will
differentiate you
in the field of job applications. Family Life Education focuses on healthy family functioning within a family systems perspective and provides a primarily preventive approach. Certification recognizes a proven background and understanding in each of the
10 family life education content areas
.
Multiple Concentrations Within the Department
Child Development Education Concentration
Prepares students for work in early childhood settings as teachers and/or administrators. This concentration is a collaboration between the Department of Human Development and Family Science and the Department of Teacher Education.
Child Life Concentration
Prepares students to work in a medical setting to provide emotional support and coping strategies for children and their families facing short- and long-term hospital stays. Upon completion, students submit their coursework for review to the Child Life Council and must pass an exam to become certified child life specialists.
Gerontology Concentration
Prepares students to provide services and research for those in the later stages of life. Special emphasis is placed upon how aging affects the individual as well as the family.
Accelerated Degree Programs
3+3 Law
Family science majors are eligible to participate in a 3+3 program that allows students to graduate with a bachelor's degree in family science and a law degree after six years of study. This program is ideal for students interested in adoption, divorce, foster care, intimate partner violence and other areas that affect the well-being of children and families. Participation in this program requires careful advisement and scheduling, as well as acceptance into Cumberland School of Law following the normal application process. Please consult your academic adviser for details.
Fast-track Master of Public Health
This fast-track is for those who are called to a life of service in public health. Through this track, students will have the opportunity to work in a variety of settings including state and local health departments, non-profits, hospitals, government agencies and other health-related organizations. Graduates receive a bachelor's and master's degree in just five years and are prepared to become leaders capable of addressing current global problems.
Fast-track Master of Social Work
Family science majors are eligible to participate in a fast-track option that allows students to graduate with a bachelor's degree in family science and a master's degree in social work after five years of study. Participation in this program requires careful advisement and scheduling, as well as permission of both the undergraduate department chair and the M.S.W. program director. Please consult your academic adviser for details.
Because of the smaller class size, I found myself being that person who got a lot of help whether I needed it or not - the professors stepped down from the doctoral standpoint and became a peer in a sense by saying how can I help you, and let me understand who you are and where you are coming from, and why this situation might be causing a stumbling block, and how can we get over it? Them pushing me through my academia while I was here has made me the individual that I am now. Devyn Keith '12
Career Preparation
Market Ready
Students leave with the ability to analyze and interpret family science research data. Through practicums and internships, observations and senior research, students gain professionally marketable skills for a variety of career paths in human development and family science.
Human Development and Family Life Education classes have put me ahead of other people in my classes during graduate school. Research, Family Law, theories from Marriage & Family, and the importance of advocacy have been a saving grace to me as I have continued my education. Lauren Oden '16
Career Opportunities
Adoption Case Worker
Community-Based Social Services
Counseling
Early Childhood Development/Education
Elder Care Services
Family Law Practitioner
Government and Public Policy
Youth/Teen Services
View a complete list of career opportunities as stated by the National Council on Family Relations.
Internships
Advent Outreach
Alabama Baptist Children's Home
Alabama Public Television Ready to Learn
Children's Aid Society
Children's Harbor
CHIPS-Children's Hospital Intervention and Protection Services
Covenant Counseling and Education Center
Crestline Elementary
Crisis Center
Domestic Violence section of YWCA
Down Syndrome Clinic
Greenwood Place
Homewood High School
Impact Family Counseling
Jefferson County Family Court
Jessie's Place
Lakeshore Foundation
Shades Valley Active Day Rehabilitation Center
The 1917 Clinic at University of Alabama at Birmingham
The Bell Center
United Way of Central Alabama
Wellspring Christian Clinic
Accolades & Alumni
Awards and Recognition
Human development and family science majors have had six recipients of the Outstanding Undergraduate Research Paper Award from the National Council on Family Relations.
Devyn Keith, 2018 Audrey Gaston Howard Award recipient, District 1 Representative of the Huntsville City Council
Michael Ann Peavy, 2017 Mann Award recipient
Natalie Marshall, 2017 James M. Sizemore Award recipient
Nicole Smith, 2014 Mann Award recipient
Lindy Williamson Cleveland, 2014 Samford University Outstanding Community Service and 2013 Jessica M. Smith Outstanding Community Service Award recipient.
Alumni Careers
Human Resource Management
RUF Ministry at Georgia Southern University
Masters of Social Work Program
Cumberland School of Law
Preschool Teacher
UCP Hand in Hand
School Educator
School Counseling
Department of Human Resources
Political Advocate
Notable Faculty
Clara Gerhardt: National Counsel on Family Relations Outstanding Certified Family Life Educator of the Year 2013, Author of Parent-Child Relations: An Introduction to Parenting (9th Edition)
Jonathan Davis: National Counsel on Family Relations Meritorious Service Award 2012, Samford'

s

 2017 All-Southern Conference Faculty Member
Minor in Human Development and Family Science
A minor in human development and family science provides non-majors with supplemental training in family therapy, occupational and speech therapy, law, social work and child development. Students will be exposed to both practical and theoretical content in areas such as dating and relationship formation, gender roles, marital relationships, human sexuality, parenting, family dynamics and families and society.
Required Courses
HDFE 200—Professional Perspectives in Family Science
HDFE 202—Marriage and the Family
HDFE 331—Family Dynamics
Three additional upper-level courses
Total Required Credits: 22