Published on May 19, 2015 by Hannah Henderson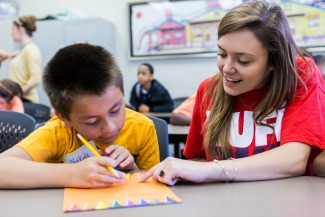 More than 100 third grade students from Trace Crossings Elementary School in Hoover, Ala. visited Samford University April 30 to participate in the annual John and Frances Carter Young Authors Conference. The event was hosted by teacher education students from Samford, with the help of students from Birmingham's Miles College.
In staying true to the annual theme, Celebrating Diversity in Literature, Samford students taught lessons focusing on diverse issues that heightened the students' appreciation for literature and renewed eagerness for writing.
The day's activities closed with students hearing from Rick Shelton, a local author and storyteller, who illustrated the different components of writing through the re-telling of a story from his childhood.
Michele Haralson, event coordinator and director of the education curriculum materials and technology center, said the event is especially beneficial for Samford students as it provides an opportunity for them to connect their faith with real-life experiences.
Haralson explains although Samford teacher education students view their vocation as a calling, many of them do not come from diverse communities, which limits their professional experiences.
"The Curriculum and Instruction Department is committed to extending our students' "calling" to areas beyond their comfort zone," Haralson said. "The conference is a vital part of this experience as it not only provides an opportunity for pre-service teachers to practice their profession, but to make a connection between their profession and their Christian walk."
The conference is named for Drs. John and Frances Carter who taught for many years in the education school. The Carters have continued to support education programs by funding scholarships and sponsoring the conference. Frances attended the event and plans to take poems written by the students to be made into a paperback booklet for each student to have as a keepsake.