Published on September 10, 2019 by Katie Stripling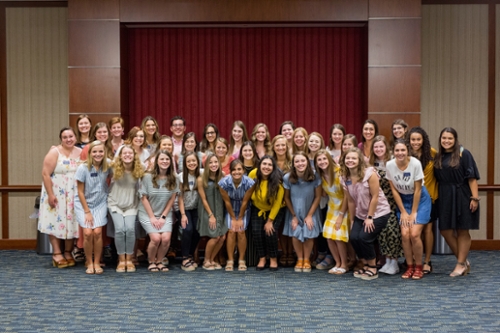 Samford University's Orlean Beeson School of Education hosted its fourth annual Lamp of Learning Ceremony on Aug. 29. The event marks the official induction of teacher education candidates into their respective majors and the beginning of professional field experiences. Forty-nine teacher education candidates received their clinical badge at the event. The badge symbolizes the candidate's readiness to enter field placements and lead lessons within the classrooms where they will be placed.
Candidates represented the Early Childhood, Special Education, Elementary, Elementary Collaborative (ESEC) program; Secondary Education program; and the Elementary Education with a concentration in Christian Missions program.
The Lamp of Learning event is designed to encourage candidates entering their clinical placements to pursue their calling without hindrance. Based on Luke 8:16, candidates are challenged to radiate their light and the love of Christ to those around them. 
Featured speaker, Samford first lady and adjunct faculty member in Orlean Beeson School of Education, Jeanna Westmoreland reminded candidates of the responsibility and privilege that comes with a career in education.
"You will have a direct impact on the students you teach and that will have an indirect impact on others," said Westmoreland. She encouraged students to never be afraid to share their light. "Throughout your career, you will share the light of knowledge and your faith and it will have a profound impact on those who you work with and teach."
This fall and in semesters to follow, candidates will be placed in classrooms with cooperating teachers who will aid them in developing their skills and expose them to tangible experiences. These field experiences allow candidates to practice creating and implementing lesson plans, but it also provides an opportunity for candidates to develop strong relationships with students and staff members.
Internships and field experiences are a critical component of the educational experience in Samford's Department of Teacher Education. Over the course of four years, candidates have the opportunity to work in a variety of diverse settings in multiple schools.