Published on April 30, 2020 by Leighton Doores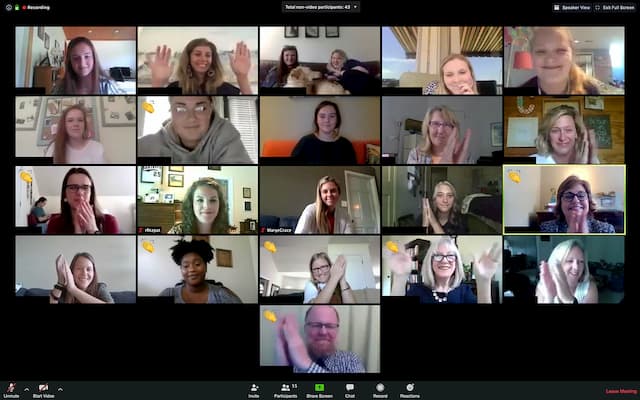 The Human Development and Family Life Education (HDFLE) department in Orlean Beeson School of Education held a virtual ceremony on April 28 to recognize the many accomplishments of the school's HDFLE students. Senior research theses were presented, award recipients were honored and graduating seniors were recognized.
Undergraduate HDFLE seniors presented their research theses in a format modeled after the Three Minute Thesis (3MT®). This allowed students three minutes to concisely present their research that they had spent at least a full academic year developing. Students who have completed this process at Samford have won the national award for undergraduate research from the National Council on Family Relations four times in the last decade.
"I'm really proud of this group of students especially, and of this hallmark of our program," said professor Jonathan Davis. "I think it's important to note that these students have learned the same materials studied by many graduate students in this school and across the nation."
The ceremony also recognized scholarship recipients and award winners.
Murray Babington, Kelsey Bradford and Caroline Brown received the HDFLE Departmental Scholarship, which is awarded to students who have shown evidence of service and potential contribution to the department, campus and community.
Mary Katherine Mount received the Alumni Relations Scholarship, which is awarded to one student who will work closely with Orlean Beeson School of Education's alumni relations coordinator to plan departmental alumni events and maintain communication with departmental alumni.
Bronwyn Frost, Christa Cherry, Faith Jones and Mackenzie Allen received the Undergraduate Assistant Scholarship that allows students to assist HDFLE faculty with academic research and course management.
Olivia Whited received the Raymond Christian Scholarship which was established by his family and friends as the memorial to his life and service through our community and state. It perpetuates his motivation and character through succeeding generations of students.
The Dr. Joan Gardiner Chambers, Home Economics and Home Economics Retailing Scholarships were awarded to Grace Blastic, Avery Grace Emory and Abby Parks respectively. Chambers served as chair of the home economics department and she and her husband created these scholarships to support worthy HDFLE students.
The Outstanding Practicum Award was given to Abby Plott, Emily Woo and Rachel Rooker for their outstanding continuous professional growth in the field.
Abby Plott received the Outstanding Senior Research Presentation Award which was determined by an audience vote. Bri Haynes was recognized as the runner-up for the award.
Liz Autry received the Distinguished Service Award.
Margo Moyes was awarded the Graduating Senior Outstanding Academic Achievement Award which is given to the senior with the highest cumulative grade point average.
Emma Paine received the prestigious Outstanding Senior Award. Each year, faculty recognize a graduating senior for exemplifying the best qualities of all students who pass through the doors of the program.
"We thank each of our HDFLE students for their leadership, love for service and friendship," said Kristie Chandler, chair of the HDFLE department. "It has been our privilege to learn with them."
As the virtual ceremony came to an end, Chandler shared a quote by C. Hoppe. "I hope that my achievements in life shall be these - that I will have fought for what was right and fair, that I will have risked for that which mattered, and that I will have given help to those who were in need, that I will have left the earth a better place for what I've done and who I've been."