Published on September 9, 2020 by Leighton Doores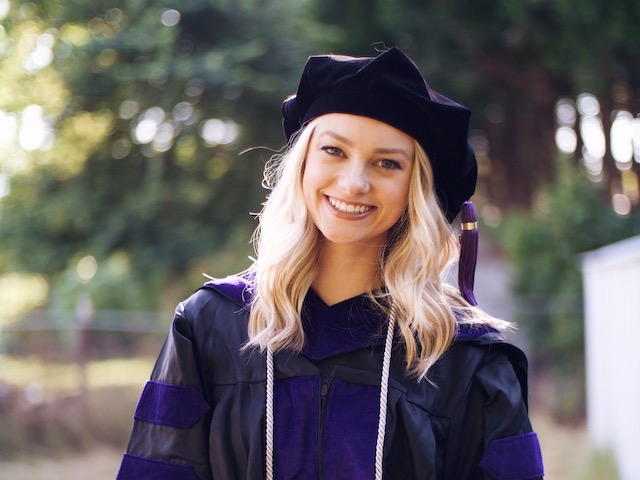 People are always surprised to learn Caroline Reed '16 doesn't have a background in political science or criminal justice. While Reed is a gifted lawyer who recently completed the Oregon Bar exam, her background in human development and family science has given her an advantage in the field.
When Reed prepares for a case, she assesses every aspect of her client's life to understand the reasoning behind their thoughts and actions. She says that understanding that each client has their own thoughts and opinions, that they're part of a family, and that family is part of a community, is essential to advocating for your client effectively. 
Reed credits this skill set to the courses she took as an undergraduate in the Department of Human Development and Family Science at Samford University's Orlean Beeson School of Education.
"I think the human development coursework that I did immensely prepared me to go into the field of law because most of the time you are dealing with people," said Reed. "Everyone you're dealing with has a background. It is a very adversarial field and because of my background, it is easier for me to remember that there could be something going on in their lives that they're stressed about and to not just get immediately angry."
Although Reed was born and lived the first half of her life in Tennessee, her family moved to the San Francisco Bay area when she was in middle school. Wanting to get back to the south, she knew Samford was the perfect fit for her. While at Samford, she explored career options such as elementary education and law enforcement because she has always loved kids and been fascinated by family dynamics. In her search, she found that human development and family science encompassed all of her interests. Her career journey since graduation has continuously tapped into the skills she developed as an undergraduate.
Reed is currently working as a law clerk for insurance defense firm Thenell Law Group in Portland, Oregon until she receives the results of her bar exam. She loves being able to represent individuals on behalf of an insurance company, for example, someone who has been in a car accident.
"I like advocating for those clients in these situations that they never thought they'd find themselves in, that is a situation that any of us could find ourselves in," Reed said.
As someone who took full advantage of everything Samford has to offer, she advises current students to do the same.
"Samford offers so many opportunities to invest in people and your area of study," said Reed. "The university does such a great job of setting things up for students to grow spiritually, mentally and relationally. Out of everywhere I have been, Samford did that the best. Everything Samford did was focused on us as students, our experience, and becoming the best students and people we could be."