Published on December 22, 2020 by Leighton Doores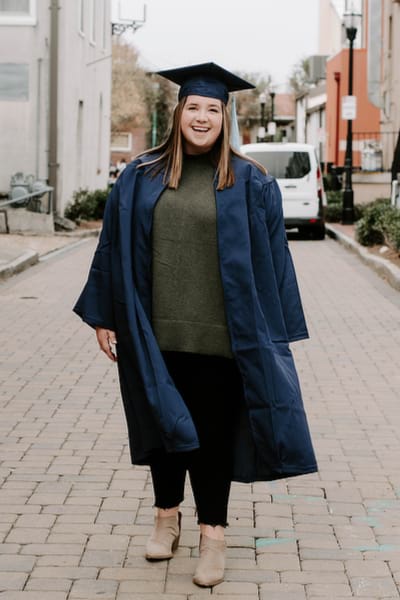 After graduating this December, Mary Grace DeFrancesco began her work serving children at Passion City Church in Atlanta. While the new role is a dream position for DeFrancesco, the road to finding her calling called for hard work and perseverance.
DeFrancesco first enrolled at Samford as an Early Childhood, Special Education, Elementary, Elementary Collaborative major, but an impactful experience helped uncover a dream position. 
During her sophomore year, she attended Passion Conference through Passion City Church, where the theme focused on not counting God out of your dreams. She realized one of her dreams would be to work with Passion City Church, where she would go on to complete a summer internship before her senior year. She was confident that she wanted to work with kids, but she felt her heart being drawn to ministry outside the classroom.
Uncertain of how her future plans would unfold, she switched her major to elementary education with a concentration in Christian education and missions. She then began preparing for the standardized test she would need to pass to be certified to teach in the state of Alabama. DeFrancesco didn't pass the test the first time, and she would go on to take the test an additional eight times while being within one point of passing half of those times.
Discouraged and confused, DeFrancesco consulted with her academic advisor and discussed her options upon learning she might not graduate in May 2020.
"As a first-semester senior, when I heard the words 'You might not graduate in May,' when those are the only plans I've been working toward, I was crushed," said DeFrancesco.
The day after DeFrancesco opted to take the spring semester off, she got a call from Passion City Church offering her a contract position through August 2020.
"I started to see this glimpse of God telling me this is the reason you didn't pass that test and I know that brought a lot of struggles and hard times for you and it wasn't the most ideal situation, but this is what I was preparing for you in that," said DeFrancesco.
Not only was DeFrancesco able to work with Passion City Church during her semester off, but she was able to then complete an internship with the church through the fall that allowed her to complete her coursework remotely and graduate with her degree in December 2020. Since DeFrancesco felt called to be Atlanta, she didn't feel the need to have the license to teach in Alabama.
"Your degree really prepares you for wherever you go," said DeFrancesco. "I didn't realize that I was going to have so many parallels from what I learned at Samford to where I am now in a church."
After completing her fall internship, DeFrancesco was offered a full-time position and is now serving as Bloom Coordinator for children from birth to pre-K for the Cumberland location of Passion City Church.
"I am blown away by the Lord's faithfulness," said DeFrancesco. "This whole journey to get where I am today was really hard, but it allowed me to find my passion of working with kids in a ministry setting."