Published on January 26, 2021 by Leighton Doores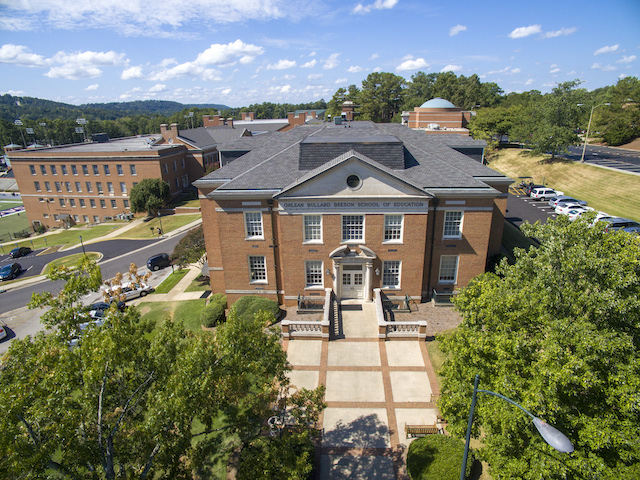 Now in its 14th year, Samford University's Orlean Beeson School of Education's partnership with Madison County Schools in north Alabama is continuing to make a Samford education accessible to more graduate students through the Department of Educational Leadership. 
Every semester since the partnership began in 2007, graduate classes have been held in Huntsville for those interested from Madison County Schools and other systems. Students have the opportunity to earn a high-quality graduate degree from Samford without having to travel or access their classes remotely. They are able to receive face-to-face instruction along with ample networking opportunities.
Nancy Curry, a school improvement specialist with Madison County Schools, has been an adjunct professor at Samford since 1995. She began teaching for Samford in Huntsville when the first classes were held there in 2008.
"I cannot say enough good things about what the university does and what an impact it's having on education," said Curry. "The Christian atmosphere, servant leadership and the student-centered approach that Samford has for their students is not just words, it's actually what happens for our students and we could not be more blessed in this system and in this area to have this partnership with Samford University and to have had it for this long."
All courses in the Department of Educational Leadership are offered through this partnership including the M.S.E. in Instructional Leadership, the Educational Specialist degree in Instructional Leadership, the 18-hour certificate in Instructional Leadership and the Doctorate of Education in Educational Leadership. Samford and Madison County Schools collaborate each semester to review the courses and make improvements.
The adjunct professors in Huntsville focus on Samford's priorities, but are also able to enhance the curriculum by hosting a local principal panel or having their superintendent as a guest speaker.
"I've worked with several of the university leaders to make sure we are doing everything we can to make this a great experience and they share with us and we share with them," said Curry. "We are not an island out here on our own doing a satellite class or an off-campus class by ourselves. We have all the help and support we need from Samford."
Curry currently works with Kara Chism, assistant professor and director of the M.S.E. in Instructional Leadership program.
"This is year 14 of the partnership," said Chism. "Many administrators in the Madison area are Samford graduates. It is a great partnership to support Madison County and continue to develop administrators."