Published on October 17, 2022 by Leighton Doores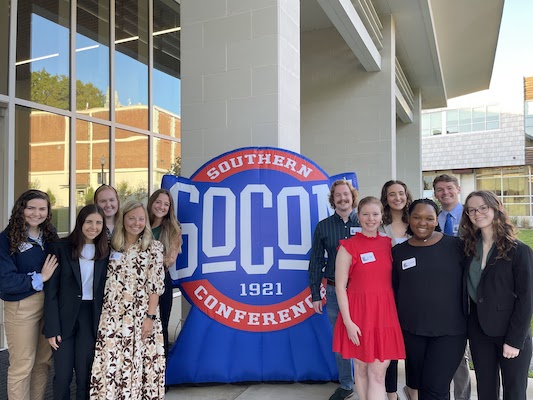 Eight undergraduate students in Orlean Beeson School of Education presented their research proposals at the SoCon Undergraduate Research Forum (SURF) at Wofford College in Spartanburg, South Carolina Oct. 14-15.
SURF was designed with the focus of bringing together undergraduate students presenting their research projects for perhaps the first time via posters or oral presentations. The event is a collaborative project by the membership of the Southern Conference and welcomes research from the humanities and the arts in addition to the STEM disciplines.
The students selected and their projects are:
Heaven Colquiett and Christa Chery, seniors on the fast-track master of social work program in Human Development and Family Science
Parental Criticism / Willingness to Intermarry
Faculty Mentor: Jonathan Davis 
Collin Defee, senior in Human Development and Family Science
Secondary Traumatic Stress
Faculty Mentor: Jonathan Davis 
Hannah Freeman, senior in teacher education
Reading Strategies to Improve Spelling with Derivational Relations in 4th Grade Students
Faculty mentor: Karen Birkenfeld, Tarsha Shepard 
Sarah Howe, senior in teacher education
Teaching of Reading Action Research Project
Faculty mentor: Tarsha Shepard
Emily Lankford, senior in teacher education
Effective Research-Based Instructional Strategies for Improving Letter/Sound Recognition Among Kindergarten Students
Faculty mentor: Karen Birkenfeld, Tarsha Shepard
Mary Snyder, senior in teacher education
Using Multisensory Strategies to Improve Reading Rate Among Third Graders
Faculty mentor: Karen Birkenfeld, Tarsha Shepard
Molly Ward, senior in teacher education
An Evaluation of Multisensory Strategies to Improve Spelling Among Fourth Grade Students
Faculty mentor: Karen Birkenfeld, Tarsha Shepard