Published on May 8, 2019 by Sara Roman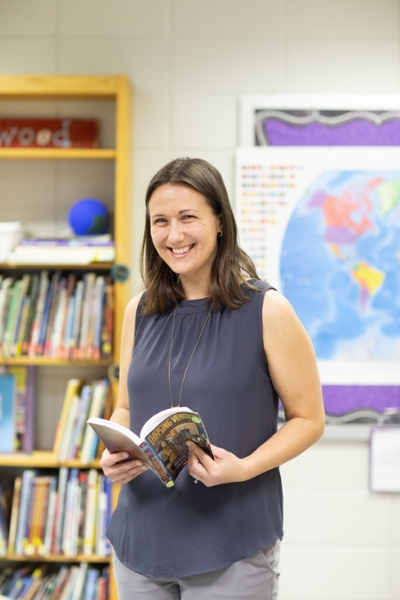 Degree/Year: Bachelors in Education (ESEC), 2005 and Masters in Gifted Education, 2013
Hometown: Tallahassee, FL
Current Position: Gifted Education Specialist, Edgewood Elementary School, Homewood City Schools
Describe your journey from Samford to your current position: I graduated from Samford in May 2005 and was blessed to get a wonderful position at Edgewood Elementary as a 4th grade teacher that fall. I taught 4th grade for four years and then moved to central Mexico for two years to be a missionary.  During my time in Mexico, I was involved in children's discipleship ministry and also taught academic resource classes to help the children in our ministry. Upon my return to Birmingham in 2011, I resumed teaching at Edgewood as a third-grade teacher. A year later, I moved into the role of the gifted specialist at our school and began pursuing my masters in gifted education.
What do you enjoy most about your work? My favorite aspect of my job is my relationship with my students and their families. In my role as the gifted specialist, I have the privilege of working with the same students for multiple years. I love getting to watch them grow through the years and getting to know their individual personalities.
How did Samford prepare you for your career in gifted education? Samford's gifted education program is excellent! The degree prepared me well to both teach gifted education classes and also conduct the referral and evaluation process. I especially appreciate the way Dr. Wood recognizes the importance of the affective needs of gifted students, as well as their creativity. She shared many helpful ideas and resources with us in those areas. 
What advice do you have for current Education students? God will probably use your Education experience and degree in multiple ways. It's exciting to think of all the various possibilities. You probably won't do the exact same thing for 25 years. Also, hang in there! The workload can feel overwhelming at times and it's hard to go to class every morning at 8 AM when other don't have to, but Samford's education department really is the best! You'll be well-prepared in learning how to balance life and the stressful demands that come with the world of teaching.
What is your favorite Samford memory? I loved my Samford experience so much that it's hard to pick just one favorite memory. Instead, I would say it's more like a collection of favorite memories that usually include dear friends and the beautiful campus: sitting with friends in Ben Brown Plaza before or after lunch in the Caf, throwing the frisbee on the Quad, or going for "walk and talks" around campus to catch up with a good friend.