Program Summary
Samford's nationally recognized ESEC program is designed to prepare students to teach a wide age range of children in a variety of grades. Students are afforded varied and diverse opportunities in authentic settings to gain the necessary knowledge, practical skills and professional dispositions required of today's teachers. Samford students pursuing this degree will earn Alabama teaching certificates in four areas:
Early Childhood Education (Preschool-3rd grade)
Early Childhood Special Education (Preschool-3rd grade)
Elementary Education (Kindergarten-6th grade)
Elementary Collaborative Special Education (Kindergarten-6th grade)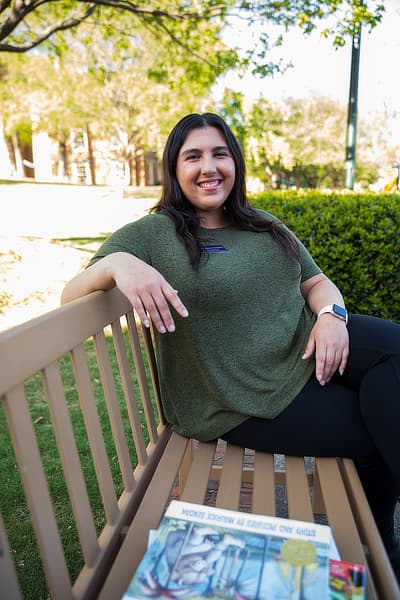 The one thing I am going to miss most about Orlean Beeson School of Education is the relationships I have built with each professor. The thing that makes them special is their dedication to life-long learning and developing us as intentional educators. They have established an environment of love and support that really allowed me to grow into a very well-prepared and confident first-year teacher.–-Emily Daniel '21
Objectives & Goals
Students in the ESEC teacher education program will engage in coursework throughout the program to build a knowledge base in theoretical understanding of elementary education, early childhood education and special education. During a student's time at Samford, practical teaching skills to promote student learning will be developed through extensive field experiences at schools and other learning settings. Professional dispositions encompassing values, commitments and ethics will be established and expanded while in the ESEC teacher education program.
Educators have the responsibility of preparing every other profession. Teachers have an enormous responsibility to prepare the future professionals and leaders of the world. If we fail, society fails." - Mandy Jayne (Stanley) Antwine '14, ESEC, Kappa Delta Pi National Student Teacher of the Year.
What Makes Us Different?
The ESEC teacher education program is nationally recognized by each of the Specialized Professional Associations (SPAs) represented within the degree. The program holds national recognition status from the Association of Childhood Elementary International (ACEI), the National Association of Education for Young Children (NAEYC) and the Council for Exceptional Children (CEC), a designation held only by Samford University among other teacher education programs in Alabama.
CAEP accredited
Offers 4 teaching certificates in 4 years
Near 100% employment rate 3 months after graduation
Teacher education courses and early field experiences are offered to students as freshmen and sophomores
Courses are taught by Samford teacher education professors with few adjunct instructors
Teaching certificate reciprocity across most states in the U.S.
100% Pass rate on PRAXIS licensing exam
Career Preparation
Graduates of the ESEC teacher education program are well-prepared and certified to teach in many settings across age groups and grade levels spanning preschool through 6th grade. ESEC program graduates are qualified to teach in a general classroom setting with expertise serving special needs students grades preschool through 6th grade. The ESEC program also prepares students to be skilled special education teachers prepared to teach preschool through 6th grade.
Career Opportunities
Preschool teacher
Elementary school teacher
Special education teacher
Early Childhood teacher
Textbook and Instructional Materials Sales Representative
Educational consultant
Youth detention center teacher
Owner of a tutoring business
HeadStart or daycare teacher
Facilitator of teacher training courses for a college, university, K-12 school (public or private)
Online K-12 instructor
Corporate Trainer & Professional Development Specialist
Testing company administrator
Department of Education professional
Think-tank associate
Researcher
Lobbyist
Textbook author or editor
Reporter
Educational Blogger
School planter
Museum educator or activities director
Health educator
Private tutor
Teacher contracted for homeschooled or homebound student
Teach abroad
Admissions Counselors or Academic Advisor
Residence Hall Director
Disability Services Coordinator
College Student Activities Director
Adult Literacy and GED Instructor
After School Programming Coordinator
Public Relationships Specialist
Church or Temple Children's Ministry Coordinator
Daycare or Camp Manager
Director of the Multi-Cultural Center
Learning Center Instructor
International Students Advisor
Education recruiter for university or college
Non-profit Director
Recreation Director
Youth Director
Community Relations Director
Course designer
Education Program Director (zoo, museum, park, cruise ship, resort, historic parks/sites
Internships
Elementary Schools, public and private, general education classrooms and special education classrooms
Preschools, public and private
Early childhood learning centers
Accolades & Alumni
Nationally recognized by: Association of Childhood Elementary International (ACEI), the National Association of Education for Young Children (NAEYC) and the Council for Exceptional Children (CEC)
Dr. Andrew Jackson: Alabama State Teacher of the Year, 2020
Mandy Jane Stanley: Kappa Delta Pi, National Student Teacher of the Year, 2014
Dr. Betsy Rogers: National Teacher of the Year, 2003-2004
Alumni Careers
Educational Missions work at home and abroad
Owner of a tutoring business
University professor
Public school elementary teacher
Private Christian school elementary teacher
Special education teacher
Academic advisor at a university
Charter school teacher
KIPP school teacher
Teacher at a magnet school
Children's minister
Mother's Day Out director
Children's book company consultant
International educator at an American School
Preschool teacher
Co-founder of non-profit organization
Speech language pathologist
Gifted resource teacher
Lead teacher at a children's learning center
Teacher at a classical school
Tutor at a Foster Care Home