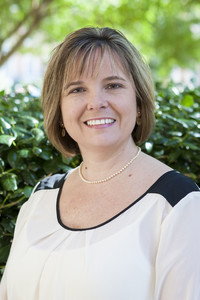 Associate Professor and Executive Director
College of Health Sciences
Experiential Learning and Simulation Center
1305 CHS Building 1
During her time in graduate school, Jill Pence knew that Samford was a special place and where she wanted to eventually work. She began teaching at Samford as an adjunct and then joined as full time faculty in 2008. Jill played an integral role in developing and implementing the undergraduate nursing simulation program during her first few years at Samford. Simulation soon became her passion leading her to her current position as executive director of the Simulation Center in the College of Health Sciences. She enjoys working with faculty from across the College of Health Sciences to develop exciting, new learning experiences for Samford students. Outside of work, Dr. Pence enjoys spending time and traveling with her family.
Degrees and Certifications
EdD, Educational Leadership, University of Alabama

MSN -  Nursing Education, Samford University

BSN - Nursing, University of Southern Mississippi

Certified Healthcare Simulation Educator, Society for Simulation in Healthcare

Certified Nurse Educator, National League for Nursing
Involvement
Society for Simulation in Healthcare
Sigma Theta Tau
National League for Nursing
Hunter Street Baptist Church
Expertise
Simulation in Healthcare
Nursing Education
Recent Publications
Pence, J. & Wood, F. (2018) Using computer adaptive quizzing as a tool for NCLEX success. Nursing Education Perspectives. May/June, 164-66.
Recent Presentations
Bringing Practice to Life Using Interprofessional Simulation, [Podium presentation], CAE Regional Sim Day, Birmingham, AL
Building a Simulation and Experiential Learning based IPE Program, [Podium presentation], Collaborating Across Borders, Banff Canada
Peer Evaluation of Classroom Teaching Using the NLN Competencies for Nurse Educators, [Poster presentation], National League for Nursing, San Diego, CA
Bringing Purpose to Interprofessional Education Through Disaster Simulation, [Poster Presentation], HPSN World, Jacksonville, FL.
Research Areas
Interprofessional Simulation
Adaptive Testing