The College of Health Sciences' commitment to interprofessional education (IPE) reflects today's team-based approach to health care. We prepare graduates to be more than practice ready with the understanding and skills to be leaders in the workplace, distinctive in their readiness of knowledge, practice, service, faith and collaboration.
Interprofessional education is part of why Samford is great. We are given opportunities that one might not necessarily have at another university, and they're made even better because we're able to collaborate with other programs in nursing, public health and health professions.Stephanie Brennan, Pharmacy '18, McWhorter School of Pharmacy
With more than 30 programs across four schools—School of Health Professions, Moffett & Sanders School of Nursing, McWhorter School of Pharmacy and School of Public Health—students not only learn within their specific programs, but they have numerous opportunities to study and practice alongside students in other health care disciplines.
Interprofessional Education Framework
Samford's College of Health Sciences utilizes the four competency domains of interprofessional education described in Interprofessional Education Collaborative's Core Competencies for Interprofessional Collaborative Practice (2016). We believe that our faith and calling inform and connect our work in these four domains. It is also important for us to incorporate elements of quality and safety since quality improvement and patient/client/population safety are crucial, pervasive aspects of providing care.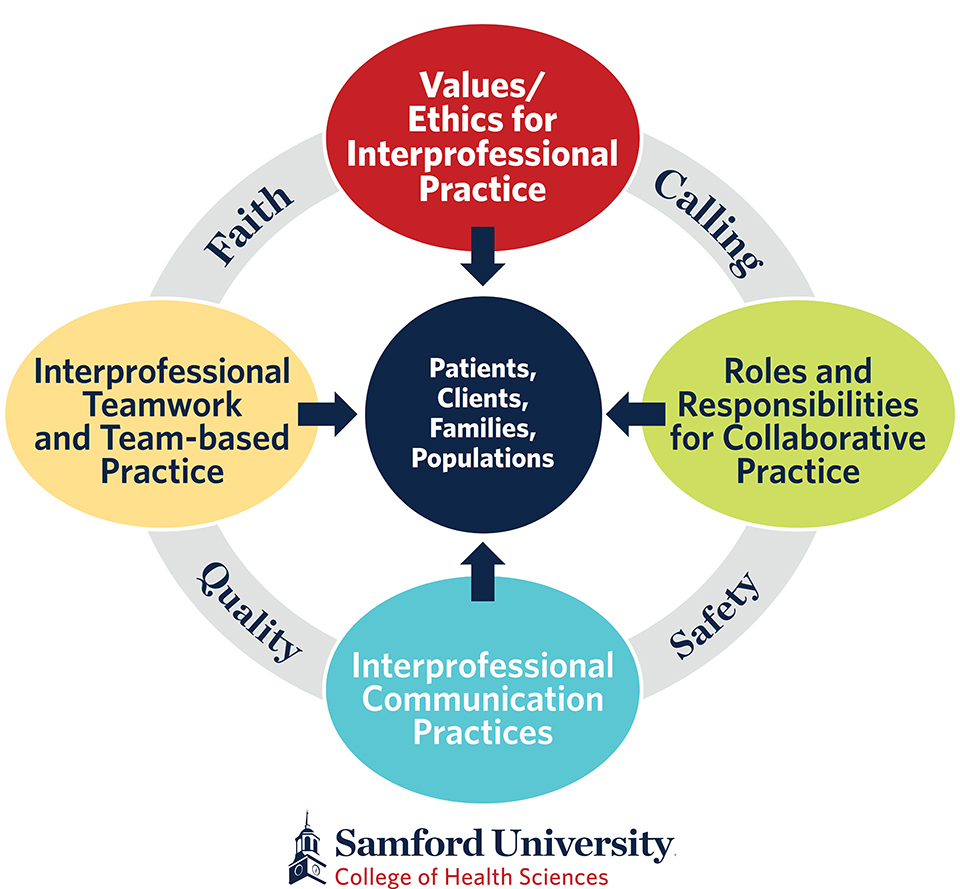 We expect graduates of the four schools within the College of Health Sciences to be able to:
Values/Ethics for Interprofessional Practice
Work with individuals of other professions to maintain a climate of mutual respect and shared values.
Roles/Responsibilities for Collaborative Practice
Use the knowledge of one's own role and those of other professions to appropriately assess and address the health care needs of patients and to promote and advanced the health of populations.
Interprofessional Communication 
Communicate with patients, families, communities and professional in health and other fields in a responsive manner that supports a team approach to the promotion and maintenance of health and the prevention and treatment of disease.
Teams and Teamwork
Apply relationship-building values and the principles of team dynamics to perform effectively in different team roles to plan, deliver and evaluate patient population-centered care and population health programs and policies 
Large-scale Interprofessional Events
Throughout the year, the College of Health Sciences host several large-scale interprofessional education events that involve hundreds of students, faculty and volunteers.
Interprofessional Graduate Education Event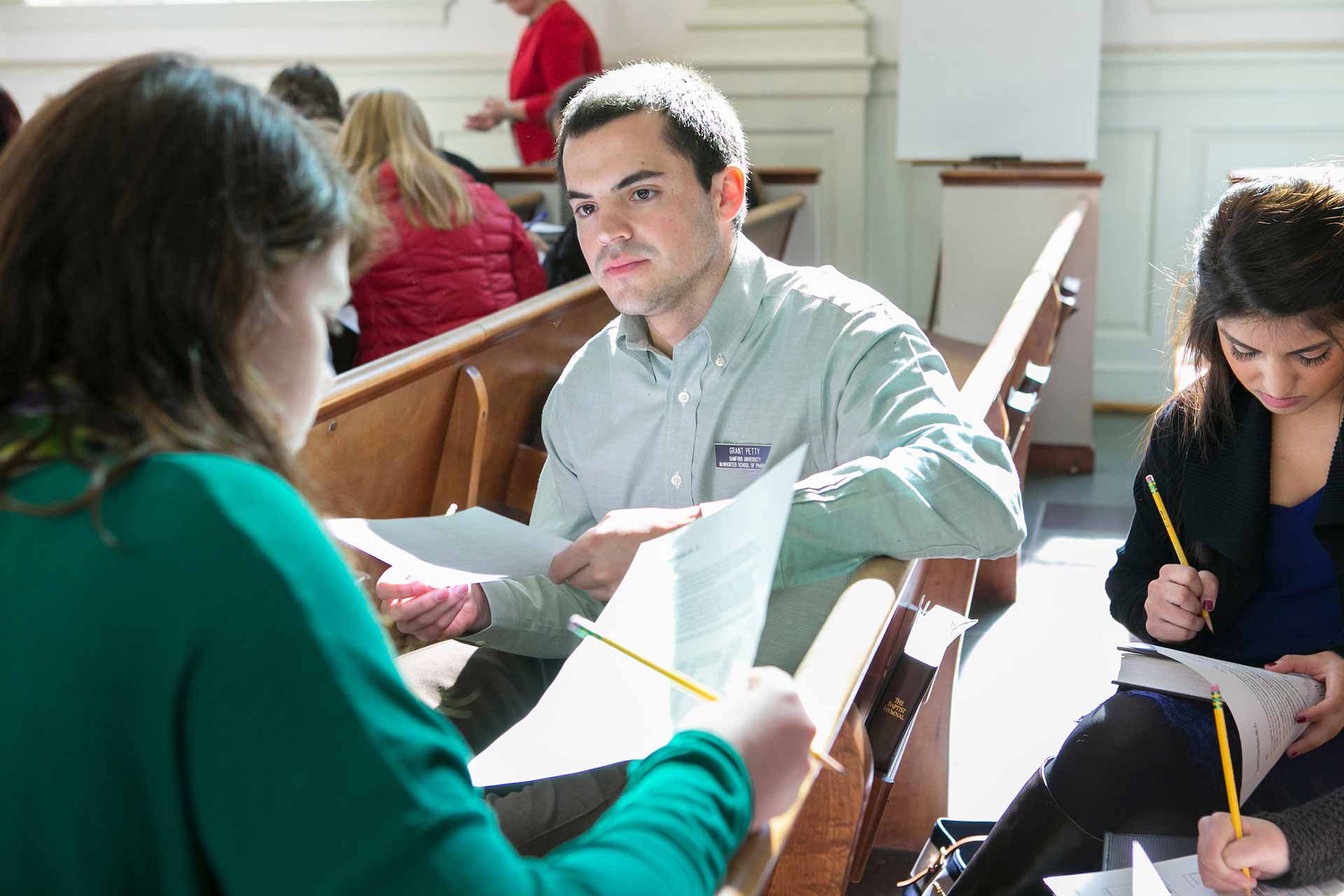 At the start of each academic year, the College of Health Sciences hosts an interprofessional education event for all first-year graduate students who are able to travel it to campus. Through large and small group sessions, students and faculty discuss the pillars of interprofessionalism and how their individual roles work together as a team.
"We created this event with the purpose of starting all first-year graduate students on an understanding of interprofessional education, knowing that they will progress through their respected programs together," said Michael Kendrach, professor and associate dean for academic affairs in the McWhorter School of Pharmacy.
Acute Care Simulation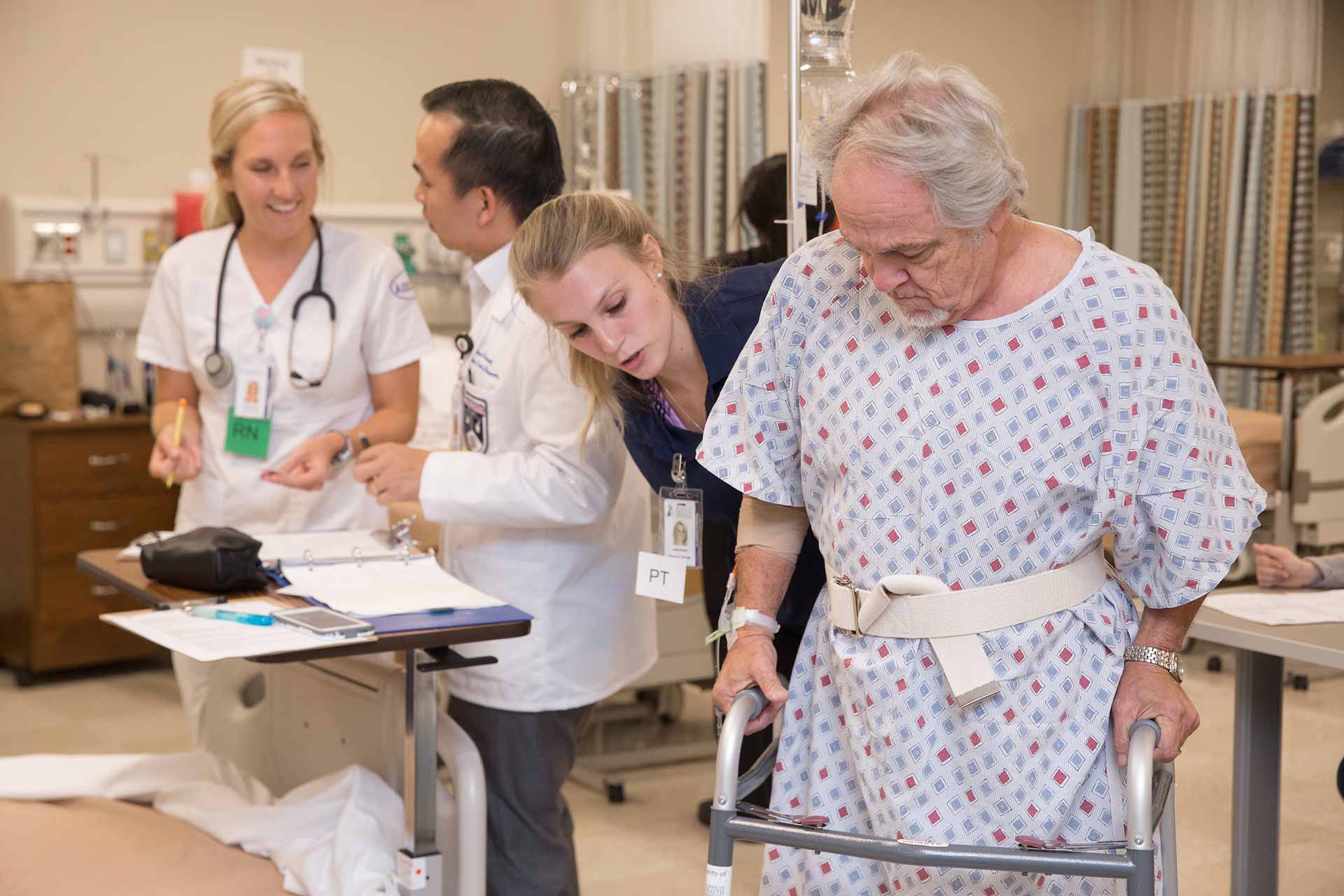 The annual fall Acute Care Simulation is a three-hour interprofessional simulation that involves more than 300 undergraduate and graduate students, representative of all four schools. Every space is our Experiential Learning and Simulation Center is utilized, creating a hospital-like environment.
"With the Interprofessional Acute Care Simulation, we have students work through scenarios that are more commonplace in a clinical setting, and we make the different professions—from nurses to physical therapists, health care administrators to pharmacists—work together to provide the best possible care for their patients," said Jill Pence, executive director of the Experiential Learning and Simulation Center.
Community Disaster Simulation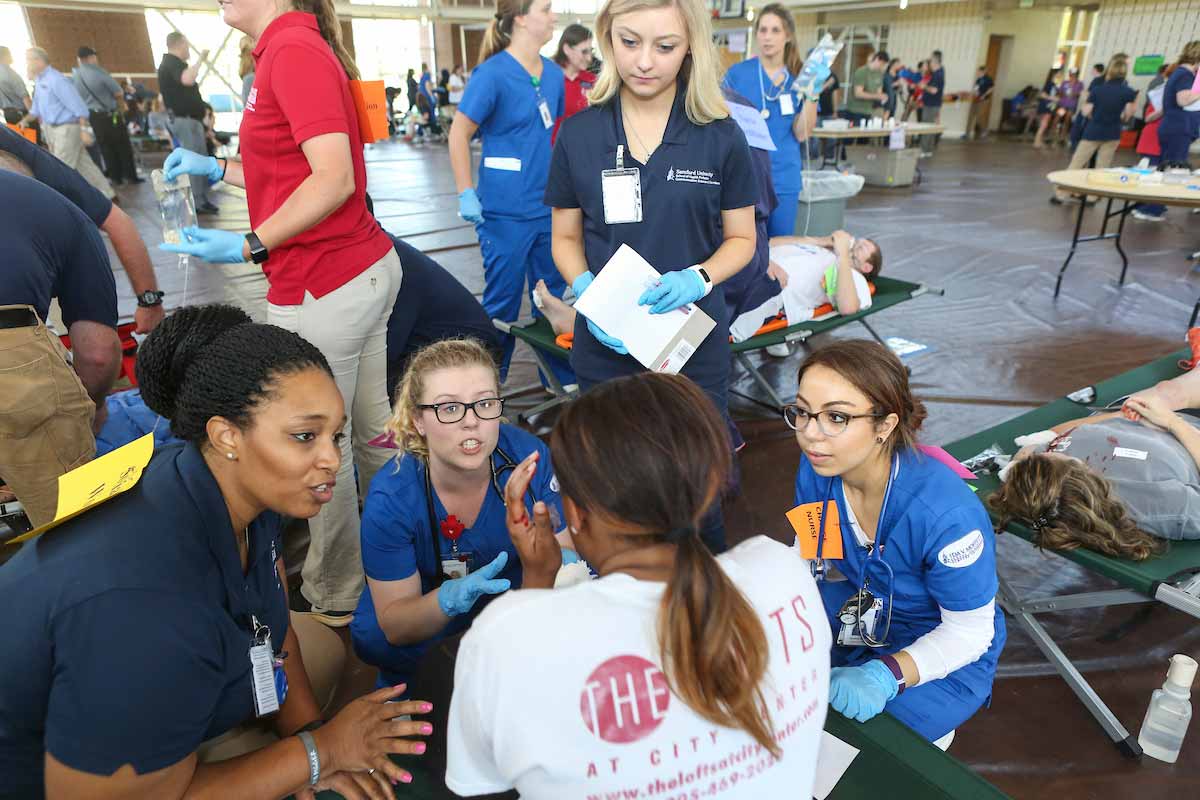 Each spring, the Community Disaster Simulation is a testament of the university's dedication of empowering students with confidence, compassion and knowledge through an experience that applies their knowledge and skills in a very unique way. Students are challenged to work together as a team to provide care in the aftermath of a crisis.
"The simulation requires students to depend on each other," Pence said. "They have to work as a team, or it won't work. Intentionally, they are short on staff, short on beds… because that is how it would be. We do this so they will have to think outside the box, be resourceful and use what they have available to them—like man power and teamwork—to make sure everyone is taken care of."