Premier programs meet premier facilities in the College of Health Sciences.
Samford University's College of Health Sciences spans more than 223,000 square feet of space across two buildings.
Samford dedicated the facilities in fall 2016 to house the School of Health Professions, Moffett & Sanders School of Nursing, McWhorter School of Pharmacy and School of Public Health, providing students and faculty the opportunity to learn and work in an interprofessional environment that mirrors today's collaborative approach to health care delivery. On average, approximately 1,200 students from 30 programs utilize these facilities daily.
Classrooms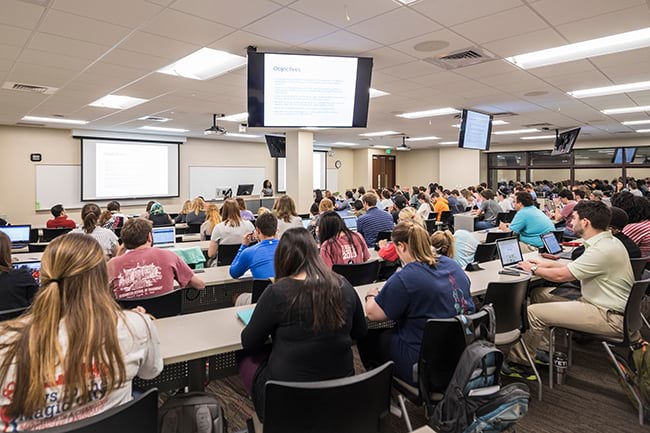 Modern design meets innovative technology in the College of Health Sciences classrooms. The college's 38 technologically advanced classrooms are designed to maximize student and faculty engagement and to provide a comfortable and inviting place for students to learn.
Clinical Labs
In the College of Health Sciences we believe that hands-on experience is the best way for students to gain many of the essential skills and knowledge necessary to succeed in the health professions. Combining the latest technology and equipment, our clinical labs are designed to prepare students for the health care environments of the future.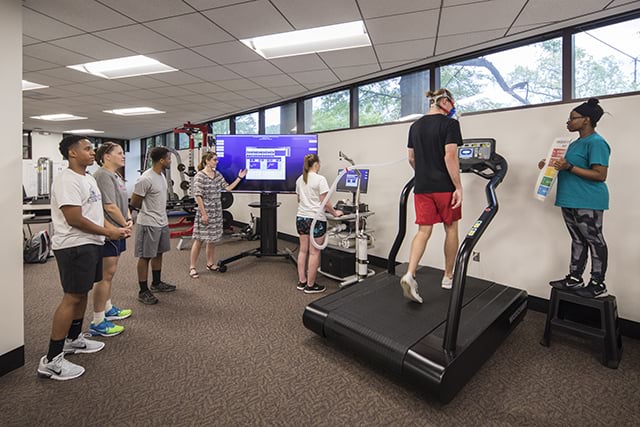 Exercise Physiology Lab
This lab provides a space for teaching as well as faculty and student research related to the physiological responses to exercise.  Top of the line equipment allows for the assessment of metabolism at rest and during exercise, fuel usage during exercise, and musculoskeletal performance.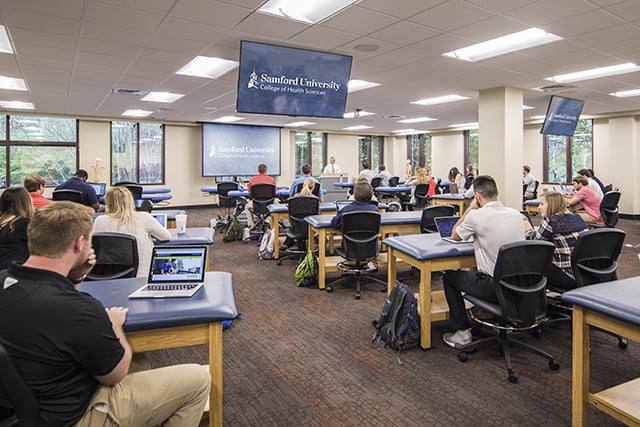 Physical Therapy Clinical Lab
The Physical Therapy Clinical Lab includes 25 treatment tables with eight of these being mechanical high low tables that are used for training students for exercise and mobilization techniques. In this teaching lab, faculty demonstrate specific examination and treatment techniques. Innovative technology allows lectures and demonstrations to be projected onto flat screen televisions in the demonstration area and archived for future use.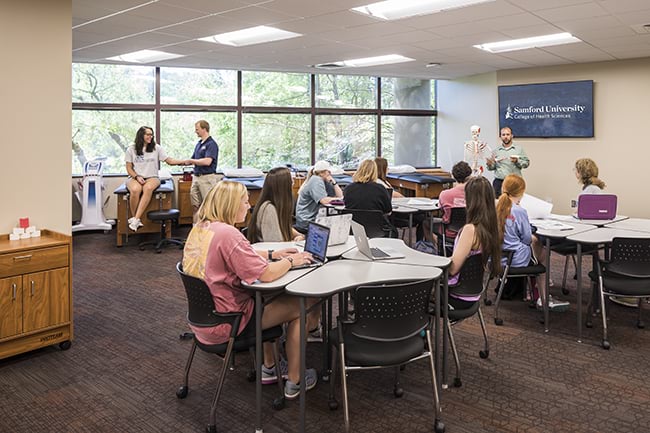 Sports Medicine Lab
Utilizing examination and taping stations, isokinetic testing, and balance assessments, School of Health Professions students gain experience in the prevention, recognition and treatment of injuries in the Sports Medicine Lab. Modalities for injury treatment include neuromuscular electrical stimulation, ultrasound, and hydrotherapy. In addition, students and faculty conduct research in this multipurpose space.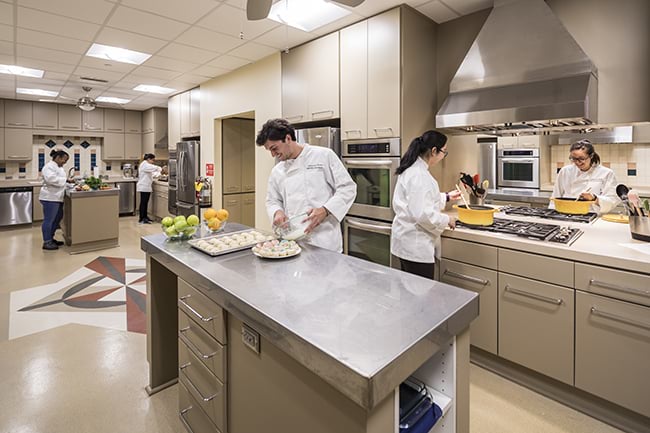 Food Production Labs
Each of the two Food Production Labs contain eight state-of-the-art kitchens that are utilized by both undergraduate and graduate students in the Department of Nutrition and Dietetics. In these spaces, foods majors are inspired to pursue professions in the culinary arts and sciences as they refine the culinary skills required by the Academy of Nutrition and Dietetics. In addition to serving students, the Food Production Labs provide the opportunity for additional community partnerships, outreach and education.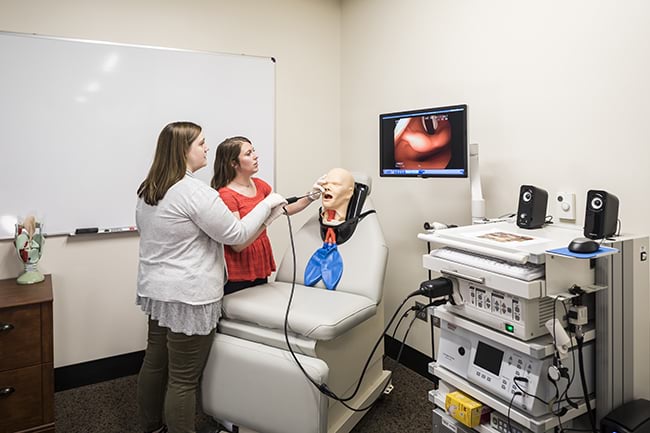 Voice Swallowing Lab
Using the most advanced technology, students in the School of Health Professions' Department of Communication Sciences and Disorders learn to evaluate patients exhibiting voice and/or swallowing problems.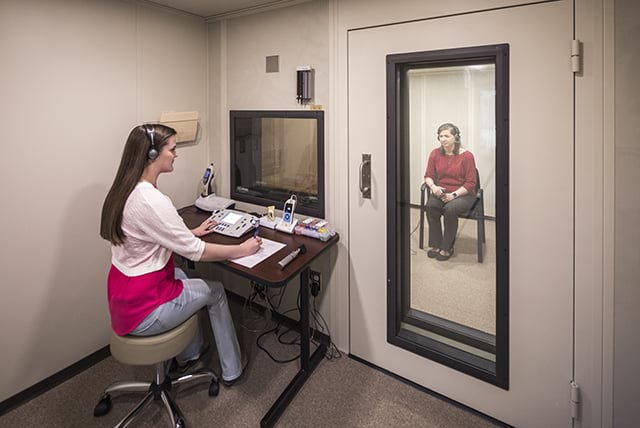 Audiological Suites
Department of Communication Sciences and Disorders students learn the process of hearing assessment using the most current, technologically advanced equipment.
Research Labs
Students and faculty in the College of Health Sciences have the opportunity to participate in a variety of research activities.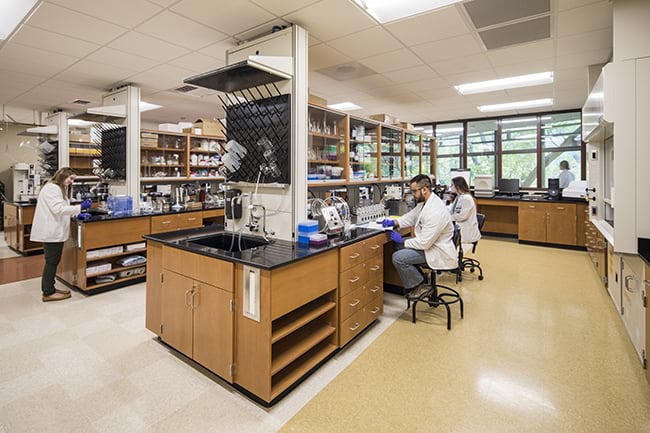 Pharmaceutical Sciences Research Lab
The Pharmaceutical Sciences Research Laboratory houses state-of-the-art equipment which allows for contemporary, cutting-edge research in drug development, drug formulation, and drug evaluation.  This lab is shared among several pharmaceutical and biomedical research faculty to foster ideas leading to the development of collaborative research projects. In addition to standard biomedical research laboratory equipment, this lab houses a high-performance liquid chromatography system, protein and nucleotide imaging equipment, and a mini spray dryer which allows for spray drying and encapsulation of pharmaceuticals into novel dosage forms and the creation of unique vaccine formulations.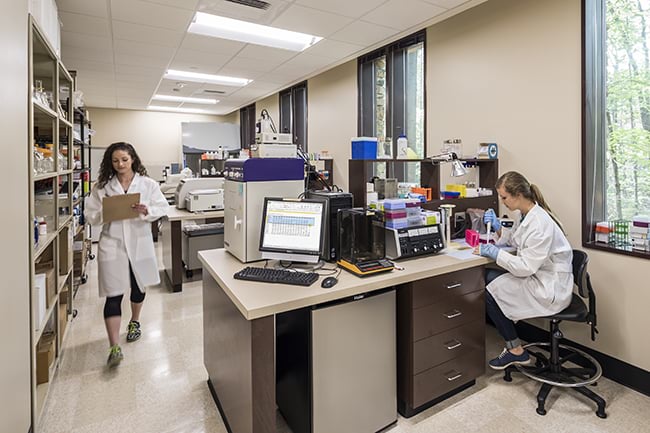 Nutrition Research Lab
Students and faculty conduct basic and applied research on understanding the molecular basis of obesity and diabetes and the role of bioactives and functional foods in health promotion and disease prevention. Along with the Nutrition Research Lab, the Food Science Lab allows both our undergraduate and graduate students to participate more fully in food science research.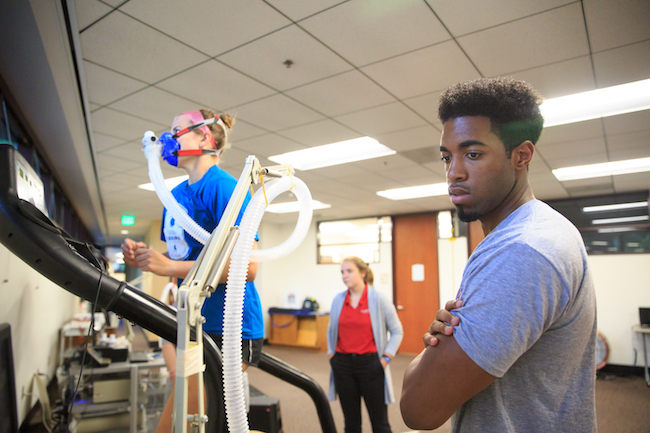 Human Performance Lab
In the Human Performance Lab students and faculty in the School of Health Professions will assess cardiorespiratory, body composition, and musculoskeletal performance. Utilizing state-of the art equipment and facilities, faculty and students will perform comprehensive tests aimed at assisting clients in becoming healthier adults or improved athletes. The Human Performance Lab is also the home for the SamFit Community Testing Program. 
Simulation Center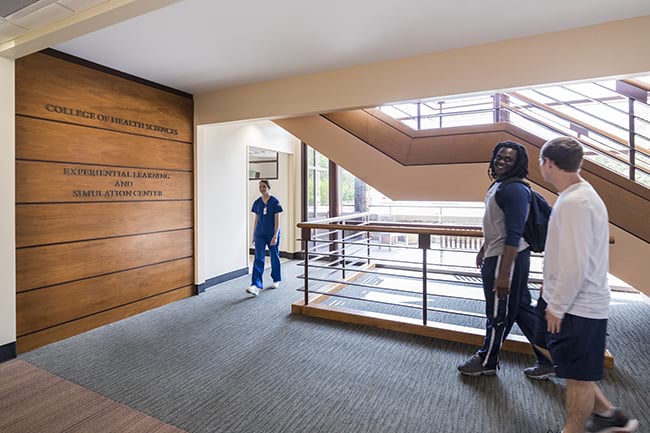 Imagine a place where students from all health care disciplines come together to improve their technical skills, clinical judgement, decision making, communication and teamwork. The College of Health Sciences' Experiential Learning and Simulation Center revolutionizes the way students learn everything from simple skills and tasks to strategies for managing complex health care scenarios.
The 22,000 sq. foot Experiential Learning and Simulation Center utilizes the most sophisticated technology available including a digital recording and playback audio visual system that will be used for debriefing, evaluation and demonstration. The center also includes an Electronic Health Record system that mirrors the systems found in today's health care settings.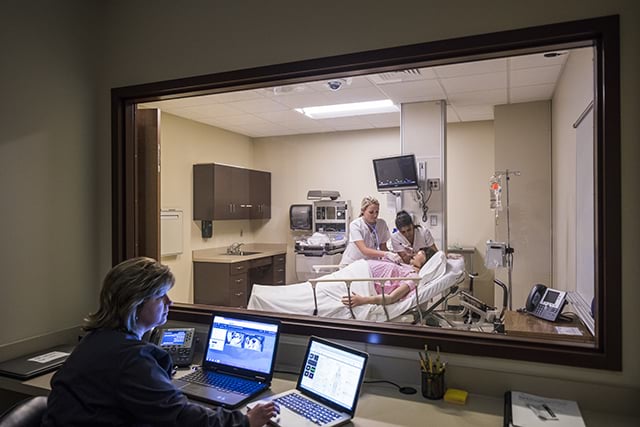 High Fidelity Simulation Suite
The five-bed high fidelity suite allows for simulation of complex health care situations. All rooms have individual observation rooms and debriefing/conference rooms.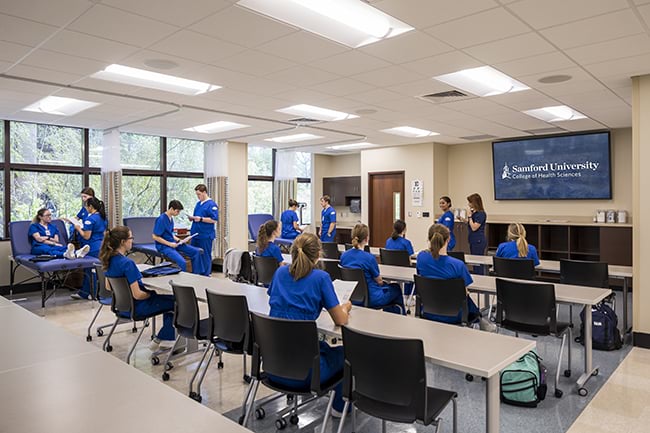 Assessment and Skill Labs
Students learn, practice, document and demonstrate basic care and patient assessment competencies, utilizing task trainers and low- to mid-fidelity simulators, students learn.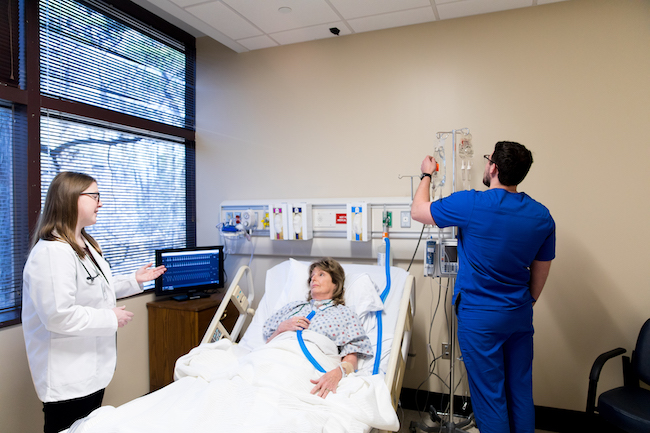 Acute Care Suite
This four room suite houses four acute care medical inpatient hospital rooms with realistic hospital equipment and working headwalls. This clinically based designed space allows for multi-patient simulation with standardized patients. The space has a medication dispensing machine as well AV recording ability.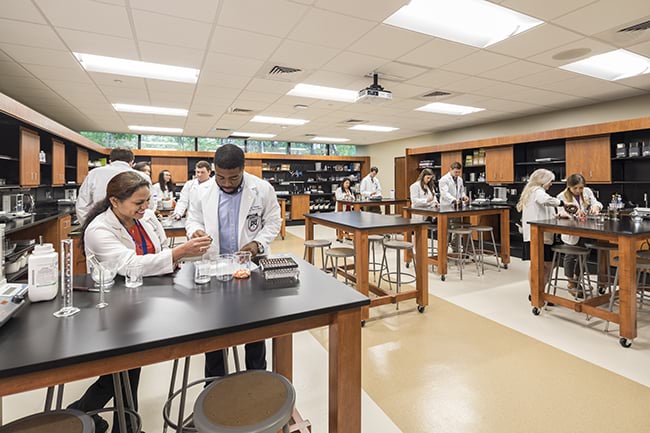 Non-Sterile Compounding Lab
Student pharmacists learn to prepare unique, custom-formulated prescriptions such as creams, solutions, capsules, and other dosage forms in this lab.  Students are  taught the most up-to-date, contemporary compounding techniques used in various pharmacy settings.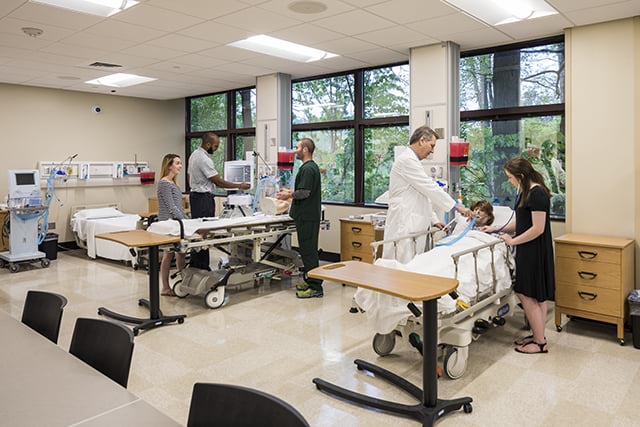 Flex Lab
This 10 bed lab houses medium fidelity mannequins as well as serving as a procedural lab. This multipurpose space allows for small group clinical development, skills training, and multi-patient simulation.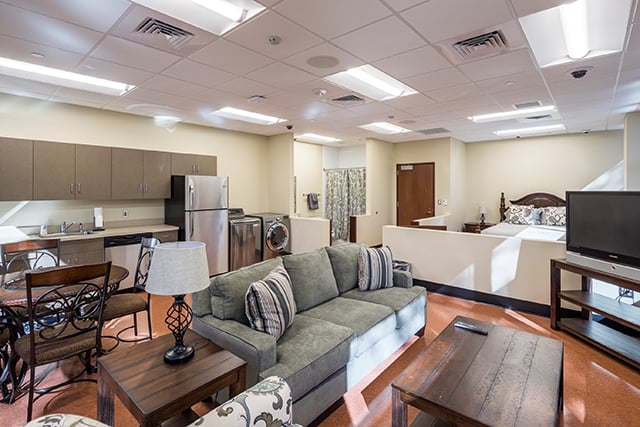 Home Care Lab
The 1,100 square foot home care unit looks and feels like a real studio apartment. The apartment allows students to practice in-home patient care and skills specific to the community setting.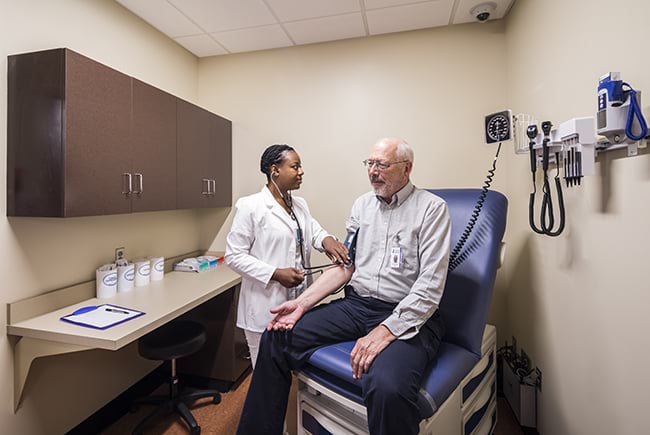 Standardized Patient Suite
The standardized patient suite includes 10 individual exam rooms with charting stations, a training room and a patient lounge. Standardized patients will be utilized to simulate realistic ambulatory care interactions.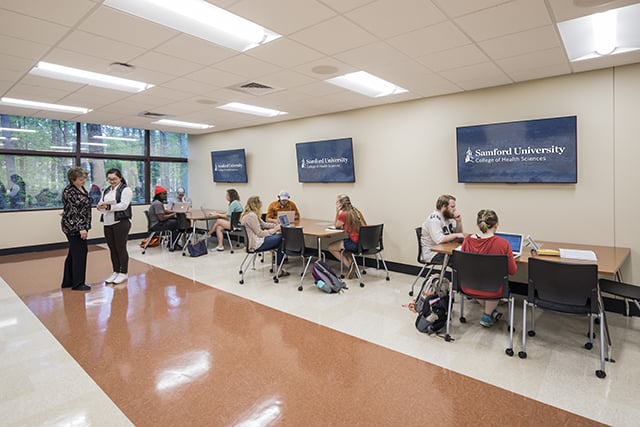 Active Learning Lab
The Active Learning Lab is a classroom environment designed to facilitate interprofessional education, case studies and group work focused on improving patient care quality and outcomes. 
Student Commons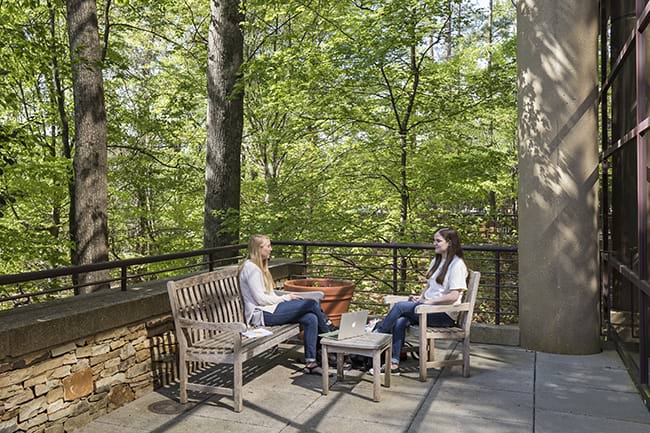 Whether you're taking a break between classes or conducting distance meetings and presentations, the College of Health Sciences has a space to meet your needs. Take advantage of walking trails, open seating areas, group study and conference rooms. Conference rooms are equipped with state-of-the-art conferencing technology that will allow students and faculty to conduct face-to-face and distance meetings and presentations.