Published on March 5, 2019 by Natascha Anderson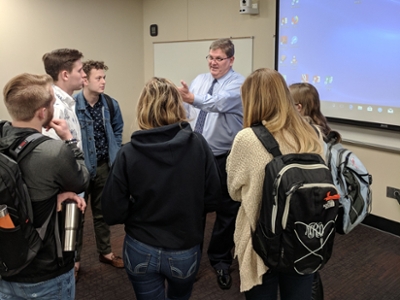 Samford University's College of Health Sciences welcomed Kevin J. Powers, an attorney with the Drug Enforcement Agency (DEA), to discuss his perspective on the opioid crisis, the DEA's involvement and how the future of federal narcotic laws may be influential.
Along with serving as the DEA's in-house regional legal advisor, Powers is also a Woodrow Wilson Fellow. The mission of this fellowship is to identify and develop leaders and institutions to meet the nation's critical challenges. Samford has participated in this program, sponsored by the Council of Independent Colleges, since 2010. 
During a presentation to students, Powers discussed the origins of the opioid crisis and ways the country can work to combat this pervasive problem. But Powers shared that his insights do fall short. "Only history will be the harbinger of truth as we come to understand what happened," he said.
As Powers discussed efforts the DEA makes to combat the abuse of legal prescription drugs, he applauded the work of Samford University and its students.
"Schools like Samford are doing so much work for us because education is such an important thing," he said. "I am just fascinated with this place—the College of Health Sciences. It's just amazing what you are doing here."
During his visit, Powers also spoke to students in the Brook School of Business, Cumberland School of Law and Beeson School of Education.