Published on January 2, 2020 by Benjamin and Julie Boycott  
The World's Game?
Right now, in 2020, the soccer world is systematically failing to effectively develop and access a proven talent pool. This reluctance will continue to hamstring not only players, but also the sport itself.
Though forms of soccer have been around for thousands of years, the British articulated the most current version of the game about 150 years ago. Due to various factors (geography, colonialism, racism, politics, poverty, et cetera), while soccer is "the world's game," different countries do not benefit equally from their participation. Moreover, there is phenomenal talent that goes largely unrecognized due to the lack of effective pipelines for player development and advancement.
We know the majority of top male soccer players come from Europe, unless they come from South America, an area where Europe has developed talent heavily. This map details the birthplaces of the top 250 players (based on cumulative transfer fees in recorded history).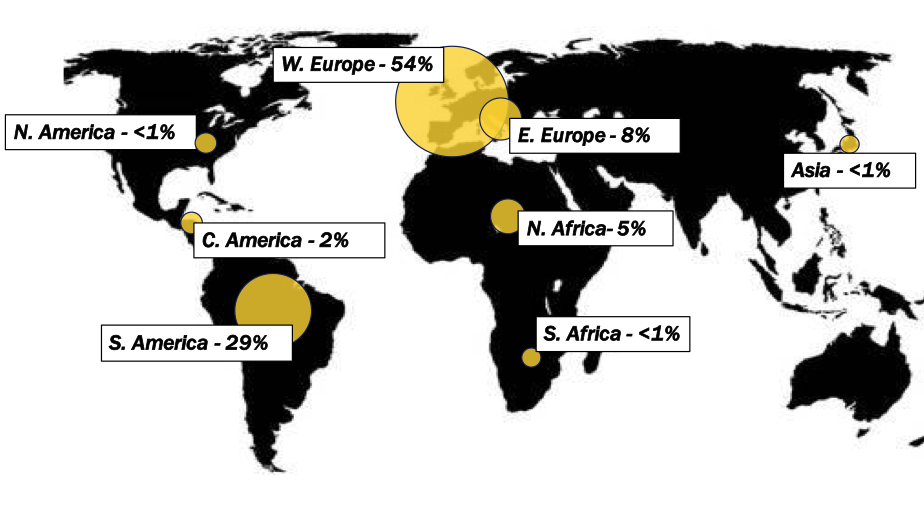 But, are they really European? Further analysis of the data yields some interesting results: Of the players born in Western Europe (54% of the total), a full 29% actually hold dual citizenship with an African or Caribbean nation. In most cases, these players are second or third generation immigrants, whose families emigrated to Europe for reasons unrelated to soccer.
French Soccer Players are French, but Mostly Dual Citizens
France is the most striking example of this trend. With the highest number of top players from any one country (39 of 250), a notable 64% of these players held citizenship in an African or Afro-Caribbean nation.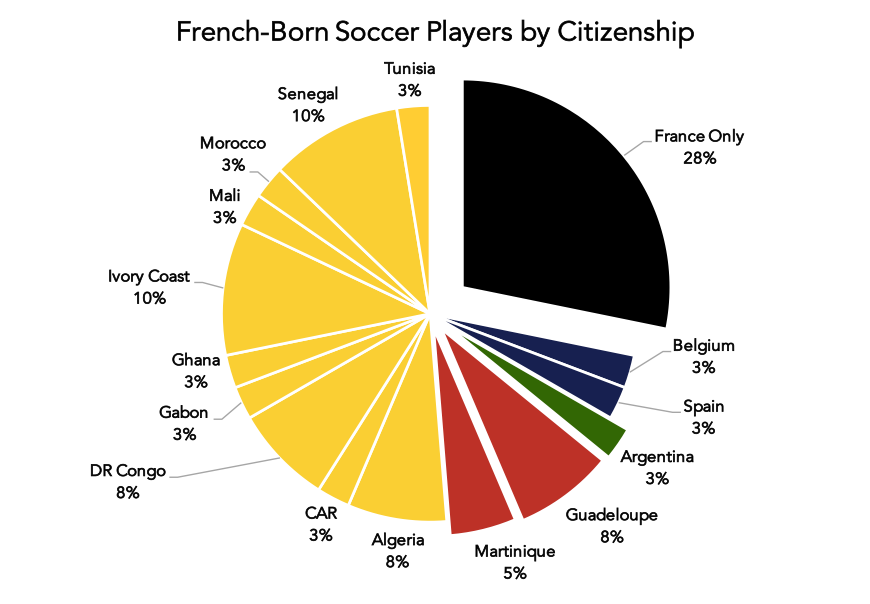 Furthermore, from the percentage of players with only French citizenship, 4/11 of these also were children of immigrants from African or Afro-Caribbean nations but had never obtained citizenship from their parents' countries. So, of the French-born players, only 7 of the 39 players were actually of French heritage, while 29 (74%) were of African heritage. This becomes even more striking when compared to the estimated number of African-origin members of the overall French population, which is only around 5-8%.
Academies: The Missing Piece of the Pro Soccer Pipeline
While the player outcome data above may suggest that the African / Caribbean talent pool may be the highest potential talent pool on earth, it remains systematically underdeveloped by the major powers in global soccer. Top soccer clubs build their rosters via the transfer market and/or free agency signings, but also by developing players at both domestic and international academies. International academies, camps, and schools have become something of a staple for top-flight clubs in the "Big Five" soccer countries in Europe – England, France, Spain, Italy, and Germany. However, these international academies have focused relatively little on Africa, and have excluded sub-Saharan Africa almost entirely.
The following data analysis is a result of a high-level overview of information publicly available on English websites, and paints a picture of the international academies by the top 100 clubs in these five countries.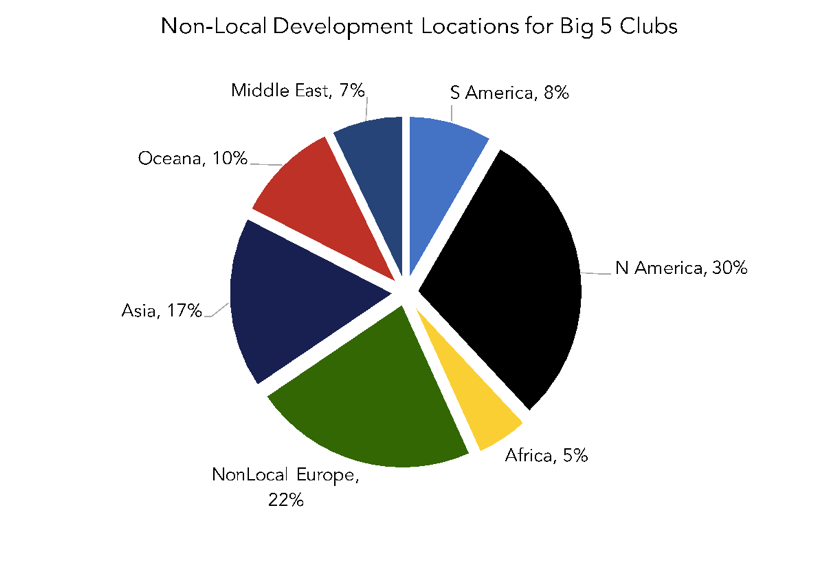 As shown, development of Africa by European clubs has been minimal.  Furthermore, the vast majority of development which did take place in Africa was in the Maghreb region – only one (Bayern Munich in Addis Ababa), was in mainland sub-Saharan Africa.  The following is speculation, but likely reasons for this development exclusion include:
Branding.  One motivation for a high investment in North America, for instance, in addition to the development of players, is the development of a wealthy fan base. This same motivation is not present in Africa due to its economically depressed state.
Operating Challenges.  Of all the locations on the map, developing nations in Africa have an earned reputation of being some of the most challenging in which to operate, from the standpoints of infrastructure, regulation, corruption, etc.
Soccer Players As A Commodity
However, whatever the reason, the simple facts are that the African and Afro-Caribbean talent pool has proven massive potential, based on performance when players are afforded the development and visibility opportunities provided by the European environment.  And, this region remains the most under-developed in the world, in terms of international investment by major soccer powers.
The imbalance presented here is striking.  The potential demonstrated by the African / Afro-Caribbean talent pool, compared to the sheer soccer-playing population and the blatant lack of development illustrate the next frontier in soccer.  Unfortunately on a number of levels, soccer continues the colonial extraction mindset which has been applied to many natural resources in Africa in the past several centuries, placing soccer players in the same category as oil, gold, and diamonds.  While soccer players with African heritage have been successful time and again, their success has yet to generate major soccer-industry investment into the continent which could be life-giving and paradigm-changing for many impoverished communities. While some individuals reach a significant earnings potential, the social capital, financial capital, infrastructure investment, etc. that could come along with a major investment into the development of this imbalance has never materialized.  This imbalance, if corrected, has the potential to be a powerful force in soccer, but more importantly, to let soccer be an important force of economic development in Africa.
About
Ben Boycott is the Founder and President of Aspire Football Academies, an organization aiming to bridge the gap between pro sports clubs and voiceless but talented footballers in the developing world.  Prior to Founding Aspire, Mr. Boycott was President and COO of Vapor Ministries, a non-profit organization using sports as a platform to conduct religious and humanitarian development work in Africa and Haiti.
Sources
TransferMarkt Database. Top Transfers Listing.  http://www.transfermarkt.us
Worldometres Database. http://www.worldometers.info
FIFA Big Count 2006. http://www.fifa.com/fifafacts
Encyclopedia Britannica. Biology and Anthropology.  http://www.britannica.com