Published on December 31, 2018 by Kristen Padilla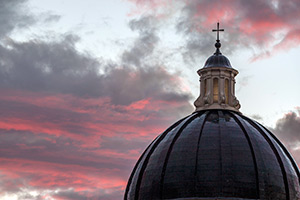 This past year will stand out in Beeson Divinity School's history as a year of particular importance in the life of this school. Going into 2018, we knew it would be a special year because of it being Beeson's 30th anniversary. However, we could not anticipate the number of surprises as well as losses that will mark 2018 as a year to remember.
Here are Beeson's top twelve news stories from this year:
#12: Beeson launches a new blog
This fall, the Dean's Blog was renamed and relaunched as Finkenblog, an online gathering place for people to hear and learn from fellow Beeson faculty, staff, students, and alumni. The name Finkenblog recalls Finkenwalde, the underground seminary organized and led by Dietrich Bonhoeffer. Every fall, Beeson celebrates Finkenwalde Day in which the entire Beeson community lives a "day in the life of Finkenwalde" together.
#11: Beeson faculty publishes significant commentaries, books
In the fall faculty members Frank Thielman and Paul House published significant commentaries on Romans and Daniel, respectively. Thielman's commentary on Romans was published with Zondervan Academic and House's commentary on Daniel was published with IVP Academic. Professor Gerald McDermott also published a book entitled, Everyday Glory: The Revelation of God in All of Reality with Baker Academic.
#10: Beeson announces appointment of Stefana Dan Laing to faculty
In January, Beeson announced the appointment of Stefana Dan Laing as assistant professor of divinity and theological librarian. Laing began her appointment in August, teaching in the area of spiritual formation and coordinating Beeson's Women's Theological Colloquium. She came from Southwestern Baptist Theological Seminary's J. Dalton Harvard School for Theological Studies in Houston, and is the author of Retrieving History: Memory and Identity Formation in the Early Church (Baker, 2017).
#9: Professor Mark Gignilliat earns SoCon All-Conference Award
This month, Beeson professor Mark Gignilliat received a 2019 Southern Conference (SoCon) All-Conference Faculty Award. This award is given to only a few faculty in the Southern Conference in recognition of strong contributions in teaching, research, service and campus life. Gignilliat was the Samford faculty representative and will be honored at the Samford men's basketball game on Jan. 17.
#8: Beloved professor Lyle Dorsett retires after 12 years at Beeson
Beloved Beeson professor Lyle Dorsett retired at the end of the spring semester after 12 years as the school's Billy Graham Professor of Evangelism in order to spend more time with his wife, Mary, who was diagnosed in 2016 with stage 4 metastatic breast cancer.
#7: Dean Timothy George receives Festschrift
Dean Timothy George was presented with a Festschrift April 24 during community worship in Andrew Gerow Hodges Chapel. The Festschrift honors his 30th year as dean and the 30th anniversary of the divinity school, and was coedited by Beeson's own Robert Smith Jr., David S. Dockery of Trinity International University, and the late James Earl Massey.
#6: Beeson hosts first Annual Anglican Theology Conference
Beeson's Institute of Anglican Studies hosted its first Annual Anglican Theology Conference on the theme, What is Anglicanism?. The conference attracted more than 200 Anglicans from around the world, including Kenya, Egypt, Hong Kong, the South Pacific, Canada and the United Kingdom. A book from the conference will be published with Crossway in 2019.
#5: James Earl Massey, longtime friend and mentor of Beeson, dies
The Rev. Dr. James Earl Massey, longtime friend and supporter of Beeson Divinity School, died June 25 at age 88. Massey preached more times in Hodges Chapel than any other guest in the history of Beeson Divinity School. The semi-annual student preaching award is named in his honor. On Nov. 27, Dr. Robert Smith Jr. presented a statement of appreciation for Dr. Massey on behalf of the school.
#4: Beeson establishes the Robert Smith Jr. Preaching Institute
In May, Beeson announced the creation of the Robert Smith Jr. Preaching Institute, named in honor of the school's longtime faculty member of Christian preaching who holds the Charles T. Carter Baptist Chair of Divinity. The purpose of the Smith Preaching Institute is to advance the mission of Beeson Divinity School and to strengthen the preaching of the gospel throughout the world. The institute launched in the fall.
#3: Michael Pasquarello III is named as Beeson's first Methodist Chair of Divinity, Director of the Robert Smith Jr. Preaching Institute
This summer, Beeson announced Dr. Michael Pasquarello III, the former Lloyd J. Ogilvie Professor of Preaching at Fuller Theological Seminary, as its first Methodist Chair of Divinity and director of the Robert Smith Jr. Preaching Institute. Pasquarello will be installed in the Methodist Chair in 2019.
#2: Beeson receives million-dollar grant to create new Thriving Pastors program
Beeson received a million-dollar grant from Lilly Endowment Inc. this fall to help establish the Enhancing the Mission: Beeson Divinity School and Thriving Pastors program. This new program will allow Beeson to help pastors thrive in congregational leadership by improving the quality of peer and mentoring relationships. The new program will launch in 2019.
#1: Timothy George announces plan to retire in 2019
Founding Dean Timothy George announced in May that the 2018-19 academic year would be his last as dean. When he steps down at the end of June 2019, he will have served 31 years as Beeson's dean and will transition into research professor at the school. George said, "Thirty years ago, at my installation as the founding dean of Beeson Divinity School, I said that the future of Beeson was as bright as the promises of God. It still is."
We are grateful for the loving friendships, prayers and partnerships we have with many people around the world who believe in the mission of Beeson Divinity School to train God-called men and women for gospel ministry. We look forward to serving the Lord in 2019, and ask that you will continue to remember us in your prayers.