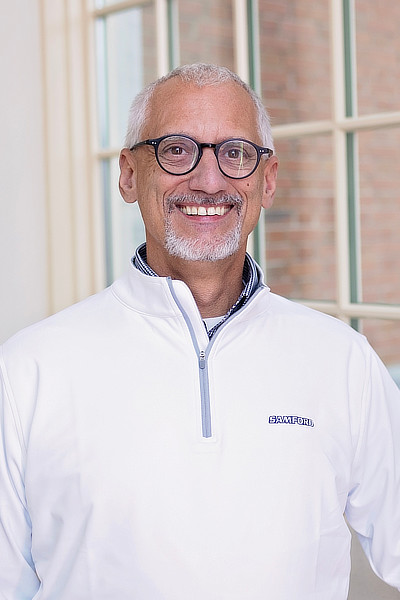 Executive Director of the Center for Sports Analytics, Margaret Gage Bush Distinguished Professor of Marketing
Brock School of Business
Department of Entrepreneurship Management and Marketing
301 H Cooney Hall
Darin W. White, Ph.D., is the executive director for Samford University's Center for Sports Analytics and Margaret Gage Bush Distinguished Professor. He is the founding coordinator of the sports marketing and analytics program and the sports business M.B.A. program in Samford's Brock School of Business.

White has crafted business relationships with some of the most prestigious sports organizations in the world, including Los Angeles Dodgers, MLS, Atlanta Braves, UEFA, Celtic FC, NBA, Dallas Cowboys, Leeds United FC, New Orleans Saints, Bayern Munich FC, Miami Dolphins, Minnesota Wild, Learfield, NWSL, Atlanta Falcons, U.S. Swimming, Legion F.C., Birmingham Barons, Atlanta United F.C., Philadelphia Fliers, FC Dallas, Seattle Storm, SEC, ACC, Denver Broncos, NASCAR, LPGA, Tennessee Titans, Nashville Predators, Indianapolis Colts, Houston Texans, San Francisco Giants, Carolina Panthers, Walsall F.C., Harlequins Rugby, Indy Car, NFL Play 60, Peach Bowl, Senior Bowl, PGA, Atlanta Hawks, Tampa Bay Lightning, Portland Trailblazers, MiLB, Israeli Football League, Atlanta Dream, Indianapolis 500, Tampa Bay Buccaneers, Kyle Busch Group, Atlanta Talons, Connecticut Sun, Jacksonville Jaguars, Minnesota Vikings, Orlando Magic, Oakland A's, Freedom Football League, USFL, Miami Marlins, San Diego Padres, Los Angeles Angels, San Francisco 49ers, Las Vegas Raiders, Kansas City Chiefs, New Orleans Pelicans, Houston Astros, Top Golf, USA Soccer, Milwaukee Bucks, Green Bay Packers, Detroit Tigers, Birmingham, Squadron, Fort Myers Mighty Mussels, Rocket City Trash Pandas, Montgomery Biscuits, Harlem Globetrotters, SEC Network, Talladega Super Speedway, Conference USA, Zoom Motorsports, State Farm Arena, World Rugby Shop, World Soccer Shop, Soccer.com,  Indianapolis Pacers, Flo Sports, Memphis Grizzlies, New Jersey Devils, Watford F.C., NHRA, Alabama Sports Hall of Fame and Bandwagon Sports.
On the college athletics side, White has been the keynote speaker at the NCAA Division 1 Athletic Directors spring meetings in California. He has also been invited to speak at various college athletic director events on the topic of sports business and data analytics. White helped launch an innovative sports science data sharing partnership between Andrews Sports Medicine and Orthopedic Center and Samford Athletics entitled Project Samson.
On the corporate sponsorship side, White has worked with Coca-Cola, Nike, Adidas, TransAmerica, Phillips 66, Chick-fil-A, Blue Cross Blue Shield, Ibotta, Mutual of Omaha, Toyota, Regions Bank, TIAA, Under Armour, Milo's Tea, Mizuno, Zoomph, SponsorUnited, WARC, CBS Sports and AON.
On the agency side, White has worked with Octagon, Tigris Sponsorship & Marketing, MELT, Bruno Event Team, Revel XP, Knight Eady, Ticket Solutions, Independent Sports & Entertainment, Legends, Aspire, Excel Sports Management, Wasserman, BF Gibson & Associates, Premier Sports Management, Collegiate Licensing Company, Host Communication, JIBB and Airstream Ventures.

White is a highly sought resource for media seeking insights into sport business. His comments have appeared in media outlets including the Wall Street Journal, Sports Illustrated, Washington Post, Forbes, L.A. Times, Athletic, USA Today, ESPN Radio, Al Jazeera, Sports Business Daily, Bond Buyer, International Business Times, NPR, Bleacher Report, and the Capital Gazette. He served as a judge for the Yahoo Sports Technology Awards gala, the "Oscars of Sports Technology," in London.

White has served on numerous boards including Aspire Football Academies, Daniel Summit, Advance Baseball International, Sport Forward, Coach Safely, Alabama Sports Foundation, and Youth Sports of the Americas. He has authored more than 60 journal articles and conference proceedings during his career and published in prestigious academic journals such as the International Journal of Sports Marketing & Sponsorship, Sports Business: An International Journals, Journal of Business Research, and European Journal of Marketing. White served as the national chair of the Sports Marketing & Sponsorship-Linked Marketing special interest group of the American Marketing Association for four years.

White spent 12 years as a college soccer coach at Union University and was named Coach of the Year by Adidas and the National Soccer Coaches Association of America (NAIA south region). Two years earlier he led Union University men's college soccer team to an NCCAA national championship. In 2023, White was inducted into the Union University Sports Hall of Fame. Since leaving college coaching, White has coached elite youth soccer teams in Tennessee and Alabama. His teams have advanced to the state championship game 13 times in 15 years and have won nine state championships.
In his spare time, he enjoys traveling to Europe with his family to attend Leeds United F.C. matches, reading about Ancient Near East culture and history, and teaching Biblical theology classes at his home church, Church at Brook Hills. He recently began publishing articles for the Gospel Coalition that investigates various sports business topics from a theological perspective. You can follow his theological musing on social media @BibleBigStory on Instagram, Twitter, and Facebook. He and his wife, Laura, have seven children and four grandchildren.
Degrees and Certifications
Ph.D., Marketing/Strategy University of Alabama
M.A., Marketing/Strategy, University of Alabama
B.S., Business/Mathematics, Birmingham-Southern College
Expertise
Sports Marketing; Sports Business Analytics; Sponsorship-Linked Marketing; Licensing; Fan Psychology & Engagement; Soccer Analytics
Generation Z Consumer Insights; Brand Personality Archetype Theory; Marketing Strategy Development
Selected Publications
Journal of Business Research
Journal of Business Ethics
Journal of Personal Selling & Sales Management
European Journal of Marketing
Journal of Services Marketing
Journal of Strategic Marketing
Journal of Global Marketing
Christian Business Academy Review
Sports, Business & Management: An International Journal
International Journal of Sports Marketing and Sponsorship
Leadership
Journal of Leadership and Organizational Studies
Selected Presentations
American Marketing Association Summer Conference
American Marketing Association Winter Conference
European Marketing Academy
European Academy of Management
Academy of Management
Atlantic Marketing Conference
Academy of Marketing Science
Southern Marketing Association
Cambridge University Sports & Society Conference
University of Oregon Research Conference in Sports Marketing
Cross-Cultural Research Conference
University of London Economics & Psychology of Football Conference
Association for Consumer Research
Thought Leaders International Conference on Brand Management
International Conference on Sports and Entertainment Business
Society of Business Ethics Conference
Organizational Science
Contemporary Issues in Retailing and Marketing
Chaired Dissertations
"Motivations for Engaging in Electronic Word-of-Mouth in a Social Networking Setting" 
"Self-Congruity and the MOA Framework: An Integrated Approach to Understanding Volunteer Participation in Social Cause Communities" 
"Understanding the Relationships Between Loyalty Program Rewards and Loyalty Among Premium Customers" 
"Stage of Change Readiness in Social Marketing" 
"The Significance of Personal Factors in the Service Quality Experienced by Customers and the Effect of Employee Psychological Empowerment on the Relationship" 
"Toward a Greater Understanding of Spirit at Work: A Model of Spirit at Work and Outcomes"
Selected Interviews for News Organizations