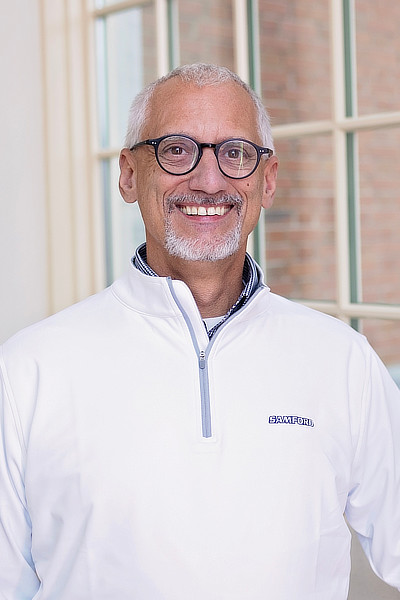 Department Chair, Executive Director, Professor of Marketing
Brock School of Business
Department of Entrepreneurship Management and Marketing
301 H Cooney Hall
Darin W. White, Ph.D., is the executive director for Samford University's Center for Sports Analytics. He also serves as chair of the Entrepreneurship, Management and Marketing Department and is the founding coordinator of the sports marketing program in Samford's Brock School of Business.
White has crafted business relationships with some of the most prestigious sports organizations in the world, including Major League Baseball, Major League Soccer, National Basketball Association, Dallas Cowboys, Liverpool Football Club, Bayern Munich FC, Miami Dolphins, National Women's Soccer League, CBS Sports, Atlanta Falcons, U.S. Swimming, Atlanta United, Philadelphia Eagles, FC Dallas, Seattle Storm, SEC, ACC, Denver Broncos, NASCAR, Atlanta Braves, Tennessee Titans, Nashville Predators, Indianapolis Colts, Houston Texans, Carolina Panthers, Harlequins Rugby, Indy Car, Peach Bowl, Senior Bowl, PGA, Atlanta Hawks, Tampa Bay Lightning, IMG College, Portland Trailblazers, Minor League Baseball, Israeli Football League, New Orleans Saints, New Orleans Pelicans, and Atlanta Talons (Atlanta Hawks NBA 2K team).
On the corporate sponsorship side, White has worked with Coca-Cola, Nike, Adidas, TransAmerica, Phillips 66, Chick-fil-A, Blue Cross Blue Shield, Ibotta, and Manchester United's sponsor, AON.

White is a highly sought resource for media seeking insights into sport business. His comments have appeared in media outlets including the Wall Street Journal, Sports Illustrated, The Washington Post, Forbes, USA Today, ESPN Radio, Mashable, Al Jazeera, Sports Business Daily, The Bond Buyer, International Business Times, NPR, Bleacher Report, and the Capital Gazette. He serves as a judge for the Yahoo Sports Technology Awards gala, the "Oscars of Sports Technology," in London.

White has shared sports business analytics insights at industry events around the globe. He has been awarded the U.S. Department of Homeland Security Certificate of Recognition, has been an American Marketing Association Consortium Fellow, and won the Brock School of Business Outstanding Scholar Award and Faculty Member of the Year for Undergraduate Teaching.

White has served on numerous boards including Aspire Football Academies, Daniel Summit, Advance Baseball International, Sport Forward, Coach Safely, Alabama Sports Foundation, and Youth Sports of the Americas. He has authored more than 60 journal articles and conference proceedings on a variety of marketing strategy and sports business topics during his career.

White spent 12 years as a college soccer coach and was named Coach of the Year by Adidas and National Soccer Coaches Association of America (NAIA south region). Two years earlier he led Union University men's college soccer team to a NCCAA national championship. Since leaving college coaching, White has coached elite youth soccer teams in Tennessee and Alabama. His teams have advanced to the state championship game 13 times in 15 years and have won 9 state championships.
In his spare time, he enjoys coaching his youngest son's soccer team, traveling to Europe with his family to attend Leeds United F.C. matches, reading about Ancient Near East culture and history, and teaching Biblical theology classes. He and his wife, Laura, have seven children and three grandchildren.
Degrees and Certifications
Ph.D., Marketing/Strategy University of Alabama
M.A., Marketing/Strategy, University of Alabama
B.S., Business/Mathematics, Birmingham-Southern College
Expertise
Sports Marketing; Sports Business Analytics; Sponsorship-Linked Marketing; Licensing; Fan Psychology & Engagement; Soccer Analytics
Generation Z Consumer Insights; Brand Personality Archetype Theory; Marketing Strategy Development
Selected Publications
Journal of Business Research
Journal of Business Ethics
Journal of Personal Selling & Sales Management
European Journal of Marketing
Journal of Services Marketing
Journal of Strategic Marketing
Journal of Global Marketing
Christian Business Academy Review
Sports, Business & Management: An International Journal
International Journal of Sports Marketing and Sponsorship
Leadership
Journal of Leadership and Organizational Studies
Selected Presentations
American Marketing Association Summer Conference
American Marketing Association Winter Conference
European Marketing Academy
European Academy of Management
Academy of Management
Atlantic Marketing Conference
Academy of Marketing Science
Southern Marketing Association
Cambridge University Sports & Society Conference
University of Oregon Research Conference in Sports Marketing
Cross-Cultural Research Conference
University of London Economics & Psychology of Football Conference
Association for Consumer Research
Thought Leaders International Conference on Brand Management
International Conference on Sports and Entertainment Business
Society of Business Ethics Conference
Organizational Science
Contemporary Issues in Retailing and Marketing
Chaired Dissertations
"Motivations for Engaging in Electronic Word-of-Mouth in a Social Networking Setting" 
"Self-Congruity and the MOA Framework: An Integrated Approach to Understanding Volunteer Participation in Social Cause Communities" 
"Understanding the Relationships Between Loyalty Program Rewards and Loyalty Among Premium Customers" 
"Stage of Change Readiness in Social Marketing" 
"The Significance of Personal Factors in the Service Quality Experienced by Customers and the Effect of Employee Psychological Empowerment on the Relationship" 
"Toward a Greater Understanding of Spirit at Work: A Model of Spirit at Work and Outcomes"
Selected Interviews for News Organizations