Entrepreneurship involves identifying, evaluating and pursuing opportunities that create economic and social value. The Brock School of Business entrepreneurship major includes courses and activities, many of which have received national recognition, to train aspiring entrepreneurs to become business owners, work in small or family businesses, or lead innovation in large businesses.
Samford Startup
Samford Startup, the student incubator inside Cooney Hall, provides a way for our student entrepreneurs to have a place to run their business. This makes it easier for the business owner to start their business without having to deal with large start-up costs. The space is open to business majors and nonbusiness majors. Contact Matt Mazzei, the Brock family chair in entrepreneurship, to apply to use the space.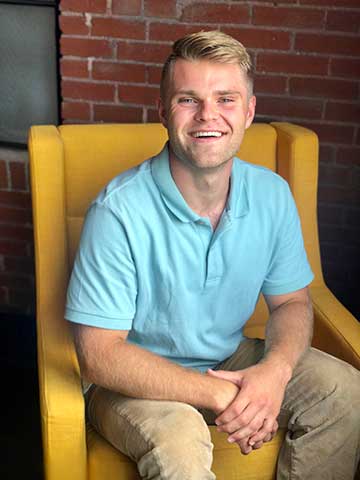 "Being in the Samford Startup program was so pivotal in my professional growth.
Through the incubator program, there is an emphasis on networking and programming. It was so great to hear from seasoned entrepreneurs across all types of industries. These entrepreneurs have experienced the same challenges we did as students, and it was so helpful having honest conversations with them."
– Wes Abeln '20, former Samford Startup resident, founder, esprit co.
Freshmen Entrepreneurial Experience
Freshmen business students have an opportunity to experience what it means to be an entrepreneur by taking BUSA 100. Through this course, students will have the opportunity to write business plans and enter friendly competition with those plans.
Micro-Business Funding
Students can launch and run their own businesses during their junior year through micro-business funding. Top teams are eligible for residency in the Samford Startup student business incubator.
For more information about this major, please contact Matt Mazzei orDarin White.
Entrepreneurship, Management and Marketing Advisory Board
The Advisory Board for the Department of Entrepreneurship, Management and Marketing plays several important roles as a conduit to the business community. Board members provide guidance on course content so that our curriculum stays current with the needs of the profession. While some of the board members offer internships and jobs with their companies, the introductions our board members give us to other professionals in the business community are extremely valuable – both in terms of employment opportunities and mentorship for our students.