Entrepreneurship involves identifying, evaluating and pursuing opportunities that create economic and social value. The Brock School of Business entrepreneurship major includes courses and activities, many of which have received national recognition, to train aspiring entrepreneurs to become business owners, work in small or family businesses, or lead innovation in large businesses. 
Regions New Venture Challenge 
The Regions New Venture Challenge is an annual business plan competition that rewards innovative students, some already running successful businesses of their own, with cash prizes as seed money to start their own business. Many of the winners of this competition are thriving entrepreneurs today.  
Samford Startup
Samford Startup, the student incubator inside Cooney Hall, provides a way for our student entrepreneurs to have a place to run their business. This makes it easier for the business owner to start their business without having to deal with large start-up costs. The space is open to business majors and nonbusiness majors. Contact Chad Carson to apply to use the space.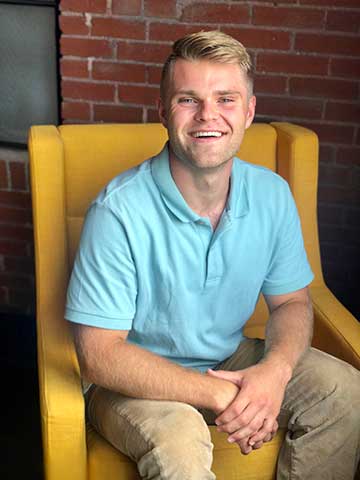 "Being in the Samford Startup program has been so pivotal in my professional growth.
This year we've had an emphasis on networking and programming, and it's been great to hear from seasoned entrepreneurs across all types of industries. These entrepreneurs have experienced the same challenges we as students have, and it's so helpful having honest conversations with them. We receive assistance from branding, accounting, and legal experts as well as funding for small costs throughout the course of the year."
– Wes Abeln, Samford Startup resident, founder, esprit co.
First Year Business Student Entrepreneurial Experience 
First year business students have an opportunity to experience what it means to be an entrepreneur by taking BUSA 100. This course provides students learning about entrepreneurship the opportunity to write preliminary business plans and compete in their own division of the Regions New Venture Challenge each spring.
Micro-Business Funding
Students can launch and run their own businesses during their junior year through micro-business funding. Top teams are eligible for residency in the Samford Startup student business incubator.
For more information about this major, please contact Chad Carson or Darin White. 
Entrepreneurship, Management and Marketing Advisory Board
The Advisory Board for the Department of Entrepreneurship, Management and Marketing plays several important roles as a conduit to the business community. Board members provide guidance on course content so that our curriculum stays current with the needs of the profession. While some of the board members offer internships and jobs with their companies, the introductions our board members give us to other professionals in the business community are extremely valuable – both in terms of employment opportunities and mentorship for our students.
George Dennis
President, ZOOM Motorsports LLC
Robyn Felton
Chief Operating Officer, The Colonnade Group
Bernard Frei
President and Managing Director, 365 Inc./Sports Endeavors Inc.
Brandy Gibson
President, BF Gibson and Associates
Hernandez Gio
Assistant Manager of International Baseball, Los Angeles Angels
Dan Hall
Senior Marketing Manager, Portland Trailblazers
Gary Heise
Founder, Premier Sports Management
Jim Host
Founder, Host Communications
Joe Hutchinson
Senior Vice President of Licensing, The Collegiate Licensing Company
Ben May
Senior Director of Sports Management, SEC Network/ESPN
Richard McKay
President and Chief Executive Officer, Atlanta Falcons
Scott Myers
Executive Director, Alabama Sports Hall of Fame
Robbie Robertson
President, The Colonnade Group
Bob Roller
Director of Sports Management, Shriners Hospitals for Children
Tracy Teague
Vice President and Global Category Creative Director for Nike Basketball, Nike Inc.
Vince Thompson
President and Chief Executive Officer, MELT
Alan Verlander
Chief Operating Officer and Executive Director of Sports and Entertainment, JaxSports: Gator Bowl Sports/City of Jacksonville
Mike Verlander
Vice President of Business Development, Stewart Haas Racing
Jeremy Walls
Senior Vice President and Chief Marketing Officer, Miami Dolphins
Mark Whitworth
Vice President for Intercollegiate Athletics, Asbury University
Brad Williams
Founder, Huddle Inc.
Matt Yonan
President, Tigris Sponsorship and Marketing Inc.