Published on May 26, 2020 by Morgan Black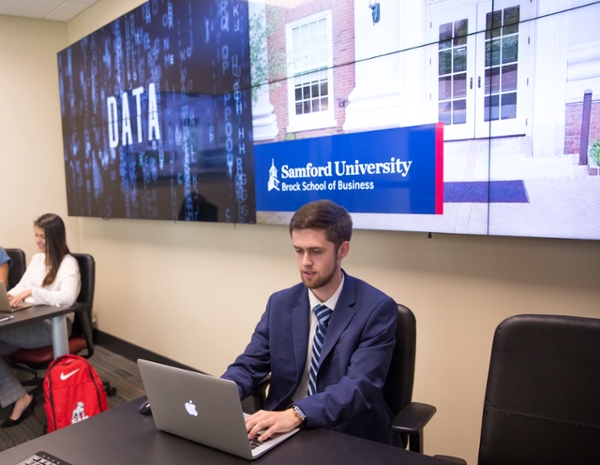 Samford University's Brock School of Business has added a data analytics concentration to its Master of Business Administration (M.B.A.) programming.
Brock School of Business encourages M.B.A. students to customize their education to meet specific career goals and adding this concentration will expand their opportunities to do that.
"The Brock School of Business faculty created and developed the data analytics concentration to provide a focus for its M.B.A. students as the current work environment evolves with the need for additional technical skills and training," said Barbara Cartledge, senior assistant dean.
Programming for the new concentration will begin in the fall 2020 academic semester and will include the following courses: 
Data Visualization for Business Analytics, an introduction to the field of business analytics;
Data Analytics in Accounting and Finance, a study of data analytics within the disciplines of accounting and finance;
Big Data Strategy/Topics in Organizational Leadership, an overview of concepts related to the strategic use of big data and analytics in corporate settings;
and, Topics in Data Analytics, an advanced study in data analytics. 
To complete this concentration, students are required to successfully finish three of the four courses. The data analytics courses are also available to any M.B.A. student as an elective.
"With the completion of three of the four offered data analytics courses, the students will be equipped with the necessary tools and understanding to operate within the dynamic data environment," Cartledge added.
Other M.B.A. concentrations are available in entrepreneurship, finance and marketing.
Currently, Brock School of Business is offering a waiver on the GMAT exam due to the effects of COVID-19. This waiver only applies to M.B.A. applicants interested in beginning in the fall 2020 term. The deadline to apply for the fall term in August 1.