Available on Campus, Online or in a Hybrid Format
Our Master of Business Administration (M.B.A.) program in Samford University's Brock School of Business is designed to prepare successful managers and leaders to excel in a competitive global business environment. Core business functions are taught with a focus on problem solving and practical application in the workplace, allowing you to instantly apply what you learn to your career.
At Brock School of Business, we encourage you to customize your education to meet your career goals. Our M.B.A. classes are offered on campus in the evenings or online, giving you flexibility to meet your personal and professional obligations while advancing your career. Concentrations are available in data analytics, finance and sports business and we also offer a number of joint degree options.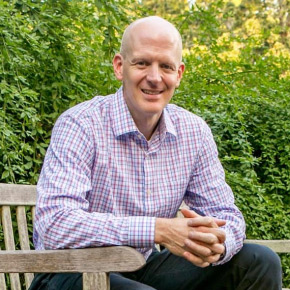 "Leading a Christian school requires me to understand ministry, education and business. I need competence in all three areas to serve my people well. I am grateful every day for the preparation I received from Brock School of Business. My professors took interest in me as a working professional and supported my vocational aspirations. Finishing my M.B.A. opened doors for me I could not have imagined. My degree paid for itself within months of completion. I am better able to serve my employees, students, and families because of the training I received from BSOB."Matthew S. Kerlin, Ph.D., Head of School - SouthLake Christian Academy
Curriculum and Objectives
Graduates of the M.B.A. program will possess an understanding of the following:
Cross Disciplinary Competence: integrating business processes across functional areas in order to make holistic, timely and informed decisions.
Critical Thinking and Decision Making: generating and synthesizing information to make and implement timely and informed decisions.
Effective Communication: improving abilities to communicate ideas, analyses, plans, and evaluations to individuals and groups.
Corporate and Social Responsibility: building the capacity and inclination to make decisions based on comprehensive values and to take actions that demonstrate an awareness of and an attempt to serve all stakeholders.
Teamwork: recognizing the importance of effective teamwork, valuing diverse perspectives and skills, and assuming a variety of roles to accomplish team objectives.
The curriculum requirement for the M.B.A. ranges from 36-45 credits depending on previous academic experiences. To complete a concentration as a part of the degree, students will take 39-48 credits. Students must have a 3.0 or higher cumulative GPA in the program to graduate or add a concentration.
For more information about the graduate courses and electives offered, please visit the Brock School of Business section of the Samford University Catalog.
Concentrations
Samford's M.B.A. program offers specialized concentrations for students who wish to have a more in-depth understanding of various business disciplines. Concentrations are available in data analytics, finance and sports business. Graduates who have specialized in an M.B.A. concentration are working in a variety of upper-level role in industries such as banking and financial services, power and utilities, technology, law, construction and more. Specific courses to complete the concentrations are additional to the core required M.B.A. courses. The curriculum tracks for each concentration may be viewed below.
Admission
Brock School of Business welcomes applications for the Master of Business Administration program from students and professionals with solid academic abilities and managerial potential.
Academic ability is evaluated on the basis of undergraduate and graduate academic records and academic recognition. Managerial potential is evaluated on the basis of work experience and professional recognition. Work experience is preferred, but not required. Involvement in continuing education and extracurricular, community and church activities are considered as part of the admission process.
Admission decisions are made on a rolling basis, meaning admission decisions are made as applications are completed. You will be informed of the admission decision by email. Once you are admitted to the M.B.A. program, you will have an individual advising and orientation session with a graduate program adviser to review program information and policies as well as to determine your individual course plan of study.
Application Deadlines
Fall (August start date): July 1
Spring (January start date): December 1
Summer (May start date): May 1
Admission Requirements
To be considered for admission to the M.B.A. program you must:
Possess a bachelor's degree from a college or university that holds institutional accreditation

In light of the decision by the U.S. Department of Education to no longer differentiate between institutional and regional accrediting agencies, Samford will no longer require regional accreditation for transfer credits or prior degrees for admission into graduate programs. Rather, Samford will require these institutions hold institutional accreditation.

A GMAT/GRE score is waived for applicants with an undergraduate GPA of 3.0 or higher. An entry exam is required for applicants with an undergraduate GPA below 3.0.
International applicants also must score at least a 90 on the TOEFL or 6.5 on the IELTS.
Admission Process
For an application to be considered complete, we must receive all of the following*:
Online application for admission: Please be sure to list your personal e-mail address on the application.
$35 Application Fee: This non-refundable fee is payable by credit card and is waived for Samford alumni, and current Samford students, faculty or staff.
Official Transcript(s) from all higher education institutions attended: Transcripts are considered official only when they bear the issuing institution's seal and arrive with the seal intact. Transcripts can be sent electronically to gradbusi@samford.edu or by mail. A transcript evaluation from a NACES approved evaluation agency is required for applicants with a degree from a non-U.S. institution. WES is the recommended evaluation agency.
Professional Resume: You will attach this to the online application.
*International Applicants should visit the International Applicants page for additional requirements.
To check the status of application items, you may login to your application account and view the list of application items received.
Tuition and Financial Aid
Tuition
Tuition for in-state and out-of-state students is $924 per credit hour. Tuition may be paid online or at the One Stop office and it must be paid by the first day of each semester/term. Policies and methods for tuition and fee payment can be found in the Samford University catalog and the Financial Services website.
There are no graduate assistantships available.
Financial Aid
A financial assistance program administered by the One Stop office has been established to aid students in attending Samford University.
Most graduate students are eligible to receive the Federal Stafford Loan. Lending institutions make these loans directly to the students. The application process begins with certification of the application by the One Stop office. Application forms should be processed through the One Stop at least 10 weeks before registration.
To learn more about financial aid options, please visit the One Stop or call 205-726-2905.