Published on October 13, 2021 by Morgan Black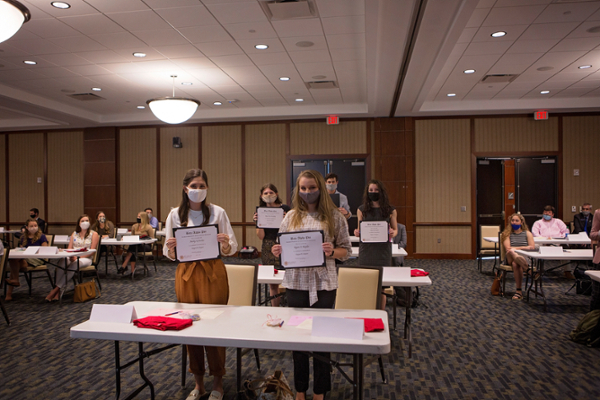 Despite hurdles caused by the global coronavirus pandemic over the course of the last year, 100% of Samford's senior accounting majors have secured internships for spring 2022. Of this group, 77% of the students will be participating in internships with one of the nation's top five accounting firms.  
As part of Samford's accounting program, students can participate in numerous opportunities to engage with industry professionals as they seek internships and, ultimately, full-time employment. Such opportunities include the annual Meet the Firms career night in the fall, guest speaker events in class, Beta Alpha Psi membership and involvement, and more. However, the pandemic altered much of these experiences, shifting many networking events to virtual platforms.
Michelle Newberry, assistant professor of accounting and Beta Alpha Psi adviser, said that the seniors have been determined to not let the hurdles of the pandemic stop them.
"The success of our seniors is due to their determination and hard work during their junior year," Newberry said. "Even during the thick of the pandemic, they continued to utilize all possible opportunities, even if they were unconventional or virtual, to connect and network with industry professionals, and it's paid off for them."
The seniors are now using their experience from their junior year to give back to the current juniors. In September, they initiated and led a workshop to help the juniors prepare for the fall 2021 recruitment season, in which they provided best practices for engaging with professionals one-on-one and during events like Meet the Firms.
Senior Rachel Brinkley, who will be interning with Ernst & Young (EY) in Chicago in the spring, experienced the virtual recruitment process firsthand.
She said, "My entire internship recruiting process was virtual. I will be interning with EY in Chicago, and I have yet to meet anyone from that office in person. While the pandemic made the recruiting process more challenging than usual, the Samford faculty played a crucial role in not only connecting students with firms but calming our nerves as we navigated many calls and interviews. Professor Newberry, in particular, answered countless questions from students and guided us every step of the way. I think I speak for most accounting majors when I say our success in finding internships would not have been the same without her help, along with the rest of the Samford accounting faculty!"
In response to the seniors' success, Accounting Department Chair Alan Blankley said, "I am confident that the demand for Samford students in the field is a reflection of both the quality of the students themselves and our program."