Published on March 27, 2018 by Sara Roman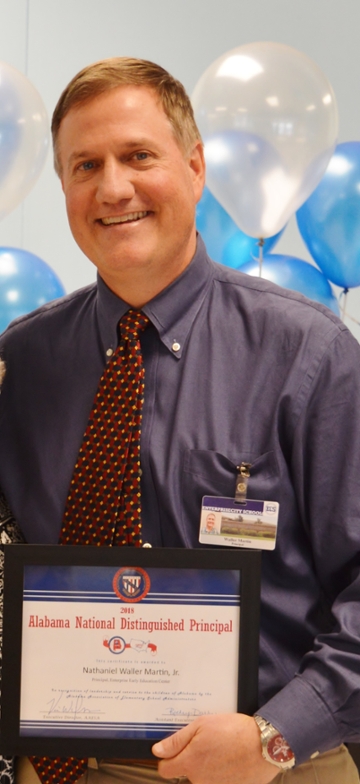 Current Samford University Educational Leadership doctoral candidate Waller Martin was recently named Alabama's National Distinguished Principal. Martin is the principal at Enterprise Early Education Center in Enterprise, AL.
Martin received the award for his exceptional educational leadership and dedication to ensuring Alabama children receive a solid foundation for lifelong learning.
He is one among 58 principals in the nation chosen to be recognized as a 2017-18 National Distinguished Principal. The National Association of Elementary School Principals will honor him in Washington, D.C., for his superior contribution to his school and community. He will have the opportunity to share his tactics on achieving the highest influence possible on his students, school and community. Additionally, this recognition affords Waller the opportunity to compete for the National Distinguished Principal of the Year Award.
"I am very humbled and honored by this award," said Martin. "It is a tribute to the hard work of our Enterprise Early Education Center school staff, supportive parents and outstanding students.  I appreciate the help and support of my Samford professors, as well as my fellow classmates."
The award is sponsored by the Council for Leaders and Schools (CLAS) and the Alabama Association of Elementary School Principals (AAESP). Samford University alumnus and CLAS Executive Director Vic Wilson presented Martin with his award along with Stacy Blair of Classworks.