Published on April 16, 2018 by Sara Roman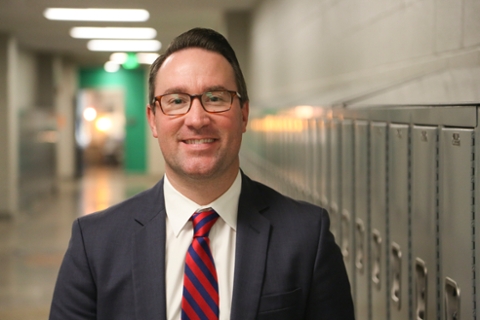 Degree/Year: Certificate in Instructional Leadership, 2014; Ed.S. in Instructional Leadership, 2016; Ed.D. Educational Leadership Candidate
Hometown: Lubbock, Texas
Current Position: Principal, Pelham Park Middle School, Pelham City Schools, Pelham, AL
Describe your journey from Samford to your current position: I came to Samford University after teaching public school in Alabama for a number of years. Samford prepared me to be an instructional leader from an early time in my career. I was fortunate to have many helpful mentors, colleagues and friends that improved who I was to who I wanted to become. From my role as a teacher, I was then able to serve in a district administrative role in a suburban community. While in that position, I maintained my academic schedule in the Samford University doctoral program. That program helped me as a practitioner significantly, and I was able to learn district administrative work while learning how to be an effective leader. From my role in the district office, I was able to return to a school as principal.  Seeing through the lens of a district administrator gave me a new outlook and respect for principals and has made me a better leader because of it.
What do you enjoy most about your work? I am constantly amazed at the impact educators are making for kids. I often feel inspired, motivated, thankful and amazed to be a part of helping families and students to reach their full potential.
How did Samford prepare you for your career? Samford has provided so many opportunities for my growth as a leader. Having the privilege to go through three degree programs at Samford has given me consistency in challenging, practitioner-based experiences that have helped me become the leader I am today and strive to be in the future. The professors in Samford's School of Education are former teachers, administrators, superintendents and Alabama State Department of Education employees that have a myriad of experiences to share with students. Most importantly, the professors are relational, care for their students and their success, and are approachable and reachable when needed. I call or email often with complex questions and always receive counsel and mentorship.
What advice do you have for current students? I would advise current students to find something they love and find passion for and GO FOR IT! Our world lacks passionate people doing meaningful things, and a current student is in the perfect position to be innovative, creative and impactful in the decisions they make about their future. Our world has many needs and we depend upon the next wave of thinkers to contribute differently than those that came before them. Likewise, life is too short to do something you dislike! Find a way to serve someone else, be a light to someone in a dark place, help the helpless, and be excited about what you do each day.
Looking ahead, what are your career goals? In any position I am blessed to have moving forward, I hope to serve students and families in a way that betters the student, family and community. I love being a leader in a public school system and hope to remain serving public schools in the future. Additionally, I would like to teach at the university level preparing teachers or future administrators as a way to "pay it forward" for all those who graciously helped me along the way.