Published on December 23, 2015 by Austin G. Ferrer  
With most of the NFL regular season football season complete, uncertainty is looming over some teams, coaches, players, fans, and the remainder of the season. Fans all across the country know the incredible importance of the final few weeks remaining in the season. The only certainty that every fan who has watched a snippet of television in the recent weeks can agree on is that new advertising kings have emerged this NFL season.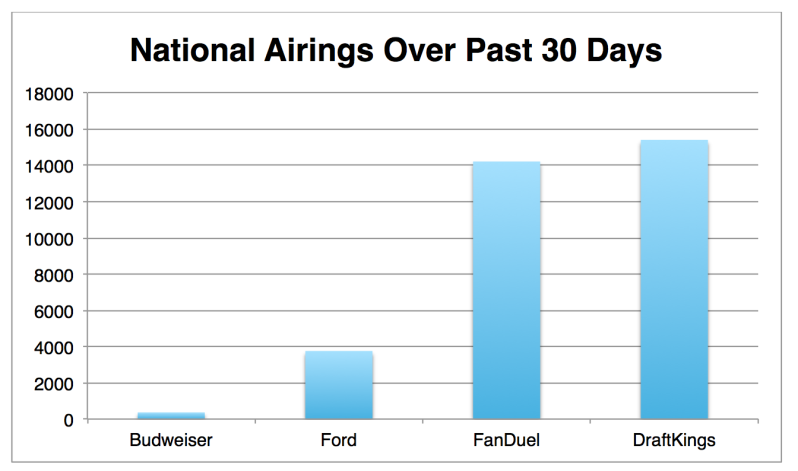 Move over, Budweiser. Move over, Ford. After years of domination by Budweiser and Ford through television advertising, new leaders have emerged. According to iSpot.tv, an analytics service that tracks televised advertising campaigns, DraftKings and FanDuel, both daily fantasy sport startups, have spent a combined $205.9 million engulfing sport viewers with countless commercials airing nationally across both network and cable from the beginning of the year until Oct. 5. Spending over $205 million has officially solidified DraftKings and FanDuel as the advertising kings in recent weeks, and possibly even the entire year.
Facts
Data provided by iSpot.tv reveals that Ford and Budweiser, repeatedly considered by viewers across North America to be the NFL's most popular advertiser, have nationally aired a combined total of 4,126 commercials over the past 30 days. Although this figure may seem very high, FanDuel and DraftKings each make Ford and Budweiser's figures seem miniscule. According to the same source, iSpot.tv, DraftKings and FanDuel have 29,633 combined national airings over the past 30 days. This figure clearly drowns out any speculation that Ford, Budweiser, or any other company is competing in the race to be an advertising king.
Social Response
The amount of DraftKings and FanDuel national airings compared to Budweiser and Ford airings, supported by the graph above, is truly astonishing. The overwhelming amount of commercials from both of these fantasy football startups has understandably not been received positively by the majority of viewers. Data provided to Digiday from Brandwatch, a social media monitoring company, shows that conversation online about both DraftKings and FanDuel commercials were overwhelmingly negative. The data revealed that 76 percent of FanDuel commercials were received negatively, while DraftKings was rated just as poorly with 75 percent of mentions tracking negatively. "Negative mentions don't generally concern themselves with the quality of the ads, or the messages within them, but just seeing them repeatedly," said Brandwatch analyst Kellan Terry, adding that people simply felt "inundated."
This blog post was written by Samford University student Austin G. Ferrer.
Sources
Brustein, J. (2015, September 10). You Aren't Good Enough to Win Money Playing Daily Fantasy Football. Retrieved October 8, 2015.
Budweiser TV Commercials. (n.d.). Retrieved October 7, 2015, from http://www.ispot.tv/brands/dCt/budweiser
DraftKings TV Commercials. (n.d.). Retrieved October 7, 2015, from http://www.ispot.tv/brands/IEY/draftkings
FanDuel TV Commercials. (n.d.). Retrieved October 7, 2015, from http://www.ispot.tv/brands/ILc/fanduel
Ford TV Commercials. (n.d.). Retrieved October 7, 2015, from http://www.ispot.tv/brands/dzg/ford
Mochari, I. (2015, October 9). Why DraftKings and FanDuel Spent $206 Million on Ads This Year. Retrieved October 9, 2015.
Valinsky, J. (2015, September 14). Everybody hated those DraftKings and FanDuel commercials, data shows - Digiday. Retrieved October 6, 2015.