Published on June 15, 2015 by Kara Kennedy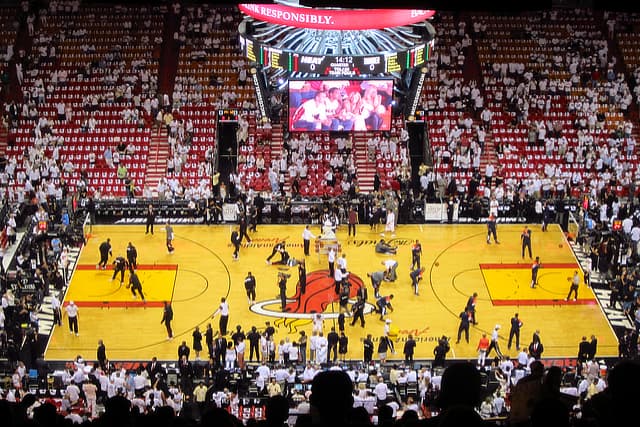 Led by seniors Will Cavanaugh, Brent Hansen, Matt Johnson, Damon Waller and Daniel White as part of the final capstone course in the program, the students worked during the spring semester to develop strategies to foster fan engagement from the millennial generation.
"From Nike to the National Football League to ESPN, every major sports brand is trying to figure out how to reach this technology-enriched generation: what motivates them, and what drives their attitudes and behaviors," said Darin White, sports marketing program coordinator.
Representing more than 75 million Americans, millennials are the most diverse generation in U.S. history, Cavanaugh explained. The millennial lifestyle is all about constant connection via social media, multitasking, accelerated communication and immediate gratification. "Millennials present marketers with highly unique challenges," he said.
"It was a pleasure meeting with the Brock School of Business students," said Kaufman. "I was very impressed with their professionalism, and the students' presentation was well thought out and offered unique insight on millennial fan engagement."
The team presented a dry run of the presentation to the Brock School of Business sports marketing advisory board a few days before leaving for New York. According to White, "This once-in-alifetime experience would not have been possible had it not been for the partnership we have with the executives who serve on the advisory board as well as the support of the Samford athletics department. The board opened the door for us at the NBA, helped prepare the students prior to our departure and funded the trip."
But the trip was not all business. "We celebrated the successful completion of the project by attending a New York FC soccer game at Yankee Stadium and a New York Islanders [hockey] game. We were also able to tour the Major League Baseball headquarters with a Samford alumnus [Giovanni Hernandez] who works there," said Johnson.
"Students all across Brock School of Business are fortunate to have the opportunity to hone their business skills in real-world settings. It is one of the great strengths of our school as it gives our students a huge competitive edge when they enter the marketplace," said faculty adviser White.
"Over the course of my time in the sports marketing program, I have had the opportunity to work with the SEC, NBA, World Soccer Shop, ESPN, MLS and others. These experiences have already opened doors for me in the sports industry that I would have never dreamed possible four years ago," said Daniel White.
"Our goal is to place 100% of our graduates in excellent jobs in the sports industry upon graduation, and we are very close to achieving that goal a month prior to graduation this year," said Darin White.
This article originally appeared in the Summer 2015 issue of Seasons magazine.