Published on July 22, 2015 by Ruiyan Zhang  
Mike Mulvihill, senior vice president of programming and research at Fox Sports said, "When you talk about soccer in the U.S., you have to think about us being at year 20 or 25 of a 50-year arc." Experts say the real question for soccer's growth in America is not whether its premier global matches have drawing power (they clearly do based on the above chart), but whether the sport can begin to draw regular, strong audiences for other matches and competitions in between the quadrennial World Cups (Glegg 1). There are multiple indicators that point to the fact that America's love affair with the beautiful games extends beyond the World Cup:
1. Major League Soccer has had average per-game attendance of 21,023 this season, an increase of almost 40% over the past 10 years.
2. The MLS title game pulled in 1.6 million viewers in December, its biggest audience since 1997, the league's second season, according to Nielsen.
3. English Premier League games, which were broadcast on NBC Sports Network this past season, averaged 425,000 viewers.
4. European soccer's Champions League final between Barcelona and Juventus in June drew 2.2 million viewers on Fox.
5. Last summer, an exhibition game between Manchester United and Real Madrid at Michigan Stadium drew a crowd of 109,318, the largest ever for a soccer match in the U.S. (Glegg 2).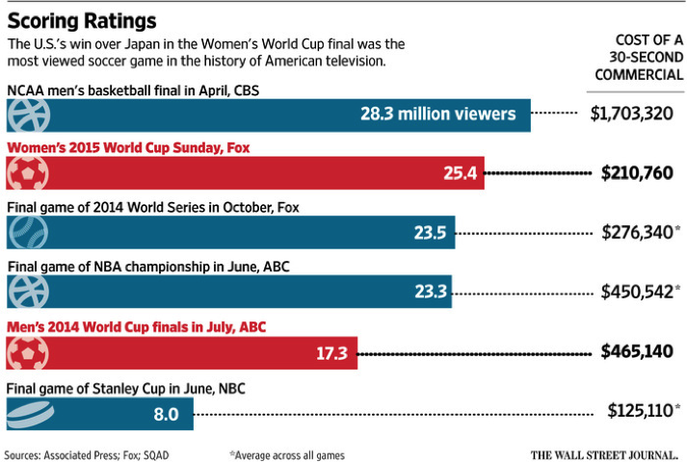 Written by Samford University student Ruiyan Zhang.
Works Cited
Glegg, Jonathan. " Has Soccer Finally Made It in the U.S.? Sunday's victory was the most watched soccer game in American history." The Wall Street Journal 8 July, 2015. Media&Marketing. Web. 10 Jul.2015. (Web Site: http://www.wsj.com/articles/has-soccer-finally-made-it-in-the-u-s-1436395661)