Published on November 25, 2015 by Jake Wilks  
Just in case you had any doubts, a new study confirms that younger millennials are madly in love with Nike. According to a survey conducted by investment bank Piper Jaffray, Nike ranked as the favorite apparel and footwear brand across both high and average income levels. The investment bank has reported this study twice a year for the past five years, and yes each year Nike has still been the favorite. Apparently Nike has some pretty loyal lovers.
Study Results: Apparel
Among teens, Nike dominated the upper-income households with about 27 percent citing Nike as their preferred clothing brand. That was followed by 7 percent for Forever 21, and 6 percent naming American Eagle. About 21 percent of teens from average-income households chose Nike as their top clothing brand, with 8 percent picking American Eagle.

The most impressive part about this study is the fact that Nike dominates both high and average income levels. This really shows the broad target market that Nike has. It also means that they have done a tremendous job with their pricing decisions. Some would say that Nike is too expensive… well this study shows that your average income teenagers apparently don't believe so. It also could depict that teenagers with the average level income simply place a higher value on Nike apparel and are willing to pay a little more for them. Similarly, people with higher level of income would rather purchase Nike over higher-level income stores such as Vineyard Vines or Ralph Lauren. Nike has done a tremendous job capturing the hearts of all teenagers no matter what level of income they come from.
Study Results: Footwear
Not only does Nike dominate the clothes that teenagers wear, but also the shoes they rock on their feet. The results show that a whopping 50 percent of teenagers cited Nike as their favorite shoe brand. Vans were the next most popular for teenagers with a mere 9 percent. Teenagers love their shoes… and 50 percent of them love for their shoes to be Nike.

Perhaps these studies indicate the reasons why Nike is aiming for 50 Billion in annual revenue by 2020. They are counting on their biggest target market to continue their love affair for Nike.
Millennial Dominating Brand
Here are a couple more studies to provide you with a glimpse of the impact Nike is having on the millennial generation.
Macy's department store conducted a study to assemble an interactive chart of the top 20 most Instagrammed Brands. With no surprise, Nike absolutely crushed the competition.
Results: Instagram
Nike took over both categories with 47.7 million mentions and 18.7 followers. For the followers list, adidas came in second with 6.4 million, followed by Louis Vuitton (6.1 million), Dolce & Gabbana (5 million), and Michael Kors (5 million). The top five brands in the mentions category behind Nike were Prada (18.7 million), Gucci (17.9 million), Dior (17.5 million), and Hermès (14.8 million).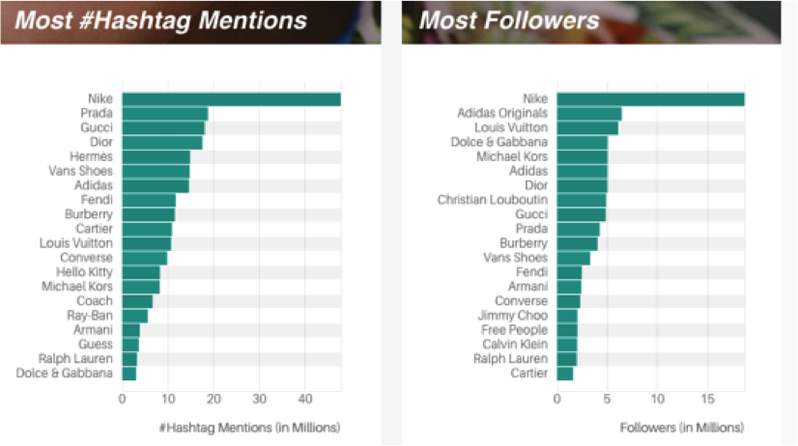 In the study Piper Jaffray assembled they also found that Nike was at the top of the list for Top Shopping Websites. With more and more millennials moving towards on-line shopping this is a significant benefit for the Nike.com website.
Results: Top Shopping Websites
Nike was second only to Amazon for the most popular shopping website. Nike even ranked higher than the popular shopping website Ebay.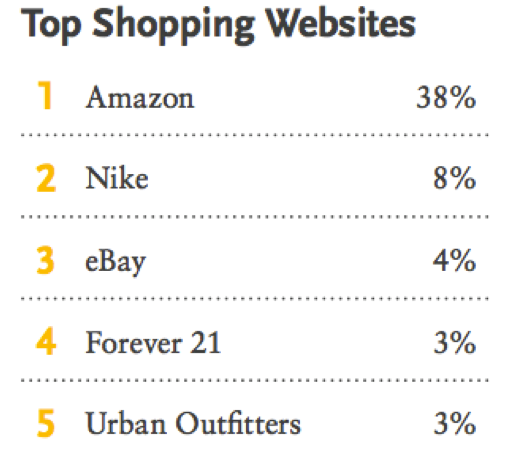 Results: NIKE IS LOVED
In conclusion, all the results to these studies point to one thing… Teenagers absolutely adore the Nike brand. If there were a popularity contest for brands, Nike would win with flying colors. Teenagers not only desire to wear Nike clothing and shoes, but to even connect and identify with the brand on social media. Nike is ultimately the number one apparel company in the world because they have captured the hearts of the younger millennial generation.
This Blog Post was written by Samford University student Jake Wilks.
References
http://uk.complex.com/style/2015/10/nike-most-popular-teen-apparel-brand
http://www.piperjaffray.com/private/pdf/TSWT_Infographic_Fall15.pdf
http://www.sbrnet.com.ezproxy.samford.edu/Article-Detail.aspx?id=237866
http://www.complex.com/style/2015/09/20-most-instagrammed-fashion-brands?_ga=1.204698387.225718253.1412021812