Published on October 7, 2015 by Emily Knauss  
Fandom is a term that most everyone is familiar with, and there's nothing quite like sports to bring out the passionate side of fans.
Many sports teams attempt to create a passionate, high involvement fan base, but no team in the NHL can compare to the Chicago Blackhawks. Aside from the Blackhawks decorating the city with three Stanley Cup victories over the last six seasons, three main reasons have attributed to the Blackhawk's fan craze: strong social media presence, fan engagement and strong brand recognition.
Social Media Savvy
Today, social media is one of the most impactful marketing tools available, and knowing how to leverage it can make or break a brand. In recent years, the Blackhawk's social media presence has skyrocketed. As of now, the Chicago hockey team has over one million followers on twitter and 2.7 million "likers" on Facebook. One way they have secured these staggering numbers is through their social media campaign, #WhatsYourGoal, which allows people all across the globe to tweet, Instagram, Facebook this hashtag with their own personal goal. At times, Blackhawks players might personally help you achieve your goal. For instance, Patrick Kane, the team's star, personally delivered dinner to local firefighters. By putting this hashtag on social media, it is not only popularizing the Blackhawk name, but also it is incorporating fans into the Hawks "One Goal" mantra. This campaign encourages a sense of togetherness throughout the Blackhawk community. More notably, this campaign earned the Blackhawks the Golden Matrix Award at the 2015 Information Display Entertainment Association Conference.
All About the Fans
A key component to successful fandom is not just accumulating fans, but rather converting low involvement fans to high involvement ones. High involvement fans are emotionally invested into a team. They make it their identity. We know there are a great number of Blackhawks fans having led the league in every attendance category this season (most notably road game attendance).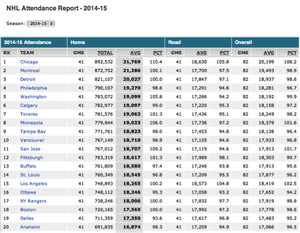 Additionally, in 2013 the "Hawks" also secured top spot among NHL fans as ranked by the fans themselves. Though they have secured plenty of supporters, the Blackhawks know the importance of keeping them engaged. On their website http://blackhawks.nhl.com/club/page.htm?id=47735 they provide a section dedicated to fans. On the drop down menu under Fan Zone you can find promotions, contests, clubs, message boards, even offer the opportunity to become a fan ambassador…going above and beyond ensuring their fan base stay engaged in the Blackhawks community.
All Blackhawks Everything
Another attribute that sets the Blackhawks apart from other teams is its brand. Their franchise value has increased significantly…notice the "hockey stick" growth below.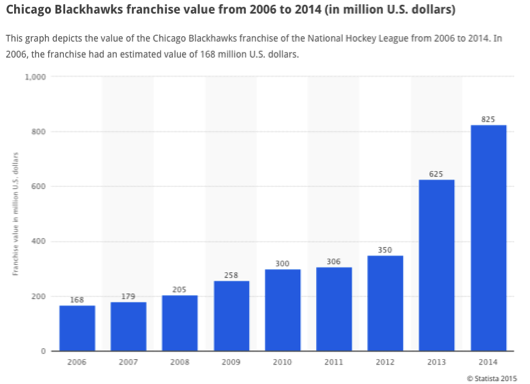 How did they achieve these staggering figures? Of course winning is a large part of this, but off the ice Blackhawk ownership is keenly aware of marketing their brand through the logo, apparel, games, and even players. Recently, the Blackhawks were named the 2014-2015 Club Retailer of the Year at the 2015 NHL Exchange. This was largely due to their opening two retail stores and expanding their presence in other stores over the past two years. Also, decorating the city with their iconic Indian head logo, especially during their playoff runs has become an annual ritual. Recognition doesn't just stop with logos and apparel; the players themselves are every bit as important. Blackhawk players themselves each have a story and are vibrant and relatable. John McDonough, CEO of the 'Hawks said it best at the 2015 Brand Engagement Conference when talking about his team's brand in the market. He said, "Our players look like people they (our fans) went to college with. Hockey players are more relatable. They really get it." The team as a whole represents the brand, and that is a concept the players of the Blackhawks understand wholeheartedly.
These three ways are how the Blackhawks continue to achieve such a highly involved, loyal and passionate fan base. Of course there many other factors that play into their success such as their long history as an Original Six Team, the city of Chicago's fabled sports tradition, and of course winning. While all of these are important, the Blackhawks have mastered fan involvement that takes winning to a whole new level. Just look and compare the image below of the 2014 L.A. Kings Stanley Cup victory parade turnout contrasted to the 2013 Chicago Blackhawk's victory parade turnout. In this case, a picture is worth "hundreds of thousands of words."
[photo of huge crowds]
This blog post was written by Samford University student Emily Knauss.
References
http://www.statista.com/statistics/194769/nhl-franchise-value-of-the-chicago-blackhawks-since-2006/
http://espn.go.com/nhl/attendance
http://blackhawks.nhl.com/club/news.htm?id=775754
http://m.sportsbusinessdaily.com/Daily/Issues/2015/05/28/Brand-Engagement-Summit/McDonough.aspx
http://www.sbrnet.com.ezproxy.samford.edu/research.aspx?subrid=224