Published on December 30, 2015 by Jake Wilks  
Georgia State University Football - A Case Study
Georgia State's football team competes at the highest level of the NCAA. The team also plays at the Georgia Dome that holds over 70,000 seats. However the team's average attendance last year was barely over 10,000. The Panthers just completed their sixth season.
The 32,000 Georgia State students have been given majority of the burden of paying for their football team. Over the past five years the students have been responsible for paying nearly $90 million in mandatory fees to support the football team and other intercollegiate athletics. Most of the abundance of revenue flowing into college sports is going directly to the elite programs leaving colleges like Georgia State to put a heavy load on their students to finance their athletic program dreams. They are counting on raising the student fees to cover the overwhelming expense of their athletic teams. Many of these athletic teams such as Georgia State football are not even close to bringing in enough revenue to back them up.
The Cold Hard Facts
A study done by the Huffington Post and The Chronicle of Higher Education found that in the past five years, 201 public universities competing in D1 sports paid a whopping $10.3 billion in mandatory student fees and other subsidies into their sports programs. During this time student fees, which were half of all subsidies, increased by 10%. Universities such as Georgia State and many others are raising tuition and requiring that students pay more to support their sports teams. For example, the College of William and Mary charges their students $1,500 a year in athletic fees.
The study also found that subsidization rates were highest at colleges where ticket sales and other revenue are lowest. Sadly this shows that students who show little interest in their athletic teams are actually required to pay more to support them. At Georgia State the athletic fees totaled $17.6 million with another $3 million contributed by the university. These subsidies represented about three-fourths of the athletic budget.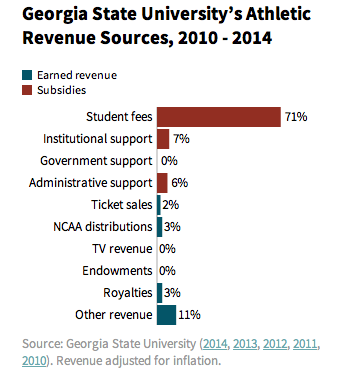 Georgia State however is not alone, last year 47 other public college sports programs were even more dependent on fees as a percentage of their athletic budget than Georgia State. For example, Utah Valley University is another school like Georgia State that sits at the top of the list. The increasing number of universities that rely heavily on subsidies is raising many concerns from presidents, coaches, and even professors and students.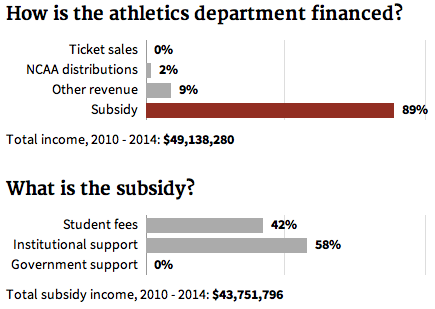 But Is It Worth It?
With these growing concerns it has many colleges asking the question, is it worth it?
Carl Patton, the former President of Georgia State College was responsible for answering this very question. Patton said that students desired to have a football team for intangible benefits such as building a sense of community on campus. I imagine this is a similar response for many other students at different universities that are thinking about starting up a football team. Patton described that adding football was a gamble and that it required doubling the student athletic fees and straining the university's finances. With donations making up only 1% of its athletic budget this made the decision even riskier. However in 2013 under coach Bill Curry the Panthers made the jump to the NCAA's top level of football.
Fundamentally Flawed Business Decision
Curry says that many colleges are under tremendous pressure to make it to the top level no matter what the costs. Reflecting on his experience at Georgia State, Curry claims that many colleges are making "fundamentally flawed" business decisions. Many colleges are sucked into making this decision because of the $26 billion in revenue that D1 public colleges are bringing in. However only a handful of these universities (approximately 24) are bringing in half of this revenue. This leaves hundreds of schools like Georgia State fighting for just a fraction of a percent of the other half. All of these factors lead to the major question of many schools… Is having a football program really worth all the expenses that come with it?
Pulling the Plug
UAB is an example of a college that had to answer many of these questions. In 2014 the University of Alabama at Birmingham decided that the costs of having a football team was just too much for them to handle. The president of the UAB recognized a $20 million dollar budget and the escalating costs of having a D1 sports team and decided that it was not worth it anymore. However UAB's program plans on bringing the team back in 2017. The only way it is able to do this is from a renewed interest from many donors. In order for teams to survive they absolutely must rely on donations. Unfortunately for many schools facing similar situations as UAB students are their biggest donors.
Is it time for more colleges and universities to consider pulling the plug on their sports teams? Teams all around the country need to start considering how much fees they are willing to place on their students in order to sustain a program. They need to start focusing much more on getting big donations and boosting outside revenue. Coach Curry makes a statement that many colleges should consider before making these decisions. "There's this illusion that you can wave a magic wand, build all these fabulous stadiums and facilities, and the money's going to roll in. But the reality is without consistent success on the field, donors will not write the big checks colleges need to sustain their programs."
This Blog Post was written by Samford University student Jake Wilks.
References
http://projects.huffingtonpost.com/ncaa/sports-at-any-cost
http://projects.huffingtonpost.com/projects/ncaa/subsidy-scorecards/utah-valley-university
http://hechingerreport.org/wins-athletes-cost-fellow-students-steeper-fees/
http://bryanalexander.org/2015/11/16/how-public-universities-support-athletics-and-students-badly/