Published on August 4, 2015 by Annika Hepp  
Are you familiar with words like "burpee", "thrust", or "snatch"? If you answered "no", then you are not familiar with the rising fitness mania called "CrossFit". Greg Glassman founded this type of fitness/ sport back in 2000. "Boxes" are the full-equipped gyms for CrossFitters where "WODs" (workouts of the day) take place. These "WODs" involve different disciplines such as gymnastics, weightlifting, and high-intensity workouts. CrossFit as a sport is growing extremely fast, not only in the United States, but all over the world. One factor for this rapid growth is the annual CrossFit Games, where participants from all over the world compete, to determine the best CrossFitter. The winner is rewarded with big prize money, which has been increased to $2 million for the CrossFit Games 2015.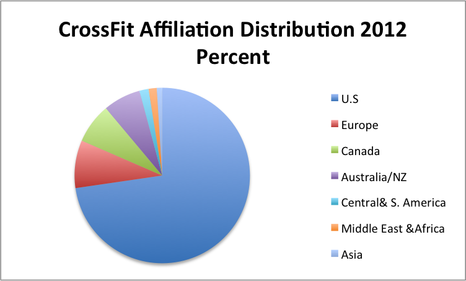 The first graph above indicates the growth of CrossFit affiliations around the world. CrossFit was founded in the United States and therefore 72.7% of affiliations are in the U.S. Europe follows with 8.8% of all affiliations, which is a significantly smaller number. Next is Canada with 7.4%, which surprises me because Canada is a lot closer to the United States than Europe. Australia and New Zealand represent 6.9% of the total number of affiliations. CrossFit is not as popular in Central and South America since they only represent 1.7%. Surprisingly the Middle East and Africa denote 1.5% and even Asia is on the map with 1% of affiliations spread around the globe.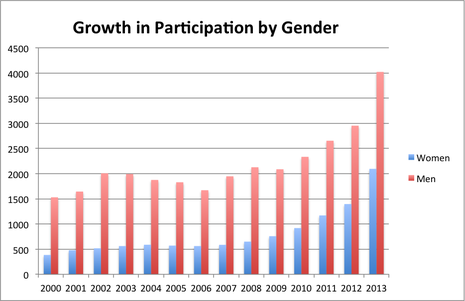 From the beginning, men have been the dominant gender to participate in CrossFit. From 2009 to 2013 the numbers for both, men and women, increased dramatically. The participants for men jumped from 2,953,000 to 4,021,000 in only one year. The demonstrated numbers show that this extreme sport has become more popular due to advertisement and marketing strategies. Also, this tremendous growth has not only benefitted the CrossFit market, but also Reebok, which is the brand associated with CrossFit.
Concerns and risks that come with this intense sport
Critics have raised major concerns about safety in this multi-million "empire". More and more incidents have been reported over the past years. The numbers of patients, who have gotten injured during a CrossFit workout, shock medical professionals. Due to the rapid growth of CrossFit and due to the fact that thousands of new affiliations have opened over the past year, medical professionals are further concerned that there won't be enough qualified trainers to teach the intense movements and workouts right. These kinds of workouts have been performed primarily by the Navy Seals, who have been trained for this over many years.
Why do people enjoy CrossFit?
The CrossFit industry will continue to grow. Participants like the physical result of these high-intensity workouts. In addition, people like the social aspects of going to a CrossFit "box". The people at the workouts are friends and can be competitors when it comes to the "WODs". At CrossFit people do things that they never thought they could perform or achieve. This eventually shapes self-confidence and pushes you to do more and more complex things. Most importantly people do it for their health because the movements make the human body more functional.
This blog post was written by Samford University student Annika Hepp.
Sources
Bric, J. (2015, January 9). $2 Million in Prizemoney at the 2015 CrossFit Games. Retrieved July 17, 2015.
Fainaru-Wada, M. (n.d.). CrossFit's big growth fuels concerns. Retrieved July 17, 2015.
How Fast Are the CrossFit Games Growing? The Numbers Tell the Story. (2013, March 11). Retrieved July 17, 2015.
Origins of CrossFit. (2012, October 9). Retrieved July 17, 2015.
Tao, D. (2012, February 16). The Ultimate Guide to CrossFit Lingo. Retrieved July 17, 2015.
The Girls: Photo. (n.d.). Retrieved July 17, 2015.
Why do CrossFit? (n.d.). Retrieved July 17, 2015.