Published on December 7, 2015 by Laura Klein  
In today's college football landscape, the stakes are high among schools participating in the Power Five conferences: SEC, Big 12, Pac-12, Big Ten, and the ACC. A single loss in any given season can be the determining factor between a chance at the title and the bottom of the league. With television deals breaking ten figures and coaching contracts worth more and more each year, the margin between success and failure is extremely small. But does spending the big bucks equate to success on the field?
Traditional giants in the college football landscape pay the most for great coaching: Alabama, Michigan State, Oklahoma, Texas A&M, and Texas. These schools have a long tradition of success on the football field and rank in the top 30 of largest revenue generating schools, giving the athletic department resources to draw in top talent in the coaching realm. These schools average upwards of $5 million per year for a contract with a head coach. But does shelling out millions in cash lead to success of the team?
Numbers Never Lie
To get an accurate picture of how coaching salaries equate to wins on the playing field, a scatter graph of wins versus salaries gives a visual depiction of the data correlation. From the data provided by Forbes for head coaching salaries and ESPN for wins per season, one can notice there is no strong correlation in the comparison. Here are a few key findings:
Only three schools in the top ten of the largest head coaching contracts offered achieved double digit wins in 2014.
The average number of wins in the top ten priciest contracts was nine in 2014.
Of the top 20 most expensive contracts, the highest win count was 14, attributable to Ohio State's National Championship season led by third year coach Urban Meyer. Meyer ranked at #6 largest contract and earned $4.5 million in 2014.
The most expensive coaching contract that produced the least wins was that of Charlie Strong and the Texas Longhorns that only achieved six wins in Strong's first year as head coach.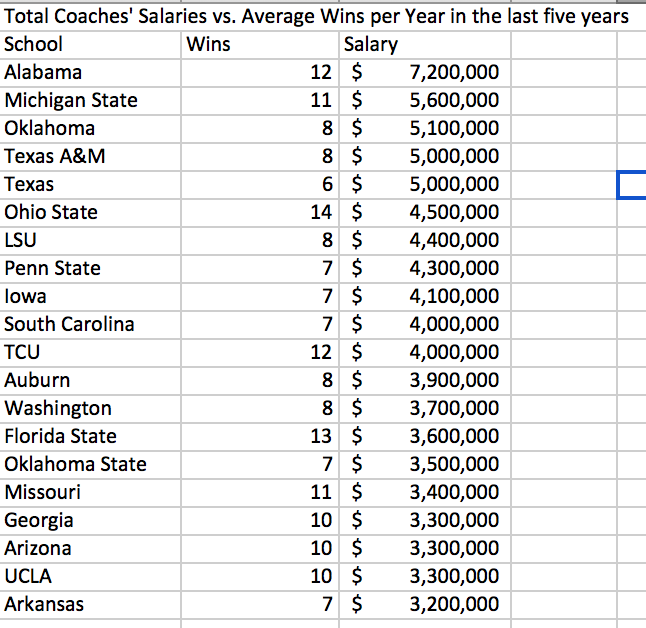 Facts Beyond the Numbers
It goes without saying that there are more factors than the coach and his salary that contribute to wins for a team. Several of the coaches listed in the top 20 most expensive contracts had been in the position for less than five years, meaning the new man in charge could have inherited unfortunate circumstances from his predecessor. However, the most important statistic in college football is wins, plain and simple. Coaches that are successful in that category earn the highest contracts, such as Nick Saban who has led his team to three National Championships and 108 wins in his eight years as the head coach at Alabama. Saban was the highest paid head coach in 2014 with an annual salary of over $7 million.
However, there are still head coaches who produce consistent wins and do not receive the compensation attributed to those wins, such as Jimbo Fisher at Florida State. In 2014, Fisher led the Seminoles to the semifinals of the College Football Playoff and a National Championship the season previous, but earned a humble $3.6 million.
According to the numbers, there is parity between wins and salary with coaches overpaid per win and others not receiving monetary compensation for the success they produce on the field. However, signing large coaching contracts does not always guarantee success, as the Texas Longhorns have regretfully learned. Bringing in top talent in the coaching realm comes at a price, which is hopefully to be reaped in wins. So does big money equal big wins? Depending on the conference, personnel, and ulterior factors, large investments in coaching contracts will hopefully produce wins over time.
This blog post was written by Samford University student Laura Klein.
Citations
College Athletic Department Revenues, School-by-School, NCAA Division I w/Football. (n.d.). Retrieved October 19, 2015, from http://www.sbrnet.com.ezproxy.samford.edu/research.aspx?subrid=906
College Football Teams. (n.d.). Retrieved October 19, 2015, from http://espn.go.com/college-football/teams
Feloni, R. (2014, May 1). The Simple Strategy Alabama Coach Nick Saban Used To Create A College Football Dynasty. Retrieved October 19, 2015.
Gaines, C. (2014, December 3). The 20 Highest-Paid Coaches In College Football. Retrieved October 19, 2015.
Nick Saban Coaching Record. (n.d.). Retrieved October 19, 2015, from http://www.sports-reference.com/cfb/coaches/nick-saban-1.html