Published on October 28, 2015 by Barrett Merrill  
The National Basketball Association is making serious moves to catch the attention of a massive sports fan market, and its strategy: Millennials. We all know that football's colossal following long surpasses all other sports, and baseball's roots have been deeply engrained into the fabric of our country as "America's Pastime," but when it comes down to it, the NBA is the one that has hit the incline amidst many other leagues' declining fandom. Ball don't lie. In transition between the 2013 and 2014 seasons, the NBA took on approximately two million more followers, while the MLB lost almost two million and the NFL had a staggering decline of over nine million. So what is the NBA doing that makes it stand out and how have millennials been central to their strategy?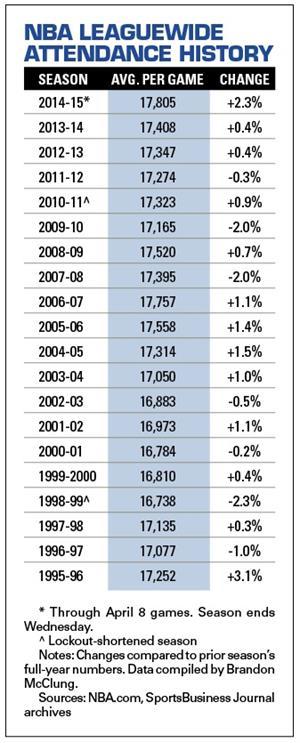 Millennials Set Trends
If the last decade has taught us anything about marketing in the context of sports, it's that millennials set trends. Millennials are the pinnacle of social fads. They accelerate the pace of fashion, technology, and adventure. They carry an enthusiasm and thrill of making things better. They are attractively entrepreneurial and well-networked by nature. When it comes down to it, all roads point to the millennial generation, and the millennial generation loves NBA Basketball. As Roberto Ferdman (@robferdman) points out in his observations of NBA fandom, "the age of basketball viewers has remained remarkably stable, suggesting that even as basketball fans age, new younger viewers keep tuning in."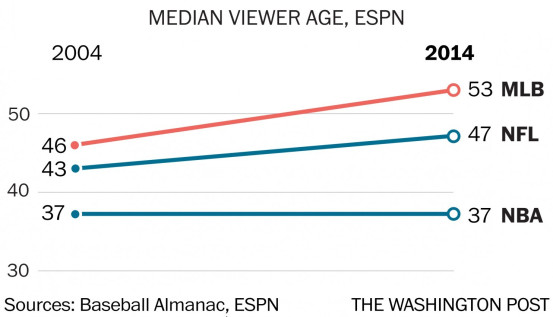 Trends Create New Markets
As millennials set trends, often, by their embrace of modernization and technological advancements, they create new markets. This is imperative for sports leagues when attempting to draw new fans, especially ones that may be considered less consistent or "un-sporty." Much of this comes via social media. In 2011, the millennial generation (ages 18-34) made up 42.8% of the NBA following on Facebook, and, just three years later, they ended 2014 with a little over 50% of the following. This is huge seeing as these are the fans that are most active on their social media accounts, sharing pictures, tagging teams, and encouraging others to join. But what has motivated these millennials to be so involved with the NBA specifically? How about the players!
As Ferdman later puts it in his article, "the league and its stars tend to be active users of social media platforms like Facebook, Twitter, and Instagram, often showing off their style." Fans want their style. Fans actually want any attractive or convenient way to get an insider's perspective on the life of a professional athlete, and with such involvement, it's no surprise that the fan base of the NBA is growing. In agreement with Ferdman, Darren Rovell (@darrenrovell) of ESPN's sports business coverage says that "young basketball stars today are ingrained in culture and fashions and life in a way that the stars from other sports here are not." The bottom line of the matter: when basketball players interact with fans and other players, millennials pay attention; and when millennials pay attention, everyone pays attention.
New Markets Lead to Fan Growth
We see the trends. We see the new markets. Let's see the growth. This past season, John Lombardo, writer with the Sports Business Journal, spoke multiple times with Amy Brooks, the executive vice president of the NBA's team marketing and business operations division, about the 2014-2015 season. At the beginning of the season, Brooks shared that the NBA would sell new full-season tickets to 50,000 unique fans, and have a renewal rate of over 80% for the fifth season in a row. Fast-forward to the last week of the season and we see that these projections not only rang true, but also put the NBA on the verge of a record-breaking average attendance of approximately 17,800 fans per game.
So whether it's a LeBron James post on Instagram, the fresh swag of NBA gear, or the pure love of basketball, the NBA has found a way to embrace its history, like that of the NFL and MLB, but through a more modern expression that better connects with millennials, and, in turn, has led to an impetus of fandom growth for the coming seasons.
This blog was written by Samford University student Barrett Merrill. Barrett is an Economics major from Atlanta, GA interested in social enterprise, international sports business, economic development, and micro-church planting movements.
References
Ferdman, Roberto. The Washington Post. "What the NBA gets that the other Big Sports Leagues don't." Retrieved from http://www.washingtonpost.com/news/wonkblog/wp/2015/04/06/what-the-nba-gets-that-the-other-big-sports-leagues-dont/
Lombardo, John. Sports Business Journal. "Big Increase at Gate puts NBA on the Cusp of Record-Setting Total." Retrieved from http://www.sportsbusinessdaily.com/Journal/Issues/2015/04/13/Leagues-and-Governing-Bodies/NBA-attendance.aspx
Lombardo, John. Sports Business Journal. "NBA to Set Record in Full-Season-Ticket Sales." Retrieved from http://www.sportsbusinessdaily.com/Journal/Issues/2014/10/27/Leagues-and-Governing-Bodies/NBA-meetings.aspx
SBRnet. "Sports Fan Market Size." Retrieved from http://www.sbrnet.com.ezproxy.samford.edu/research.aspx?subrid=862
SBRnet. "NBA Fan Market Summary." Retrieved from http://www.sbrnet.com.ezproxy.samford.edu/research.aspx?subRID=716
SBRnet. "NBA Fan Social Media Market Summary." Retrieved from http://www.sbrnet.com.ezproxy.samford.edu/research.aspx?subRID=767
Images
Ferdman, Roberto. The Washington Post. "What the NBA gets that the other Big Sports Leagues don't." Retrieved from http://www.washingtonpost.com/news/wonkblog/wp/2015/04/06/what-the-nba-gets-that-the-other-big-sports-leagues-dont/
Lombardo, John. Sports Business Journal. "Big Increase at Gate puts NBA on the Cusp of Record-Setting Total." Retrieved from http://www.sportsbusinessdaily.com/Journal/Issues/2015/04/13/Leagues-and-Governing-Bodies/NBA-attendance.aspx
Lake, Thomas. The Wall Street Journal. "The Rise of the Atlanta Hawks." Retrieved from http://www.wsj.com/articles/atlantas-groundbreaking-discovery-we-have-an-nba-team-1428940903