Published on September 25, 2015 by Brent Hansen, Will Cavanaugh, Damon Waller, Daniel White and Matt Johnson  
Electronic Sports, or eSports, are defined as video game competitions in which players compete in front of live audiences. Gamers across the globe compete in popular games such as League of Legends, FIFA, Call of Duty, and many more. Male millennials make up the strongest demographic group that participates in eSports. In a U.S. study done by Newzoo, 60% of all consumers of eSports fall in the age range of 21-35 with 43% of that group being male millennials. In the same study, Newzoo found that there are 31.4 million Americans that participate in eSports. Male millennials are spending a record amount of time watching eSports events via live stream. An average eSports viewer watches ten times per month, and averages 2.2 hours per session. In 2013, there were 71.5 million viewers of eSports and 2.4 billion hours spend watching. Hours spent watching eSports is projected to get a boost in 2018 to 6.6 billion.
League of Legends
League of Legends is by far the most popular game in the world right now. There are currently estimated 1.2 billion gamers worldwide and 85 million of them play League of Legends. There are currently 12 million players per day. In 2013, Riot Games hosted the League of Legends world championship at Staples Center in Los Angeles. The arena was sold out for the event and a record setting 32 million viewers tuned in to watch the action live. The following chart shows how this event compares to other popular sporting events in 2013.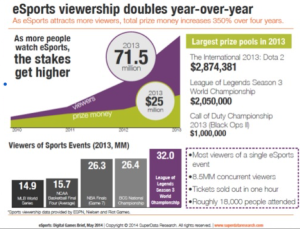 As the chart states, the 32 million viewers that watched the League of Legends world championship set records for being the most viewers of a single eSports event, tickets for the Staples Center sold out in one hour and there were roughly 18,000 people that attended (see pictures above).
FIFA
EAsport's game FIFA is another extremely popular game around the world. The 2014 version of FIFA had 459,000 games being played around the world every 90 minutes. FIFA generates around $1 billion dollars for EA, but it really did not take off in popularity until they partnered with the 2010 World Cup. The FIFA video game has also played a major role in the rise of soccer popularity in the U.S with its interactive and 'cool' approach to soccer. During the 2014 World Cup in Rio de Janeiro, FIFA hosted an interactive World Cup in Rio where over 2 million gamers competed to win a grand prize of $20,000.
Latest eSports News
Yesterday it was announced that DraftKings will be entering the eSports arena. According the Cynopsis, "The daily fantasy sports company is launching DraftKings' eSports games which will center on the League of Legends World Championship via a partnership with six leading eSports organizations contests set to begin on Oct. 1. Partnerships include: compLexity Gaming, SK Gaming, CLOUD9, Counter Logic Gaming, Team SoloMid and Mousesports. Leading into the first tournament, the company will help new fantasy eSports players learn how to approach fantasy gaming with content that includes video tutorials, helpful articles and integrated content from the teams on http://playbook.draftkings.com. "eSports is one of the world's most popular spectator sports, and we are excited to introduce League of Legends to our industry-leading fantasy platform as a way to bring fans worldwide closer to the game," said Matt Kalish, CRO and Co-Founder of DraftKings.
This blog post was written by Brock School of Business alums Brent Hansen, Will Cavanaugh, Damon Waller, Daniel White and Matt Johnson as part of their senior sports marketing project.
References
"Competition Heats Up as 'Esports' Viewership Explodes - EMarketer."EMarketer.com. Ed. Media & Entertainment. EMarketer Inc., 10 June 2014. Web. 18 Mar. 2015.
Gaudiosi, John. "Big Brands Gravitating Towards eSports." Fortune.com. Fortune, 24 July 2014. Web. 18 Mar. 2015.
Cynopsis Media