Published on December 8, 2015 by Alex Fletcher  
"The rapid growth of eSports has created an entire new category of competition…As a sport fanatic and owner of the NBA's Dallas Mavericks, I'm excited to be involved with a new sport just as it's poised for huge growth." Mark Cuban
People watching other people compete at video games, a.k.a. eSports, has skyrocketed from popular pastime to global phenomenon. This nascent powerhouse is especially strong amongst the 30-and-under male demographic that traditional sports properties have long relied upon, grabbing fan loyalty and engagement at a rapid pace. As the gap between traditional sports and eSports narrows, a distinct competitive edge is emerging for early adopters. In fact, with top tournaments selling out arenas like the Staples Center and Madison Square Garden, the phenomenon is already too big to ignore.
Sports are no longer just 'ball and stick'
Regardless of perspectives on whether competitive video games qualify as a "sport," it's clear that young people are flocking to alternative digital platforms to consume a wider array of sports content. Digital video networks like Whistle Sports have found success presenting sports coverage for millennial audiences. The company, founded in 2014, already works with 300+ sports-centric content creators and boasts more than 6 billion views across all platforms. Content ranges from Ultimate Frisbee tricks to sport comedy shorts, and the results are clear: ComScore's Sports Rankings for June 2015 placed Whistle Sports as number two amongst the 13 – 24 year old demographic.
In the same vein, eSports is a part of the 21st century re-imagining of sports entertainment. When compared to physical sports, competitive video gaming features a strikingly similar universe of players, fans, and businesses, all born from the passion of millennial gamers; with resulting market potential and viewership numbers on pace to challenge traditional sports and entertainment. Gaming research firm, Newzoo, revealed that global viewership of eSports is on the heels of Ice Hockey with predictions of rivaling American Football, by 2017 (see Figure 1, below).
Figure 1 - Courtesy of "The Global Growth of eSports" by Newzoo, 2015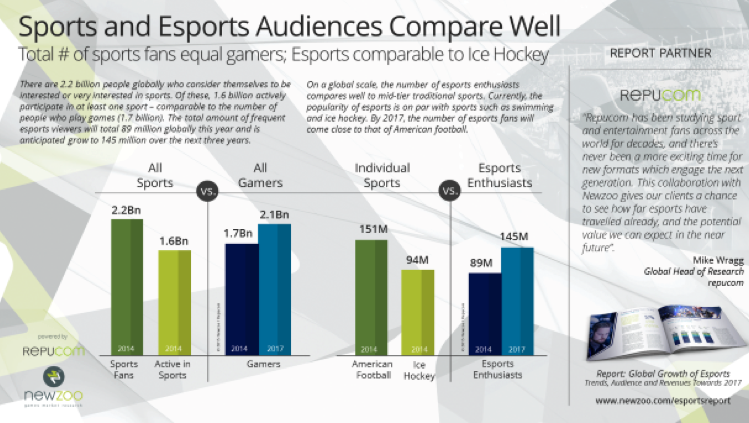 There is also a vibrant, and steadily expanding, ecosystem of game titles and storylines; all marked by a strong sense of accessibility. While the odds of developing the physical attributes necessary to become the next Lebron James is slim to none, competitive eSports stars are far more relatable for a wider base audience. Top pros regularly live stream their video game play on platforms like Twitch.tv which are accessible to millions of viewers free of charge. This has propelled a new wave of video game superstars as leading influencers for today's youth.
For example, Felix "PewDiePie" Kjellberg, a former "League of Legends" pro player, earned $7.4 million last year from his gaming videos alone. Plus, his YouTube channel has 40 million subscribers – more than Rihanna and Justin Bieber combined. This new generation of fan is eschewing TV and traditional sport influencers, in favor of the fever-pitch engagement and aspiration present across a new breed of online platforms. Sport properties must take more than passing notice of this shift, since it defines key characteristics of a highly valuable audience.
Reaching a new generation of fans
The rise of eSports is bigger than just video games. It is also reflective of a larger shift in fan attitudes and consumption patterns. Traditional sport properties must identify and integrate key elements of the eSports experience, in order to scale across a fast changing landscape. To be specific, younger fans are no longer tethered to traditional media outlets and consumption models. This demographic is attracted to the online, social and live nature of eSports; featuring easily sharable experiences that integrate with platforms like Facebook or Twitter. Tomorrow's fans will move further and further away from the sit back-and-watch model typified by TV; a fact that entails a radically different engagement model for sports media.
Fortunately, the traditional sport world is in a unique position to capitalize on the massive parallels with the eSports universe. Sport properties should view eSports as a ready-made entry point to a global melting pot of video game enthusiasts. Furthermore, a good deal of sport marketing principles translates into directly into eSports; providing a foundation for understanding the differences.
Leveraging the eSports experience
Despite several challenges associated with eSports, e.g. lack of national governing bodies or professional league structures, the realm of traditional sport has already begun to take action. In June 2015, Spanish basketball club, Saski Baskonia, brought five different eSports teams under its banner. Baskonia is a top organization in Liga ACB, Spain's top basketball league, attracting crowds upwards of 15,000 at home games. League champions in 2001, 2007 and 2009, they haven't finished outside of the top six since 1995.
"Atlantis is the first eSports club to sign up a union with a club from what we know as the traditional sports, such as Baskonia…Atlantis is the first eSports club with different divisions that merges with a traditional sports club." Ana Oliveras, Executive Director of Atlantis eSports (courtesy of Dotablast)
The Baskonia partnership with Atlantis eSports serves as a case study for how sport properties can expand audiences and build brand awareness through eSports. The teams brought in house through the partnership provide a highly valuable connection to millennial audiences and potential extension of the basketball teams fan base. Given that the key demographics of eSports enthusiasts (males 21 – 35 years of age) are some of the hardest to reach – see figure 2 below, this represents a tremendous opportunity for the traditional sports world. Now is the time to explore since, as the profile for competitive gaming improves so will the barriers/price to entry. Late adopters will face a less attractive value proposition than more agile organizations like Baskonia.
Figure 2 – Courtesy of "Sizing and Profiling eSports' Popularity" by Newzoo, 2015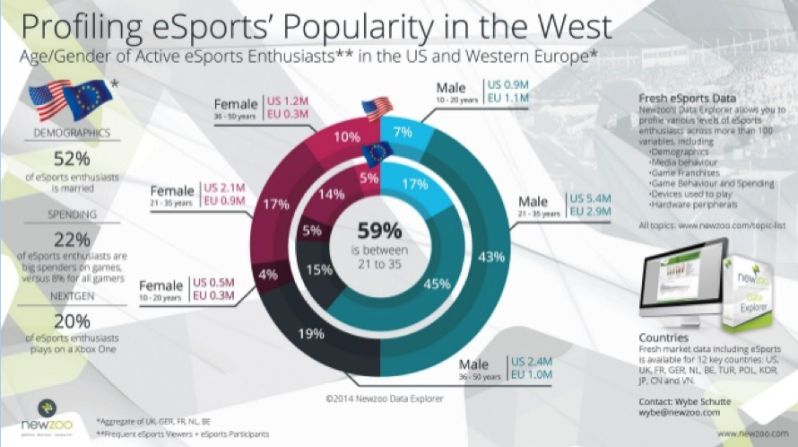 Taking the leap
In 2015 the integration of sports and eSports featured several other leaders, with deep roots in traditional sports world, venturing into the world of competitive gaming. Expect this to continue in 2016 as eSports is further established as a marketing vehicle and platform for growth/innovation:
Turner Broadcasting (TBS): Launching an eSports league in spring 2016 in collaboration with WME-IMG that will stream on a yet-to-be-named digital platform daily, Tuesday through Thursday, culminating in a weekly tournament on TBS Friday nights. An effort that every other sports network is watching closely.
Steve Kaplan, Memphis Grizzlies NBA basketball team co-owner: Teamed with top finance, technology and media executives in Los Angeles to buy professional video-gaming franchise Team 8. The ownership group is set on charting a healthy growth plan and has rebranded the franchise as, Immortals LLC.
Steve Bornstein, former NFL Network and ESPN CEO: Named chairman of a new eSports division at Activision Blizzard, publisher of the wildly popular "Starcraft" and "Call of Duty" titles. He is charged with bringing a wealth of sports media experience to bear in the eSports domain.
This blog post was written by: Alex Fletcher, eSports Intelligence, Entiva Group, LLC
Twitter -  @FletchUnleashed, Blog, Skype - alex.fletcher.82,  Phone - 301.660.5488, Newsletter