Published on November 23, 2015 by Lincoln Honts  
LSU has lost 3 consecutive games by double digits for the first time since 1966. This historic slide has caused many to speculate that Les Miles will soon be fired even though it would cost LSU an estimated $17 million  buyout.
Is this really a good idea? How likely is it that a new coach will actually improve LSU's overall performance? Research from Europe suggests that LSU might want to stick with Coach Miles a bit longer.
The news and gossip around the "hot seat" topic in sports is sometimes overwhelming. The college football season is still in full swing, yet many schools have already fired their head coach. The same is true in the NFL, the EPL and La Liga in Spain. So far this season, three managers have been fired as of November 17, 2015 in the EPL, with more changes all but guaranteed. In fact, since 2012, 21 head coaches from England's top league have been fired. These staggering numbers in coaching changes begs the question "Does changing coaches help the team?"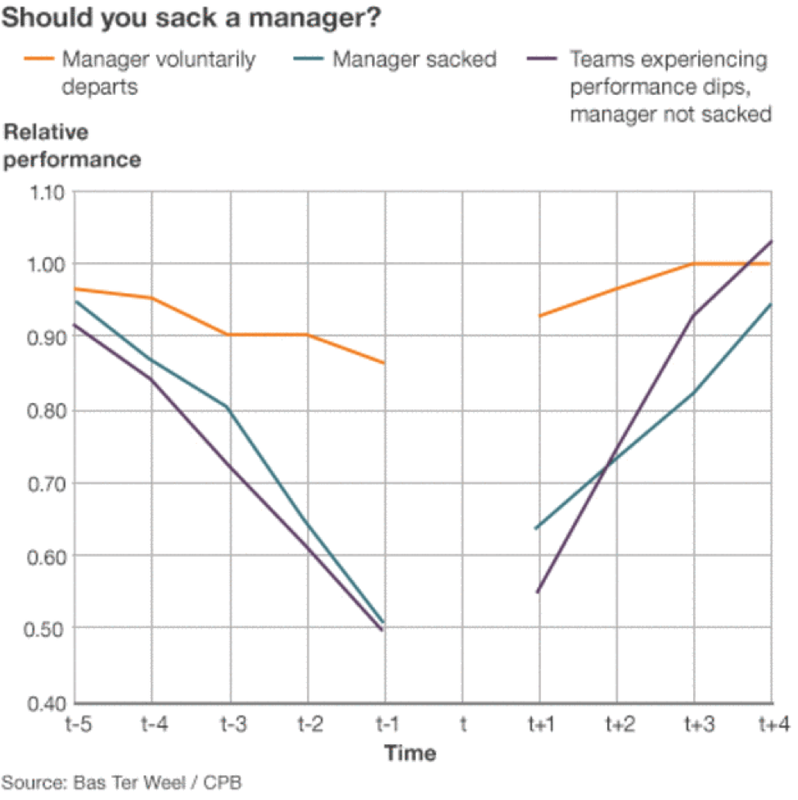 Do Coaching Changes Help?
This question has been the subject of many discussions and research gathering efforts. Dr. Bas ter Weel, a Dutch economist, studied this very subject in the late 2000's by looking at quite a few leagues around Europe, but especially at the Dutch Eredivise from 1986-2004. What Dr. ter Weel found was that while slumping teams had a short burst of form immediately following the firing and replacing of a manger, this improvement in team performance is virtually inevitable. As you can see in the graph above, teams that hit a slump without firing and replacing their current manager recovered just as well on average as those teams that did replace manager.
Another study on the German Bundesliga which used goal differential (goals scored less goals conceded) as it's marker of success and saw similar results. Over 45 seasons (1963-2009) of the Bundesliga, there were 361 mid-season manager changes, but there was not a significant change in that team's long-term goal differential. While there was certainly a brief upswing for the first 10 games of a new coach, the long-term results were very similar to what they were showing before firing and replacing the manager.
Dr. ter Weel found consistently throughout top European soccer leagues that teams will end up in a very similar position to their historical spot regardless of whether or not the manager is changed. So, are managerial changes helpful or even necessary? While there is certainly a short period of immediate success, turning over and changing the coaching staff usually will not lead to greater long term success.
This blog post was written by Samford University student Lincoln Honts.
Sources
Barnes, Hannah. "Does it make statistical sense to sack a football manager?". BBC News. Aug. 17, 2013. Accessed Nov. 16, 2015. http://www.bbc.com/news/magazine-23724517
The Science of Soccer Online. "Should Managers be Sacked Mid-season?". The Science of Soccer Online. Mar. 31, 2011. Accessed Nov. 16, 2015. http://www.scienceofsocceronline.com/2011/03/should-managers-be-sacked-mid-season.html [Link broken as of 6/3/2019]
Whittall, Richard. "The Plight of the English Soccer Manager." The Atlantic. Oct. 6, 2015. Accessed Nov. 17, 2015. http://www.theatlantic.com/entertainment/archive/2015/10/the-soccer-managers-changing-role/409048/