Published on December 3, 2015 by Blake Gardner  
Last month, Major League Soccer announced a partnership with Fox Sports Latin America to broadcast its games through the international television network over the next four years. The TV rights deal means that MLS matches will now be televised in Mexico, Central America, the Caribbean, and in most of South America.
For Major League Soccer, this deal has major strategic implications. First, the league has steadily been growing its television audience across the United States, with national viewership of the league's "Soccer Sunday" games on ESPN and Fox Sports 1 up 4% and 40% respectively, as evidenced by the chart below.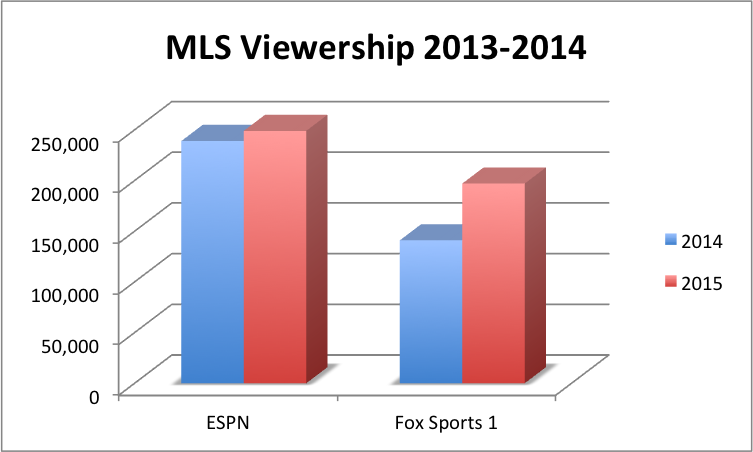 With this new rights deal, Major League Soccer will gain increased exposure outside of the United States and Canada, perhaps cultivating new fans who maybe have not yet experienced the MLS and some of the big names the league has to offer now on a weekly basis, like Didier Drogba, Steven Gerrard, Pirlo, and Kaka.
But the more important point here for the MLS is the markets into which they are seeking to expand. Major League Soccer has, by a wide margin, the highest percentage of Hispanic fans of any professional sports league operating in the United States. 34% of the league's fan base identifies as Hispanic, according to a 2013 Nielsen report. The second most popular league among the Hispanic population is the NBA, with Hispanics making up 12% of their overall fandom.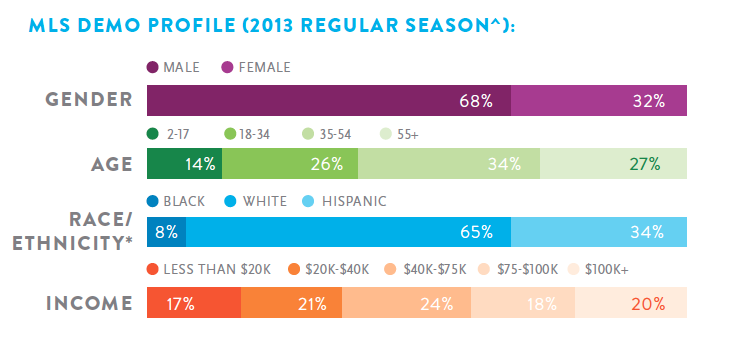 In fact, MLS is already engaging Hispanic fans here in the United States, mainly through "Viernes de Fútbol", the league's weekly Friday night game of the week that airs on Spanish-language channel Unimás. And according to the annual Forbes valuation of every MLS franchise, two of the top three most valuable clubs have a large number of Hispanic fans, the Los Angeles Galaxy and the Houston Dynamo, valued at $240 million and $200 million respectively.
In light of this, this partnership with Fox Sports Latin America is not at all a standalone contract. Rather, it s part of a concerted effort on behalf of MLS to grow their fan base among Spanish speakers, both domestically and abroad. And combined with the new TV deal MLS signed with Univision, ESPN, and Fox Sports 1 that will generate $75 million annually for the league through 2022, this new partnership could result in a new, consistent revenue stream for MLS through the end of the decade and beyond.
Though the league has grown exponentially over the last decade, the MLS still has plenty more growth to do to catch the popularity of the NFL, MLB, and NBA. And as league continues to aggressively grow through expansion over the next three years, welcoming Atlanta United FC, Minnesota United FC, and Los Angeles FC, the league will need to continue to attract fans to its product and boost the viewership and overall interest in Major League Soccer. By looking outside North America, MLS has proven they are willing to find growth outside the US border, whether it pays off or not could loom large over the life of this rights deal, and for the future of MLS.
References
Fox Sports Enhances MLS Connection With Latin America Deal. (2015, October 6). Retrieved November 2, 2015.
Oshan, J. (2014, February 12). MLS continues to struggle on TV, but there's reason for hope. Retrieved November 2, 2015.
Paulsen. (2015, October 31). Ratings Roundup: NBA on TNT, NHL on NBCSN, MLS Regular Season. Retrieved November 2, 2015.
Tannenwald, J. (2015, March 4). MLS, US Soccer officially announce new TV deal with ESPN, Fox Sports, Univision. Retrieved November 2, 2015.
This blog post was written by Samford University student Blake Gardner.