Published on December 31, 2015 by Corry Mulligan  
For years, the University of Texas football program has generated more revenue than any other college football team in the country, according to Sports Business Research Network. Last year, the Longhorns generated $113 million. That's $8 million more than Alabama, the next team on the list. On the field, Texas turned in a 6-7 campaign in 2014 and is 4-6 so far this season. Oh, and in case you missed it, the 'Horns got shut out 24-0 by an Iowa State team that was 2-5. Those statistics do not scream, "money-making machine."
Where does all this money come from?
Let's start with the Longhorn Network. LHN is a 24/7 network providing subscribers with 175 exclusive athletic events a year from all 20 sports, including at least two regular season football games. The network also shows other programming, such as Texas GameDay and Texas All Access, which takes fans behind-the-scenes with UT football.
There have been grumblings that LHN has been a failure since its inception in 2011, especially in comparison to the wildly successful SEC Network. It is too early to accurately judge the success of LHN, but even if it is struggling, that does not mean Texas is struggling. According to a piece by SB Nation, LHN pays Texas an average annual minimum royalty of $15 million. Also, once ESPN regains its $295 million investment in LHN, 70% of the network's revenue will go to Texas. The Longhorns will profit from LHN until at least 2030, when the current partnership expires.
Texas owns the sponsorship game
Corporate sponsorships make up the second head of the revenue-generating machine that is Texas football. According to an article by the San Antonio Express-News, the university is currently engaged in 19 corporate sponsorships, providing UT athletics with $16.4 million in 2015. While some of the more prominent of these deals are set to expire in the next couple of years, the multiyear agreements still add up to $98 million through 2021.
Nike became UT's largest sponsor when it signed a $24 million deal with the Longhorns that lasts until 2016. Miller-Coors is Texas's second largest sponsor, paying Texas $15.6 million from 2014-2017. The value of the program's sponsorships in 2013-2014 surpassed the total operating expenses of 100 different Division I athletic programs that same year.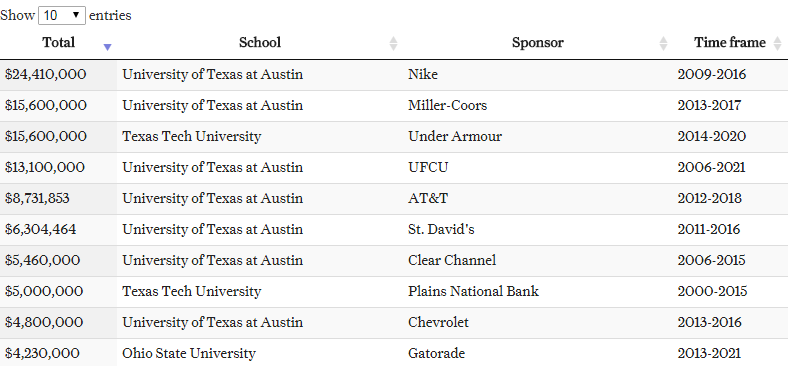 Sponsors are paying for more than exposure
While Texas's sponsors are getting exposure, they are also paying for the right to use the Longhorn brand. Andrew Giangola , vice president of strategic communications for UT's marketing partner IMG College, said to the San Antonio Express-News that this is the focal point of IMG's pitch to potential sponsors.
"What we sell is the intellectual property," said Giangola. "The mascot is extremely valuable. It's a beloved national brand, and a storied athletic program. People love those Horns."
Getting to use that simple but iconic symbol on products is invaluable for UT's official sponsors. Texas athletics, and football in particular, has incredibly high brand equity in the state of Texas, of course. But the Longhorns also have a national fan base that rivals any other school in the country. This means more sponsors signing on and more people buying merchandise.
Success in the past means revenue now
If Texas continues to string together 6-7 seasons, maybe sponsors will not be so quick to jump on board and maybe the athletic program will lose some of its national recognition. For now, however, the success Texas football has had over the past two decades seems to be enough to weather a few bad years.
As long as the LHN deal stays in place and Texas's name continues to be known and valued on a national scale, expect the Longhorns to stay near the top of the revenue list in college football.
References
SBRnet. "Football: College Football Revenues, NCAA Division I, by Team" Retrieved from http://www.sbrnet.com.ezproxy.samford.edu/research.aspx?subrid=800
Godfrey, S. (2015, June 5). SB Nation. "Longhorn Network doomed? Texas' TV money stacking up fine against SEC's." Retrieved from http://www.sbnation.com/college-football/2015/6/5/8733131/texas-longhorn-network-money-revenue
Finger, M., & Tedesco, J. (2015, April 18). San Antonio Express News. "Corporations buying into Longhorns' brand." Retrieved from http://www.expressnews.com/news/local/article/Corporations-buying-into-Longhorns-brand-6209163.php
Images via
http://www.forbes.com/sites/chrissmith/2014/12/22/college-footballs-most-valuable-teams-2014/
http://www.expressnews.com/news/local/article/Corporations-buying-into-Longhorns-brand-6209163.php
This blog post was written by Samford University student Corry Mulligan. Corry is a senior mass communication major who desires to work in sports marketing or public relations upon graduation.