Published on June 12, 2015 by Jalen Spraggins  
Baseball is known as America's favorite past time. On warm summer nights we sit in the grandstands, eat hotdogs, catch foul balls, and sing "Take Me Out to the Ball Game" during the 7th inning stretch. It seems to me that kids would be motivated to get on the diamond and play the sport America loves just as I did when I was a kid. In fact, it is the exact opposite. Today's kids are fleeing youth sports at an alarming rate.
The Wall Street Journal along with the Washington Post and AthleticBusiness.com all report that youth participation in baseball as well as the other major American sports is on the decline. U.S. youth sport participation ages 7-17 was 8.8 million in 2000 and has declined to 5.3 million in 2013. Softball participation alone has declined from 5.4 million to 3.2 million. The Washington Post reports from ESPN's Baseball Almanac that the median age of viewers of MLB games in 2004 was 46, and in 2014 was 53. This increase in age signifies the lack of participation in the game of baseball by youth over the last two-three generations of kids.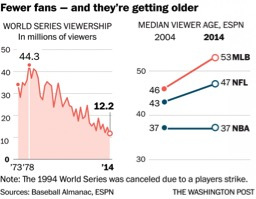 MLB Getting Serious About Wooing and Winning the Next Generation
If you have noticed this season from watching Major League Baseball games, the MLB has tried to widely market to kids to peak their interest in participating in baseball. The MLB has recently begun working with ESPN to feature Little League teams that are in the area of the telecast. These Little League teams are invited on the field, get to mix and mingle with Major League players, and are even asked questions by commentators. The Little Leaguers are also shown several times throughout the broadcast for the nation to see.
Another attempt to raise the level of interest in the game has come from the MLB, MLBPA, and MLBAM. Backyard Sports is a brand that has been recently re-launched that encourages kids to participate in the sport of baseball. It engages kids and allows them to play like professional baseball players in their own "backyards" (preferably little league teams). Backyard Sports also gives kids power-ups and bonuses in the mobile game for them going out and being active by playing baseball.
By no means is this decline in baseball youth participation a good thing, but who is to say that there will not be a turn-around that makes the game more interesting for younger people, specifically kids? As we can see, baseball has lost the interest of younger fans due to slow pace of the game and lack of excitement, but this does not mean this trend is final. I am optimistic that with the right marketing scheme baseball will once again grow the game, just as it did in the 1990s when Little League participation was booming and kids were excited to play the game just as their favorite MLB players were doing.
This blog post was written by Samford University Brock School of Business student Jalen Spraggins.
Sources
https://www.backyardsports.com/index.html
http://www.washingtonpost.com/sports/nationals/baseballs-trouble-with-the-youth-curve--and-what-that-means-for-the-game/2015/04/05/2da36dca-d7e8-11e4-8103-fa84725dbf9d_story.html
http://www.athleticbusiness.com/high-school/youth-participation-in-team-sports-on-the-decline.html
http://www.pennlive.com/little-league-world-series/2014/09/participation_in_little_league.html