Published on August 20, 2015 by Annika Hepp  
Professional athletes rely on sports drinks and a healthy lifestyle. Their bodies need the right fuel to function and perform on the best level. Gatorade has been the leading company for sports drinks and is the official sponsor for the NFL, NBA, AVP, PGA, MLS, MLB and many other professional organizations. Allen Lim, a sports psychologist, has developed a new sports drink powder that is supposed to be a healthier alternative to the ordinary brands. Together with his friend, he developed this product primarily for cyclists that compete on the Tour the France. One reason for this discovery was because "they were throwing up and getting cramps", Lim says. The powder Lim developed over many years is only available in stores like Whole Foods because it does not contain coloring or added sugar.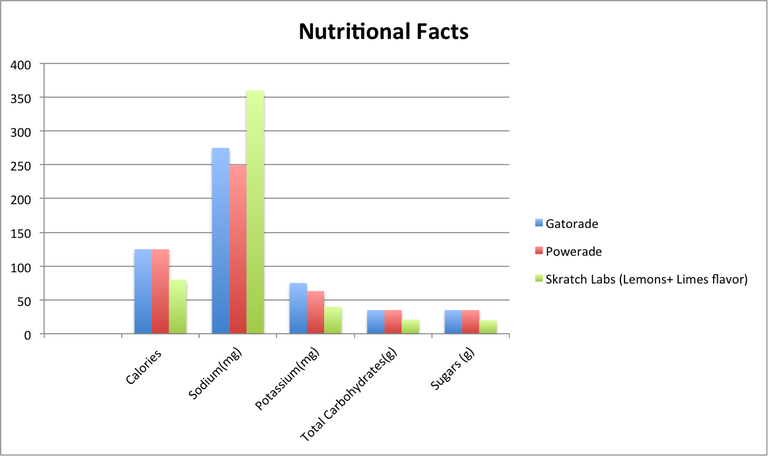 How does Skratch Labs differ from brands like Gatorade and Powerade?
The above graph demonstrates the Nutritional Facts of Gatorade, Powerade, and Skratch Labs. As we can see Gatorade and Powerade have more Calories, Potassium, and sugars than Skratch Labs, but they have a lot less Sodium in their products. Sodium is the most important replacement that an athlete needs when he or she is performing. Sodium exits the body by sweating. Furthermore, it also prevents muscle cramps. Lim added more sodium citrate to match the amount of salt lost by sweat and in addition he used as little added sugar as possible. Of course, we can see that the other two brands also contain sodium, but the high amount of sugar in those drinks essentially cancels out the sodium.
The future of Skratch Labs
In the beginning the product was only available for athletes that asked. In 2010, Lim invested $200,000 and went into business with two partners to create what today is known as "Skratch Labs". "People liked the story behind how it was made", says Luke Rowe, vice president of the business. Over the past year sales expanded by more than 100 percent, and the company made a little less than $5 million in 2014. Skratch labs seems to be a very fast growing company that has potential to grow even bigger. Although, I don't think it will ever reach the popularity of Gatorade since Gatorade has been in the business for too long. Furthermore, Gatorade has a lot more promotions and also sponsors more colleges, which attracts more buyers. It will be interesting to watch with what companies and professional teams Skratch labs will connect and how the company will grow in the next few years.
This blog post was written by Samford University student Annika Hepp.
Sources
FAQ | Skratch Labs Frequently Asked Questions and Answers. (n.d.). Retrieved July 31, 2015.
Gatorade | G Series Sports Drinks for Energy, Hydration and Recovery. (n.d.). Retrieved July 31, 2015.
Harper, S. (n.d.). Which Sports Drink is best for Athletes? Retrieved July 31, 2015.
Megroz, G. (2015, July 22). Skratch Labs Sports Drink Benefits From Tour de France Origin. Retrieved July 31, 2015.
The Negative Effects of Gatorade. (2013, July 1). Retrieved July 31, 2015.